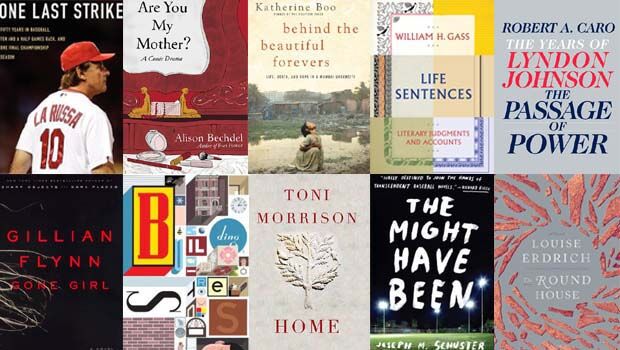 We'll give you 50. Not shades of 2012's best-selling book, but 50 of the year's best reads.
Much of the book news early this year was dominated by the unlikely success of the soft-core bondage romance "Fifty Shades of Grey." Readers are welcome to their fun, of course, but Post-Dispatch reviewers typically pick their favorites from books that excel in prose, plot and characters. Reviewers also tend to like research that goes beyond the, um, bedroom.
So here are 25 fiction and 25 nonfiction titles that reviewers recommend. No one can read and review more than a small portion of the thousands of books published every year, but we hope this list gives book lovers some choices — and release from the dungeon of the best-seller list.
"Arcadia" by Lauren Groff (Hyperion Voice). Lauren Groff shows us communal life in the early 1970s through the '80s, and follows Bit, his hippie friends and family to about 2018. The characters and setting in the early chapters will remind readers of the hippies in T.C. Boyle's "Drop City."
"Beautiful Ruins" by Jess Walter (Harper). Social satire involving an ensemble of memorable characters dissects popular media — reality TV's race to the bottom to find the lowest common denominator, story arcs for audiences with the attention span of a flea and bad taste in grotesque abundance.
"Birds of a Lesser Paradise" by Megan Mayhew Bergman (Scribner). The author's first book is a collection of a dozen stories that portrays in fine realistic prose female characters balancing relationships with their fathers, mothers and partners as they fight their own foibles and insecurities.
"Bring Up the Bodies" by Hilary Mantel (Henry Holt). In her sequel to "Wolf Hall," Mantel retells the bloody story of King Henry VIII and Anne Boleyn. Her raunchy, sordid, pitiless tale leaves one wondering at the fine line between self-preservation and moral complicity when faced with evil in the guise of a king. Like its predecessor, "Bring Up the Bodies" took home a Booker Prize.
"Building Stories" by Chris Ware (Pantheon). "Building Stories" is an eye-popping astonishment; within its box-like container the cartoonist offers 14 books, broadsheets, pamphlets and uncategorizable printed matter. The collection is primarily focused on a decade or so in the life of a lonely young woman in Chicago who moves into an aging three-story apartment building.
"Canada" by Richard Ford (Ecco). Dark, gritty and sparse, "Canada" represents a welcome diversion from the coming-of-age template. The circumstances visited upon protagonist Dell Parsons define the tone of a novel both appalling and triumphant. Another masterpiece by one of our best writers.
"The Cove" by Ron Rash (Ecco). In this dark but memorable story, two siblings struggle for their existence in the gloomy hills of Appalachia. While this isn't a tale for people who seek happy endings, it's a beautifully written story of isolated farmers in the waning days of World War I.
"Dirty Rice" by Gerald Duff (University of Louisiana). A retired professor from McKendree University sets his baseball novel in the minors in Louisiana in the 1930s. A rookie pitcher narrates the season's story in prose that snaps like a dandy curveball.
"Don't Cry, Tai Lake" by Qiu Xiaolong (St. Martin's Press). If you want insights into the ways of Beijing's Communist leaders, Shanghai-born St. Louis writer Qiu Xiaolong can supply them in his Inspector Chen series of mysteries about life in contemporary China. Tai Lake is a retreat for China's elite, yet it's become a disgusting environmental hazard. Chen, the paragon of integrity, finds murder and even sex in the latest in Qiu's series.
"Flight Behavior" by Barbara Kingsolver (Harper). A farm wife in Appalachia encounters what looks like a miraculous fire in Kingsolver's novel about a traditional community that is invaded by modern science and must face the effects of global warming.
"Fobbit" by David Abrams (Grove/Atlantic). Abrams' first book satirizes and lampoons the stupidity, terror and futility of war. A modern "Catch-22" set in Iraq.
"Gone Girl" by Gillian Flynn (Crown). This love story gone wrong has plot twists aplenty and the added bonus of a Missouri backdrop. The innocent beginning as Nick and Amy mark their fifth anniversary doesn't prepare you for the hairpin turns and evil plotting that come next.
"Home" by Toni Morrison (Knopf). In her slim 10th novel, the Nobel laureate tells a tale fit for an epic — a battle-scarred black Korean War veteran journeys across 1950s America to his home in Georgia. The book is almost pointillistic in its progress, gaining its incantatory power from scenes that strike with such force that we want to go back and read them over again.
"Live by Night" by Dennis Lehane (Morrow). This inside look at a gangster's rise in the 1920s and '30s ranges from Boston through Tampa and Havana, with settings that go from prison cells to speakeasies to cigar factories. Sharply honed characters lift this book far above the norm for the genre.
"The Might Have Been" by Joseph M. Schuster (Ballantine). The author — a Webster University professor — tells of a baseball player who had a few brief weeks with the Cardinals in the 1970s and now manages a minor league team in Iowa. Yes, it's another novel about baseball — but it's also about the central character's trip around life's base path to maturity.
"The Orphan Master's Son" by Adam Johnson (Random House). Because his novel pays such close attention to the North Korea it describes, Johnson gets his fingers into the barely discernible cracks in the monolith, tracing the gestures, words and parables through which stellar citizens reveal their hidden, disobedient and fully human selves.
"The Prophet" by Michael Koryta (Little, Brown). The book opens innocently enough, at a Friday night football game at a high school in northeastern Ohio. But outside of town, a high school girl is meeting a violent end. Finding the killer falls to a private eye who has left a trail of small-town disrepute.
"The Round House" by Louise Erdrich (Harper). Set on a North Dakota Ojibwe reservation, as most of Erdrich's books are, her National Book Award-winning novel is a coming-of-age story narrated by Joe Coutts, who was 13 in 1988 when the story takes place. Joe is telling his tale as an adult, mulling over the events that shaped his life and those of his parents and friends.
"San Miguel" by T.C. Boyle (Viking). The novelist takes a long, deep look at how the hard, lonely life on a sparsely populated island off the coast of Santa Barbara shaped the lives of three women, two in the Gilded Age, one in the Great Depression. "San Miguel" is less satirical than Boyle usually is, but the narrative is nicely detailed and heartfelt.
"The Shape of Desire" by Sharon Shinn (Ace). St. Louis readers will recognize many of the geographical and cultural landmarks strewn through this book, the start of a fantasy series featuring a woman with a shape-shifting love interest.
"Soft Target" by Stephen Hunter (Simon & Schuster). Thanksgiving shoppers at a Twin Cities mall run into a big problem — Islamic terrorists firing volleys of bullets. Countering the terrorists falls to one of the shoppers, a former top-rated sniper for the U.S. Marines. This book is terse and tense.
"Sutton" by J.R. Moehringer (Hyperion). Meticulously researched, Moehringer's page-turner breathes life into the celebrated safe-cracker, Willie "The Actor" Sutton, a disguise-wearing escape artist famous for "robbing the banks that robbed the people." Moehringer clearly has our Recession in mind in this story of Depression-era desperation.
"Telegraph Avenue" by Michael Chabon (Harper). Detailing the everyday travails of two partners in a threatened used-record shop in down-at-heels Oakland, Calif., "Telegraph Avenue" features a generous measure of suspenseful moments, colorful incidents and outsize characters, but the novel largely abandons the fantastical conceits of Chabon's recent work in favor of such quotidian concerns as friendship, marriage and parenting. Despite the weightiness of the issues, it's very much a comic novel, and it delights on multiple levels.
"This Is How You Lose Her" by Junot Diaz (Riverhead Books). The Pulitzer Prize winner's third book of Dominican Republic literature made it onto the New York Times Bestseller List Top 10, an unusual feat for a collection of short stories.
"Watergate" by Thomas Mallon (Pantheon). This Inside-the-Beltway tale falls far short of genuine history. But for fascinating reading — and a surprisingly sympathetic treatment of Richard M. Nixon — it's tough to top an account that features regular appearances by the tart and imperious Alice Roosevelt Longworth. Bonus: the author's version of how (and why) those 18½ minutes of Oval Office tapes got erased.
"Are You My Mother?" by Alison Bechdel (Houghton Mifflin Harcourt). A second graphic memoir from the award-winning lesbian cartoonist describes lifelong missed connections between Bechdel and her mother, using famed figures including Jung, Freud, Dr. Seuss, Dr. Spock and Virginia Woolf.
"Barack Obama" by David Maraniss (Simon & Schuster). Unlike most books about the country's chief executive, Washington Post editor and writer Maraniss goes into helpful detail about the origins and narrative of President Obama's exceptional life without gushing in praise or knifing him with acidic attacks. His contribution is a rich understanding of the complicated, introverted, self-made man in the White House.
"The Barbarous Years: The Peopling of British North America: The Conflicts of Civilizations, 1600-1671" by Bernard Bailyn (Knopf). Bailyn traces the growth of British colonies from the tentative settlements of the years before 1600 to the established colonies of 1675. The British ousted and often wiped out the native inhabitants trying to create a replica of England that came to be a new society.
"Basic" by retired Col. Jack Jacobs and David Fisher (St. Martin's). If you're buying a gift for a high school senior who's thinking about a military hitch, try this rise-and-shine account of what basic training is like and why it's that way. Many of the memories in this entertaining book come from veterans of basic at Fort Leonard Wood, Mo.
"Behind the Beautiful Forevers" by Katherine Boo (Random House). A vivid, arresting account of a world beyond imagination. The depth of the research, the details in the reporting and the riveting narrative about life in a Mumbai slum are but three of the reasons "Behind the Beautiful Forevers" stood above the rest in the conferral of the National Book Award for nonfiction.
"Eisenhower in War and Peace" by Jean Edward Smith (Random House). Back when Dwight D. Eisenhower occupied the White House, many academics sneered at him as a lightweight. But Smith thinks that we have badly underrated Eisenhower, both a soldier and a statesman. This book makes a good case — and makes for good reading.
"Every Love Story Is a Ghost Story" by D.T. Max (Viking). This first biography of the post-postmodern writer David Foster Wallace since his suicide in 2008 is heavily sourced, well balanced and highly readable.
"The Last Great Senate" by Ira Shapiro (Public Affairs). In the late 1970s, the U.S. Senate debated great issues like relinquishing control of the Panama Canal and diplomatic recognition of the People's Republic of China and then passed bills that became law. It was a forum like the Founders envisioned, where significant matters for the country were dealt with. Shapiro was a Senate staffer whose observations show how far the gridlocked Senate today has strayed from that more functional time.
"The Last Lion" by William Manchester and Jack Reid (Little, Brown). Manchester died before he could complete this third volume of his biography-to-end-all-biographies of Britain's Winston S. Churchill. But Reid picked up the workload to take Churchill from 1940 through to his death in 1965. It's a very big book about a very big man.
"Life Sentences" by William H. Gass (Knopf). The latest stellar collection of essays by the retired Washington University professor shows he is a dreamer, a civil disobedient, an unapologetic bibliophile and the best essayist writing in America today.
"Little America: The War Within the War for Afghanistan" by Rajiv Chandrasekaran (Knopf). Chandrasekaran explains why the U.S. intervention in 2001 (and subsequently this country's longest war) ultimately may have changed very little in Afghanistan when U.S. troops withdraw late in 2014.
"The Generals" by Thomas E. Ricks (Penguin Press). Are the generals in today's Army as good as their World War II counterparts? This book says no, they aren't — because the Army no longer fires division commanders who can't hack it. In WWII, more than 10 percent of the combat division commanders got booted by their superior officers; today, only presidents fire generals, and only rarely.
"Hallucinations" by Oliver Sacks (Knopf). The good Dr. Sacks writes that hallucinations are often the brain's normal response to a stimulus, or more often, a lack of stimulus.
"One Last Strike" by Tony La Russa with Rick Hummel (William Morrow). The Cardinals manager went out on a high note last year, retiring after a dogged, surprising postseason led to a World Series championship. His memories of that season will be cherished by those who bleed red.
"The Passage of Power: The Years of Lyndon Johnson" by Robert A. Caro (Random House). It is to Caro that historians years from now will turn to grasp the nuances of the 20th-century American political and social landscape. "The Passage of Power," the fourth installment of the author's five-part biography of the nation's 36th president, plumbs the transition of power from Nov. 22, 1963, forward with verve, depth and revelations that cast new light on an event 50 years past.
"The Presidents Club" by Nancy Gibbs and Michael Duffy (Simon and Schuster). The president and his living predecessors make up the close-knit roster of what may be the world's most exclusive club. The authors recount how incumbent presidents have leaned for support on those who preceded them ever since Harry S Truman sat down to chat with Herbert Hoover.
"September Hope" by John C. McManus (NAL Caliber). Thanks to "A Bridge Too Far," many Americans know a lot about the failed push by the British army into the Netherlands in the fall of 1944. This book, by an author who lives in Ballwin and teaches at Missouri University of Science and Technology, tells about the lesser-known (and much less disastrous) supporting attack by the U.S. Army.
"1775: A Good Year for Revolution" by Kevin Phillips (Viking). Phillips, the noted historian/commentator, posits that 1775, not 1776, was the critical year in our country's break from Britain.
"Short Nights of the Shadow Catcher: The Epic Life and Immortal Photographs of Edward Curtis" by Timothy Egan (Houghton Mifflin Harcourt). Around the turn of the 20th century, Edward Curtis shot iconic pictures of the disappearing life of Native Americans in the West as development drove them onto reservations. Egan tells his story with a flair for the unusual life Curtis lived in his documentary quest.
"Strong Advocate: The Life of a Trial Lawyer" by Thomas Strong (University of Missouri Press). Strong, of Springfield, Mo., describes how he became the state's top trial lawyer.
"Sword of the Spirit, Shield of Faith" by Andrew Preston (Knopf). The separation of church and state has been a vital part of our polity since the 18th century, but religious issues have never been absent from politics. Preston analyzes this tale, with an emphasis on recent years but without neglecting the early story. Everything, this book shows, mixes together, as it is impossible to consider even foreign policy without God intruding. Or dominating?
"Thomas Jefferson: The Art of Power" by Jon Meacham (Random House). A readable, well-rounded portrait of the most interesting of the Founding Fathers. Meacham deals with Jefferson's weaknesses as well as strengths and lets his humanity shine forth.
"The Way the World Works" by Nicholson Baker (Simon & Schuster). Reading Baker is always an adventure. His new essay collection is witty and whimsical, serious and insightful, and often polemical.
"Wild" by Cheryl Strayed (Knopf). Strayed's memoir of her solo hike along the Pacific Crest Trail is by turns poignant, sad and laugh-out-loud funny as the ill-prepared young woman sets out along a hike that takes her through weather and terrain extremes, but also puts her in touch with some memorable hikers along the way.
"Winter Journal" by Paul Auster (Henry Holt). As he approaches his 64th birthday, the prolific novelist revisits his own life, in a memoir that is far more elegiac than angry, more wistful than soaked in regret.
Note: An earlier version of this story had the wrong last name for the author of "The Prophet." The author is Michael Koryta.