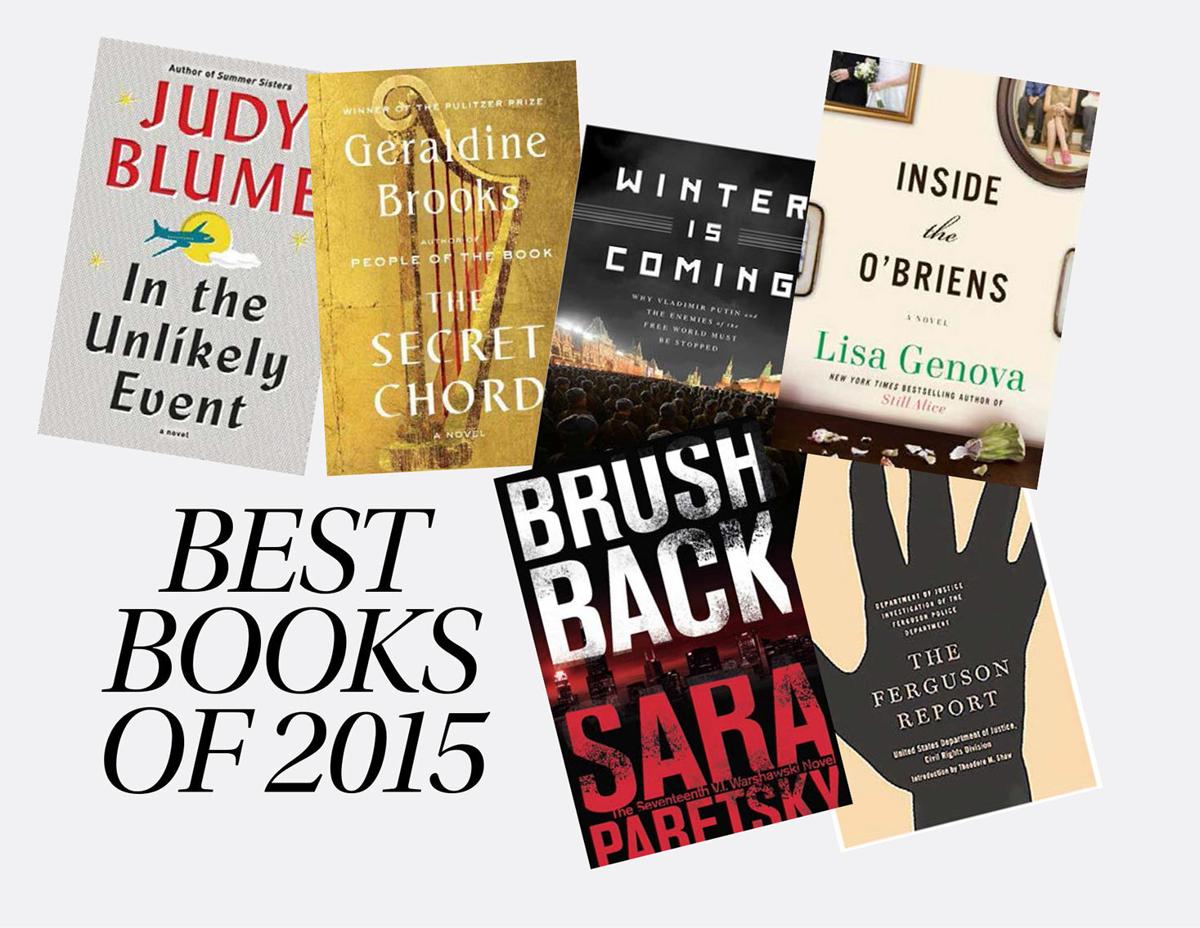 If ever there was an example of how book hype doesn't equal quality, this year was it.
Harper Lee's "Go Set a Watchman" commanded headlines, and even best-seller lists, for months. And yet, few "best books" lists this year will include the novel, a prequel of sorts for "To Kill a Mockingbird."
In addition, few published titles in 2015 seem to have been universal successes. As Sara Nelson, executive director of books at Amazon.com told the Wall Street Journal, "this was a hard year to find a runaway, absolutely everybody-loves-it book."
Perhaps the most talked-about book that has made "best" lists is "Between the World and Me," a meditation on race by Ta-Nehisi Coates.
Ironically, even as Harper Lee's fans scooped up a dated, seemingly pro-segregation novel that knocked the halo off her hero Atticus Finch, many other readers praised the take-no-prisoners indictment of 21st-century attitudes by Coates.
Nevertheless, Post-Dispatch reviewers found plenty of titles for our annual roundup of favorite books. Here is our list of the best 25 fiction and 25 nonfiction books reviewed or discussed in 2015.
"Ancillary Mercy" by Ann Leckie (Orbit). St. Louis author Ann Leckie brings her award-winning science fiction trilogy to a satisfying close with a story that contains surprises, ties up most loose ends and leaves the door open for more of Breq and her crew.
"Brush Back" by Sara Paretsky (Putnam). Take Sara Paretsky's Chicago-tough, opera-loving private investigator V.I. Warshawski, add a 17-year-old female French Canadian hockey phenom, an old murder investigation that may be more than it seemed, dirty politicians and a cast of well-drawn supporting characters, and you've got one of the best, fastest-moving detective novels of the year.
"Did You Ever Have a Family" by Bill Clegg (Scout Press). In a small Connecticut town, a house explosion claims the lives of the family of wealthy New York transplants sleeping inside. Clegg inhabits more than 10 different points of view to create an intricately connected group of neighbors, employees, relatives and friends that tell this story through memory, speculation, gossip and grief. An elegant, multifaceted portrait of community and tragedy.
"Eyes: Novellas and Stories" by William Gass (Knopf). The 91-year-old author of the landmark collection "In the Heart of the Heart of the Country" (1968) shows he remains a master of short fiction with a strong selection of new stories rich with ambiguity and misdirection and surrealistic passion. Gass, a professor emeritus of philosophy at Washington University, adept at both fiction and nonfiction, has for many years been one of the best and most important writers in America.
"Fates and Furies" by Lauren Groff (Riverhead). What can you say about Lauren Groff, other than she's one of the best young novelists around? Her story of the marriage of Lotto and Mathilde is romantic and bleak, tragic and comic in one brilliant vision.
"Finale" by Thomas Mallon (Pantheon). This written-from-real-life novel re-creates Ronald Reagan's 1986 — a tough year for the president. Mallon may play unfairly by putting himself inside the heads of real people, but he makes a dandy book in telling us about their thoughts.
"The First Bad Man" by Miranda July (Scribner). The polymath (actor, performance artist, filmmaker) publishes her first novel. And though some critics will no doubt disagree, this story of an odd, even off-putting protagonist looking for love proves July's extraordinary adeptness at yet another art form.
"Fortune Smiles" by Adam Johnson (Random House). Johnson, who won the Pulitzer Prize for his novel "The Orphan Master's Son," took the National Book Award for this year's collection of powerful, yet disquieting stories (one features a child molester; two others deal with devastating illnesses).
"Girl Waits With Gun" by Amy Stewart (Houghton Mifflin Harcourt). This lively novel is based on real events in New Jersey 100 years ago, a time and place of intense labor strife. Constance Kopp, a brave, resourceful woman with a dark secret, runs afoul of a mill owner with criminal connections and has to take up arms to defend herself and her two sisters from threats of arson, kidnapping and murder. Stewart ("The Drunken Botanist") tells a breezy tale of suspense and good vs. evil with gusto and panache.
"God Help the Child" by Toni Morrison (Knopf). The past is prologue in this, Morrison's 11th novel. Poetic and embracing, the narrative follows the exotic "Bride" through a series of formative events — and misadventures. "God Help the Child" demonstrates that one of our most beloved (pun intended) authors still writes with the best of them.
"A God in Ruins" by Kate Atkinson (Little Brown). In "Life After Life," Teddy Todd, a fighter pilot and brother of the protagonist, Ursula, is extinguished by war early on. In Atkinson's new novel, he is granted longevity. Spared, he commits himself to kindness, and his very existence alters the future laid out in the vaunted and time-bending alternative universe of "Life After Life."
"Golden Age" by Jane Smiley (Knopf). The last book of Smiley's Last Hundred Years trilogy opens in 1987, encompassing the end of the Reagan era and running through the Bush, Clinton and Obama years and beyond. It ends in a 2019 fraught with problems. Using the personal as a way of examining the political, the historical and the inevitable, Smiley builds an unsparing portrait of a country seared by change and tempered by humanity.
"A History of Loneliness" by John Boyne (Farrar, Straus & Giroux). The author gives readers a fictional look at an all-too-real problem in Ireland — Catholic prelates shuffling pedophile priests from parish to parish rather than calling in the police. By telling the tale through characters whom readers get to know keenly, Boyne lends insight to a seamy affair.
"In the Unlikely Event" by Judy Blume (Knopf). A 14-year-old girl growing up in New Jersey in the early 1950s deals with the after-effects of three passenger jet crashes in a two-month span and the ripples those crashes cause among her unorthodox family and friends. Blume, the much-loved author of classics such as "Are You There God? It's Me Margaret" uses her own childhood and meticulous research to recreate a pivotal time in the country's history with her typical brilliance at knowing how a teenage girl would think, act and respond.
"Inside the O'Briens" by Lisa Genova (Gallery Books). The family of a Boston police officer struggles with his diagnosis of Huntington's disease, a deadly neurological illness that each of his four children stands a 50 percent chance of developing. Genova, who dealt with Alzheimer's in her "Still Alice" novel, uses the same deft treatment to keep front and center the patient's humanity while never shying away from the frightening reality of the effects of a brain-changing illness.
"A Little Life" by Hanya Yanagihara (Doubleday). This sprawling, intense meditation on pain and the ways in which humans transmit their own wounds to others can make readers queasy at times, but it is as much about healing, love, friendship and fidelity as it is about the abominations adults visit on children and the scars that keep delivering agony years later.
"Marry, Kiss, Kill" by Anne Flett-Giordano (Prospect Park Books). An overworked police detective in California gets saddled with too many murders, seemingly unrelated. And because that detective is a woman nearing age 40, Flett-Giordano gives male readers a bonus — a guided tour inside the head of a worried woman.
"Our Souls at Night," by Kent Haruf (Knopf). Haruf's last novel is a fantastic look at love as septuagenarian characters try to enjoy romance, despite family interference. Haruf wrote "as close to the bone" as he could, and the result is a poignant story that you shouldn't miss.
"Purity" by Jonathan Franzen (Farrar, Straus & Giroux). The celebrated author of "The Corrections" and "Freedom" had another hit with this novel about a young woman whose life is irrevocably changed by her encounters with a Julian Assange-style whistleblower and a journalist. At well over 600 pages, it's not a quick read, but it's a memorable one.
"The Secret Chord" by Geraldine Brooks (Viking). The Pulitzer Prize-winning novelist takes the well-known story of King David and breathes new life into his legend. Through her retelling of his exploits — in government, on the battlefield and in the bedroom — Brooks deftly weaves the music motif to show how David used his harp and his voice to convey emotion and inspire a nascent nation.
"Shanghai Redemption" by Qiu Xiaolong (Minotaur). The latest in the Chief Inspector Chen Cao series by this St. Louis-area author and Shanghai native, finds the protagonist promoted and pushed aside by his Communist Party superiors in Shanghai. Someone is out to discredit Chen's reputation, perhaps to ruin him forever. The author, as usual, leaves the reader with the sense that some things in today's Chinese society will forever remain a mystery — and an unsatisfying one at that.
"A Spool of Blue Thread" by Anne Tyler (Knopf). Expert at dissecting and reconstructing the American family, Tyler delivers again in this quirky, winsome novel tracking the marriage of Red and Abby Whitshank. The home the Whitshanks share with their four children gets equal billing with the primary characters and in many ways takes on a life of its own.
"The State We're In" by Ann Beattie (Scribner). These stories, set in Maine, feature a variety of narrators whose personal circumstances — age, gender, social status — may change, but Ann Beattie maintains a perfect pitch for the proper voice to match each. Her latest collection shows once again why Beattie is one of the best storytellers writing today.
"Two Years Eight Months and Twenty-Eight Nights" by Salman Rushdie (Random House). In 12th-century Spain, philosopher Ibn Rushd is declared a heretic for his secular views and sent home to be consoled by his wildly fertile wife, who's secretly a jinn, or genie. Fast forward a few centuries and many generations of Rushds later, and a war between reason and fanaticism is playing out in the realm of the jinn that threatens to bring the apocalypse here on earth. An irreverent, fantastical, and witty achievement that's all too relevant this year.
"The Whites" by Richard Price, writing as Harry Brandt (Henry Holt). In this crime thriller, cops frustrated at seeing lawbreakers free to walk the street decide to dispense some unofficial justice. Whether an upright cop can set his partners straight without paying an awful price makes for suspenseful reading.
"Anonymous Soldiers: The Struggle for Israel, 1917-1947" by Bruce Hoffman (Knopf). We are well versed on instances of Arab terrorism regarding the conflict over the existence of Israel. What we may not know as much about is the role of Jewish underground terror groups during the British Mandate; The groups focused on attacking soldiers and driving the British out of Palestine, and in this case, terrorism worked. Hoffman credits the Jewish underground with creating the prototype for today's terrorism, a point that's controversial.
"The Art of Memoir" by Mary Karr (Harper). Karr, the author of three vivid autobiographies, shares her rules for writing memoir in this slim, highly readable volume, as down-home, smart, profane and self-deprecating as her own stories of self. She focuses on "carnality" — writing so that the reader "employ(s) smell and taste and touch as well as image and noise" — choosing the right detail and sticking strictly to the truth, as far as possible.
"Black Man in a White Coat: A Doctor's Reflections on Race and Medicine" by Damon Tweedy (Picador). It's not easy for a black man to become a doctor, or to help black patients find their way through the modern American health care system. Tweedy tells both his personal story and the broader one in an engaging, incisive way that will give readers new insight into a persistent problem.
"Between the World and Me" by Ta-Nehisi Coates (Spiegel & Grau). In one of the most talked-about books of the year, "Between the World and Me" is written in the form of a letter to Coates' son. The 152-page meditation on the nature of violence against African-Americans received the National Book Award for nonfiction.
"Children of the Stone: The Power of Music in a Hard Land" by Sandy Tolan (Bloomsbury). Tolan has made his reputation writing in-depth, reconstructive journalism about the conflict between Israelis and Palestinians. Here he looks at a moderately successful effort by Israeli Danial Barenboim and the late Palestinian scholar Edward Said to create an orchestra comprising Israeli and Palestinian musicians. Tough going. It could stand as a metaphor for the enduring conflict and efforts to resolve it.
"Custer's Trials: A Life on the Frontier of a New America" by T.J. Stiles (Knopf). This energetic biography puts emphasis on the years in between Custer's Civil War heroics and his infamous Last Stand. Stiles is neither sympathetic nor unsympathetic in his treatment of Custer's profound need for attention.
"Dead Wake" by Erik Larson (Crown). When a German submarine sank the British liner Lusitania in 1915, America was sitting out World War I. But Larson's richly detailed history recounts how that sinking started to melt the ice of American isolationism — to the secret delight of Britain's first lord of the Admiralty, Winston S. Churchill.
"Destiny and Power: The American Odyssey of George Herbert Walker Bush" by Jon Meacham (Random House). Based on personal diaries, this 864-page book may work to engender a new appreciation for the 41st president.
"Dreamland" by Sam Quinones (Bloomsbury). The path of heroin from America's urban slums to its trim suburban subdivisions is traced by a Los Angeles Times reporter. Quinones' deeply researched and readable book says well-heeled addicts got hooked first on pain-killing medications like OxyContin — but then switched to much cheaper Mexican heroin, feeding a problem across the nation.
"F.B. Eyes" by William J. Maxwell (Princeton). Can you imagine a time when the FBI was conducting malicious acts against African-American leaders like the Rev. Martin Luther King Jr. simply to discredit their message of equality and fairness during the civil rights movement? Believe it. Washington University professor Maxwell cites many examples of the FBI's misinformation campaign and malicious attacks on civil rights leaders, particularly when they were black.
"The Ferguson Report" by U.S. Department of Justice (New Press). Has any document had more effect on the St. Louis area this year? It started as an online civil rights report of Ferguson's racist police and court practices, which try to raise revenue. And it led to the resignation of most Ferguson leaders. The bound book solidifies the report's importance and makes it easier to share and consult. Its introduction predicts it will take its place on shelves along with government reports on 9/11 and the Kennedy assassination.
"The Great Leader and the Fighter Pilot" by Blaine Harden (Viking). This book tells two intriguing stories: how North Korean fighter pilot No Kum Sok schemed for five years to successfully escape to the West, and how Kim Il Sung rose to power, in part by stoking anti-Americanism.
"H Is for Hawk" by Helen Macdonald (Grove). In this unusual memoir (about an unusual hobby), Macdonald weaves together her mourning for her beloved father with her moving bonding with a goshawk, which she trains in falconry.
"Katrina: After the Flood" by Gary Rivlin (Simon & Schuster). The bad and the good deeds done in the 10 years since the hurricane inundated much of New Orleans. The book will appeal to both the urban planner and the Mardi Gras reveler.
"Lesser Beasts" by Mark Essig (Basic Books). Although history sprawls across countless topics, Essig zeroes in on a long-neglected niche — the pig. In sprightly prose, he tells why the intelligent animal has filled so many plates for so long in so many parts of the world; like good bacon, his book sizzles.
"My Life on the Road" by Gloria Steinem (Random House). The activist's long-awaited memoir chronicles Steinem's experiences traveling, first as a journalist on assignment and later as a feminist organizer visiting campuses, conferences and clinics across the country.
"On the Move: A Life" by Oliver Sacks (Knopf). Published not long before his death, Sacks' memoir covers both his personal life and the wide range of his published works. His varied exploits will change forever the picture you have when you think of a scientist and physician who had the kind of distinguished career that Sacks did.
"Once in a Great City" by David Maraniss (Simon & Schuster). Maraniss focuses on 1963 Detroit, an epochal year in the history of the Motor City. Though Detroit was riding high, the start of its decline was apparent even then.
"The Oregon Trail: A New American Journey" by Rinker Buck (Simon & Schuster). Buck recounts the 2,000-mile trip in a covered wagon pulled by mules that the journalist and his brother took a few years ago. The ride was rough; the book is engaging.
"Our Kids: The American Dream in Crisis" by Robert D. Putnam (Simon & Schuster). The researcher argues that class, not race, is causing a widening "opportunity gap" in the U.S. The story is carried by vignettes of a half-dozen rich and poor families.
"Pitch by Pitch" by Bob Gibson (Flatiron). The Cardinals pitcher set a World Series strikeout record of 17 in the opening game of the '68 showdown against the Detroit Tigers. In this memoir, Gibson teams with writer Lonnie Wheeler to explain Gibson's thinking before each of his 143 pitches. Go crazy, folks!
"The Unsubstantial Air" by Samuel Hynes (Farrar, Straus & Giroux). Hynes taught literature at Princeton and flew as a Marine pilot in World War II — a background that gives a literate and technical polish to his history of American fliers in World War I. From the boredom of training to the terror of combat, Hynes puts readers inside those flimsy cockpits for a solid piece of history.
"Washington's Revolution: The Making of America's First Leader" by Robert Middlekauff (Knopf). What if the aborning United States had first been led by a power-hungry tyrant? It wasn't. It got Washington instead, and that made all the difference. Washington set the bar very high in terms of American leadership, and we continue to benefit from his example and character today.
"Winter Is Coming: Why Vladimir Putin and the Enemies of the Free World Must Be Stopped" by Garry Kasparov (PublicAffairs). The author, a great Russian chess champion, recites a long list of wrongs by Putin as the Russian leader tries to re-create Russian power and prestige on the world stage. That comes at the price of massive human rights abuses, so Kasparov wants a global Magna Carta to bolster the U.N.'s human rights standard. It's a timely book although he never spells out how such rights would be protected in the international system.
"Young Eliot: From St. Louis to 'The Waste Land'" by Robert Crawford (Farrar, Straus & Giroux). The first volume in a comprehensive look at T.S. Eliot's life and art is dense with information about the poet who became as much an Englishman as an American. Drawing on archives, previously undisclosed memoirs and new interviews, Crawford offers a perspective that takes into account his childhood in St. Louis, his academic career and his literary influences.
Contributors to this year's roundup: Harper Barnes, Tim Bross, Jane Henderson, Cliff Froehlich, Steve Giegerich, Repps Hudson, Harry Levins, Sarah Bryan Miller, Joseph Peschel, Kelsey Ronan, Amanda St. Amand, Dale Singer, Helen Verongos, Calvin Wilson and wire services.