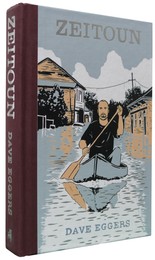 Dave Eggers may have gotten more publicity last year in connection with the movie version of "Where the Wild Things Are," but today he won the Dayton Literary Peace Prize for another 2009 work, the nonfiction book "Zeitoun."
An second book received the honor for fiction. "Book of Night Women" by Marlon James won for its portrayal of an 18th-century Jamaican slave revolt. Both authors will receive their awards, which include $10,000, at a ceremony Nov. 7 in Dayton, Ohio.
In a press release announcing the award, "Zeitoun" was described as "a meticulously researched story of a prosperous Syrian-American father of four who chose to stay in New Orleans through Hurricane Katrina and protect his house and business-but then abruptly disappeared."
 Eggers said in a statement:
"This honor means the world to me, and I share this with the Zeitoun family, who had faith in me to tell their story. This award comes at an interesting moment, when Muslims in America are experiencing a new wave of xenophobia and unfounded suspicion. Meanwhile, the Zeitouns have been speaking at colleges, at temples and churches, and everywhere they go people of all faiths tell them that they're the all-American family, and each appearance ends in mutual admiration and respect. Which means, ultimately, that listening to each other, getting to know the people behind the headlines, the shrill debates, means everything. If we begin to listen to each other, to listen before speaking - before judging -then we go a long way toward a more empathetic and peaceful world."
Marlon James said that books can still affect how people think:
"The Dayton Literary Peace Prize reminds us that the book is still our most eloquent tool to speak truth to power, and to bear witness to the good and not so good in human nature."
Geraldine Brooks will receive a lifetime achievement award. A former correspondent in the Balkans, she won the Pulitzer Prize in 2006 for her novel  "March."
For runners-up and more information on the prize, go to the website.