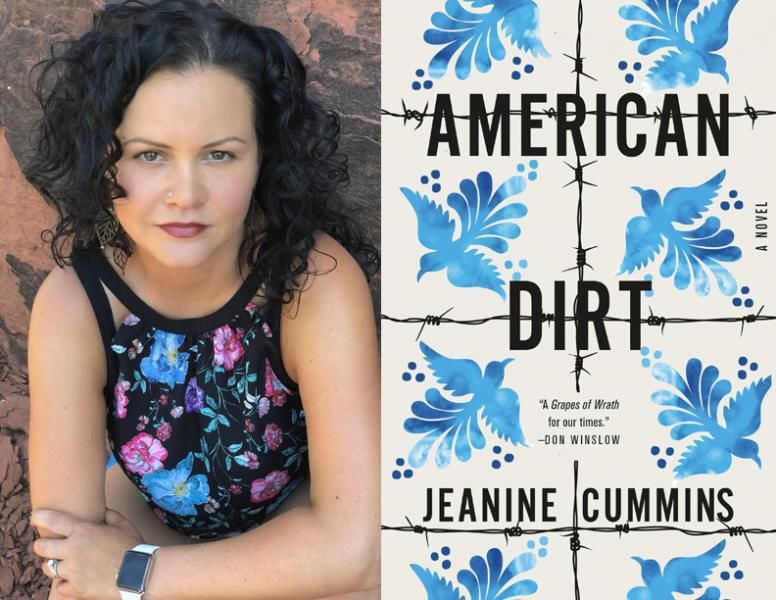 So much frustration and rage has been directed toward the new novel "American Dirt" that Left Bank Books canceled an event with its author less than 24 hours before her scheduled visit.
"We do have the book and will continue to carry the book," says Kris Kleindienst, co-owner of the store in the Central West End. "I don't think we've hurt the book tour."
But, she said Saturday night, "we didn't feel we were in a position to handle safety issues or that we would have the kind of conversation we wanted to have at the event."
Author Jeanine Cummins was to appear at 4 p.m. Sunday at the Ethical Society of St. Louis. Kleindienst said the venue did not ask that the event be canceled. It was a decision the store made in light of passionate criticism from Latinx writers.
The store's event staff felt they needed to "step back and take a breath," she says, emphasizing the store feels responsible to serve the whole community.
After the event cancellation, posters on Facebook both praised and criticized the decision.
One wrote: "I'm very disappointed about this decision. I think the criticism about the author is correct but that doesn't mean she shouldn't be invited to events anymore. Quite the opposite, let's discuss conflicting points of view. Let's voice concerns, let's learn from each other. I can't believe you gave in to that cancel culture nonsense."
Another said: "Brave and bold and true values! Proud to call you my favorite bookstore! Well done Left Bank Books!"
Although Cummins has said that her purpose in spending years researching and writing "American Dirt" was to write a heartfelt story of a migrant Mexican woman fleeing from violence, Latinx writers this week criticized the large sale price the novel received from its publisher, Flatiron. The same day the book went on sale, Tuesday, Oprah Winfrey announced that it was her choice for her next book club.
Latinx writers argue that their more authentic depictions in fiction and nonfiction have not gotten as much support from American publishers as books by white authors, and they pointed to elements in "American Dirt" they felt were stereotypes or errors regarding Mexican culture. Much of the criticism on social media was based on a review by Myriam Gurba.
When Kleindienst read the novel last spring, she said Saturday, the plot was compelling: "It's so ripped from the headlines, it's hard not to be moved by the story." But she admits that she may not have the expertise to spot things that might offend Latinx readers.
Some hard-hitting Latinx reviewers have savaged the novel, but other writers have praised it. One, Pam Houston, wrote for the Los Angeles Times: "It may be my privilege that leads me to agree with Norma Iglesias Prieto, chair of the Chicana and Chicano Studies Department at San Diego State, who told Cummins, by way of encouragement, 'We need as many voices as we can get telling this story.' And it is no doubt my privilege that hopes the novel might give the 52% of white women who voted for Trump in 2016 a reason to reconsider later this year."
On Friday, longtime Chicano bookseller Javier Ramirez, who lives in Chicago, told the Post-Dispatch he supports "American Dirt" and that criticism was shutting down previous supporters: 
"I've seen this cancel culture in publishing, and we cannot let this happen," he told booksellers just days ago at the American Booksellers Association's annual conference.
Much of the criticism on social media has come from people who haven't read the novel, let alone actually had an experience anything like the one depicted in the book, he said.
Left Bank Books is no stranger to controversy. No stranger to protest. This store was born out of protest and is made of people who have fought to be where we are and who we are. It's not always easy and it's sometimes not popular, but the common thread always is the same as our tagline - literacy and justice for all. We are a mission based bookstore, and that mission guides what we do.
We scheduled an event with Jeanine Cummins to discuss her new novel, American Dirt. In our minds, we were promoting a topical book written by someone who has deep St. Louis connections. It's a gripping story about a woman and her child fleeing violence by trying to get to America. Literacy and justice.
We sincerely believed it would be an opportunity to have an overdue public conversation about the deplorable actions of our country towards people at the border.
We sincerely believed Cummins novel was as good a starting place as any for folks who have not been fully aware of the issues and suffering. That the book could put a human face on the headlines.
When we announced the event, some in our community pushed back. Why, they asked, would we promote a white author who writes about a Latinx experience? And where are the Latinx voices? Where are those authors? In an attempt to find a middle ground, we invited members of the community to join Jeanine in a public conversation.
Some in the community pushed back harder. Posts on social media, calls to our venue partners and others were made insisting we cancel the event.
This felt familiar. It felt like the struggle we've been a part of for years aimed back at us. It hurt. And it felt like a challenge to do better.
Although the time line of this whole process has unfurled in a matter of a few very demanding days, we have taken pains to reflect on the best course of action. And that action is this:
We are listening. To everyone.
We are cancelling the event and will issue refunds to everyone who wants one.
Our mission remains the same, as does our humanity and membership in this community we love and fiercely defend.
We will continue to work to bring authors and stories to our city and hold space for conversations that support and expand the humanity of all.
We will continue to try to be mindful of and dedicated to our mission – Literacy and Justice for All.
We are grateful for the support of the community and aware that we earn that support one day at a time.
Your friends and Neighbors at Left Bank Books.
Stay up-to-date on what's happening
Receive the latest in local entertainment news in your inbox weekly!