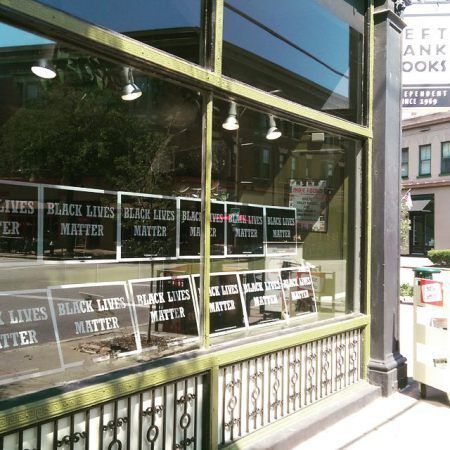 Left Bank Books may have lost a customer over its display of Black Lives Matter signs — but it also gained a lot of praise for a blog posting on the issue. In addition, the store has sold more than 100 signs since the post.
Jarek Steele, who with his wife, Kris Kleindienst, owns the Central West End store at 399 North Euclid Avenue, wrote on his blog (jareksteele.wordpress.com) this week that an anonymous letter criticized the store for the signs in its window (displayed instead of books for the anniversary of Michael Brown's death).
"My heart aches — your signs in the window stoking flames of enmity between races. We are to promote peace — how can you do the opposite?
"Love your store but will never ever buy another book there. I will tell those I know as well.
"Amazon is my new book store. Why are you so insistent on promoting division? Why?
Steele writes a long response on his blog saying that he wishes he could have a heartfelt conversation with the letter writer. He also writes:
"What I wish I could convey — white person to white person — is that Black Lives Matter does not mean White People are Bad. It never did. Saying someone matters does not mean that nobody else matters. It just says to someone who feels invisible, 'I see you and I value you.'"
The post was referenced by the Daily Kos on Wednesday under the headline "St. Louis Bookstore's Amazing Response to Losing a Customer Over Black Lives Matter Storefront Signs." The Huffington Post also picked up the blog post.
Since the publicity, Left Bank Books sold all of the Black Lives Matter signs in the window (they are $5 each; the store doesn't profit). Steele said by phone Friday that the store ordered more signs and almost all of the 100 new signs are sold, too. Money from the sales goes to Metropolitan Congregations United.
"It was really breathtaking the support that we got," Steele said Friday. A handful of people were angry, he said, but the vast majority supported the store. One supportive email he received was from a person who grew up in apartheid South Africa.
Steele doesn't necessarily want to be the center of attention ("it's not really about me").
In his blog, he notes all the ways Left Bank Books has been interested in discussions about race, especially since the police shooting of Brown on Aug. 9, 2014. He writes:
"I hope that you'll see the ways we've tried to promote constructive discussions about race — our ongoing Ferguson Reading Group, our event with Carol Swartout Klein for her book 'Painting for Peace in Ferguson,' our event with Leah Gunning Francis for her book 'Ferguson and Faith,' the Listen. Talk. Learn. session we hosted with Diversity Awareness Partnership.
"I want you to know that our door, hearts and arms are open to you and all others always."
For the store's Black Lives Matter reading list, click here.