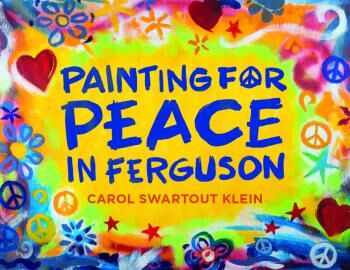 "Painting for Peace in Ferguson" has been chosen to represent Missouri Sept. 5 at the National Book Festival in Washington, D.C.
The book, a collection of photos of public artwork in Ferguson and on South Grand Boulevard after two police shootings last fall, includes a verse for children by Carol Swartout Klein. 
The Missouri Center for the Book chose "Painting for Peace in Ferguson" to represent Missouri "because it represents such a timely and beautiful story of hope," according to a press release.
The colorful artwork was painted by volunteers, who mostly covered boarded-up windows after violence and unrest followed the fatal shootings of Michael Brown in Ferguson (Aug. 9) and VonDerrit Myers Jr. (Oct. 8) in St. Louis' Shaw neighborhood. Some of the destruction came after the announcement that a grand jury would not indict police officer Darren Wilson in Brown's death.
"Painting for Peace in Ferguson" has sold about 2,000 copies in paperback and hardcover. It was first published in February by local indie publisher Layla Dog Press; its second edition will be by Amphorae Publishing Group, a young traditional publishing group based in St. Louis. Amphorae has national distribution, says a press release about the new edition.