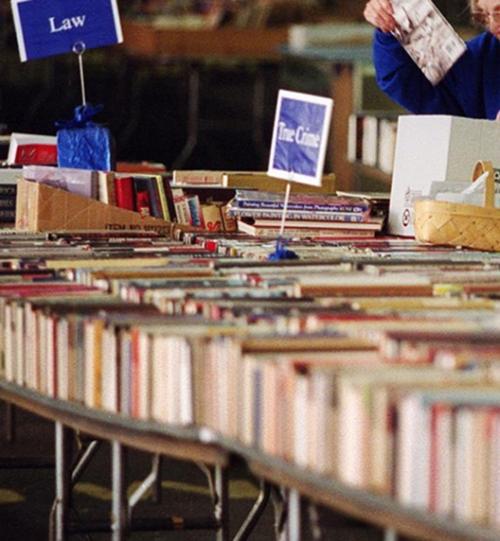 The Greater St. Louis Book Fair has a few new sites accepting donations.
The 2012 fair will be April 26-29 at West County Center near Macy's. A spokeswoman for the fair says new drop-off sites are near the Macy's loading dock at South County Center and near the southern entrance to Macy's at the Galleria.
The fair accepts paperbacks and hardbacks in good condition (usually book fairs don't accept books that are grungy and falling apart -- who would want to read that under their clean down comforters?). It also takes records, CDs, DVDs, comics and some magazines.
Here is the list of drop-off locations and more info from the annual event: 
Little Book Houses

• Clayton - Upper Parking Lot at the Northwest Corner of Forsyth & Jackson

• NEW! St. Louis Galleria - Southwest Corner of Parking Lot, Next to Macy's South Entrance

• NEW! South County Center - Next to the Macy's Loading Dock

• West County Center - Valet Parking Lot, Opposite Macy's Loading Dock, North of The Elephant Bar

Macy's Loading Docks

• Chesterfield Mall

Retail Stores

• Star Clipper located at 6392 Delmar in the Loop - now accepting donations of comics, graphic novels and manga

Please be aware that other organizations may falsely claim to collect donations on our behalf. All authorized collection sites and donation drives will be posted on the Greater St. Louis Book Fair website. If you have any questions, please call (314) 993-1995 or email info@stlouisbookfair.org.

Pickup Service

To donate 20 boxes or more, call the Book Fair message center at (314) 993-1995. Please leave your name, phone number and zip code. A Book Fair representative will call you back within 48 hours to schedule a pickup.

Tax Deductions

Donations may be tax deductible. Please email info@stlouisbookfair.org to request a receipt post card. At this time, we can not provide a valuation of each donation. However, we suggest you use the guideline of $1 for paperback books and $1- $5 for hardback books