A new study deepens the debate over racism in Dr. Seuss books.
Because Seuss (pen name of Theodor Geisel) continues to be very popular, many people may not be aware of some of the recent concerns raised about his children's books. (And this isn't counting Geisel's blatantly racist and anti-Semitic cartoons in Dartmouth's humor magazine in the 1920s.)
Two researchers write this month that they looked at more than 2,200 human characters in 50 of Seuss' children's books. Of those characters, just 45 are characters of color.
In the journal Research on Diversity in Youth Literature, Katie Ishizuka and Ramón Stephens write that they found "Orientalism, Anti-Blackness, and White Supremacy" in the Seuss books.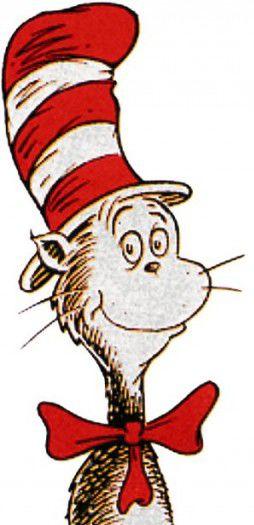 Of the 45 characters of color, all were male and most portray "Orientalism," defined as "a way of seeing that imagines, emphasizes, exaggerates and distorts differences between Middle Eastern, Southeast Asians, South Asians, and East Asians. It often involves seeing these cultures as exotic, backward, uncivilized, and at times dangerous in relation to Europeans and/or White people."
The animals like Horton the elephant and the Cat in the Hat don't come off much better, the writers say:
"In addition, some of Dr. Seuss' most iconic books feature animal or non-human characters that transmit Orientalist, anti-Black, and White supremacist messaging through allegories and symbolism. These books include ​The Cat in the Hat​; ​The Cat in the Hat Comes Back​; ​The Sneetches​; and ​Horton Hears a Who!"
A professor at Kansas State University has previously compared the Cat's roots to minstrelsy. Philip Nel is the author of the oft-cited "Was the Cat in the Hat Black?"
The recent paper notes that some Seuss defenders have said the author's perspectives changed through the years and point to tolerance themes in "The Sneetches" and "Horton Hears a Who!"
Ishizuka and Stephens don't buy that, writing that "when his racist published works are documented on a timeline, it is clear that they weren't isolated to a specific time frame in his early life or career. On the contrary, they spanned seven decades from the 1920s to the 1990s—from the minstrel show he wrote in high school (1921) to the last children's book he published before he died in 1991, and every children's book he published featuring people of color in between."
To read their evidence, click here.