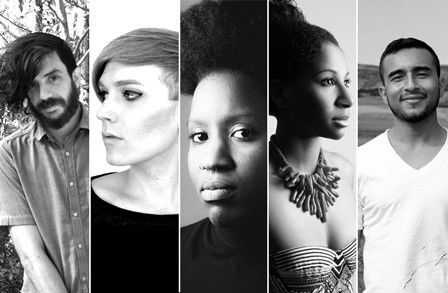 A librarian at Nerinx Hall High School in Webster Groves is one of five young writers each awarded a $25,800 poetry fellowship. 
Alison C. Rollins, 29, has received a 2016 Ruth Lilly and Dorothy Sargent Rosenberg Poetry Fellowship, says Poetry Foundation and Poetry magazine. The award is open to poets between ages 21 and 31.
Rollins, born in St. Louis, now lives in University City. A graduate of Howard University, she is currently working on her master's degree in library science through the University of Illinois-Urbana's online program.
She said by phone that she was "surprised" to win the prize and plans to continue to both write poetry and work in library science: "I want to expand the idea of what a career in poetry looks like."
Rollins has had poems published by Poetry, River Styx, Vinyl and other magazines and has won second prize in this year's James H. Nash Poetry Contest through the St. Louis Poetry Center.
Other winners of the Ruth Lilly fellowships are Kaveh Akbar of Florida, Jos Charles of Arizona, Angel Nafis of New York, and Javier Zamora of California.
Rollins told Vinyl magazine: "In a lot of my writing I am trying to work through what we as human beings understand as fear. How we choose to process and work through our fears; how many of our fears are real and/or imagined."
She was referring to her poem "The Day the Wolves Came," which reads, in part
"We waited for the wolves like rainfall
we met them on all fours, appearing
savage and whimsical, appearing
constructed, supplicated and unafraid,
watching their methodical prowl
observing their wanting eyes and
glistening teeth a convex function,
they are feeding on us like moths,..."