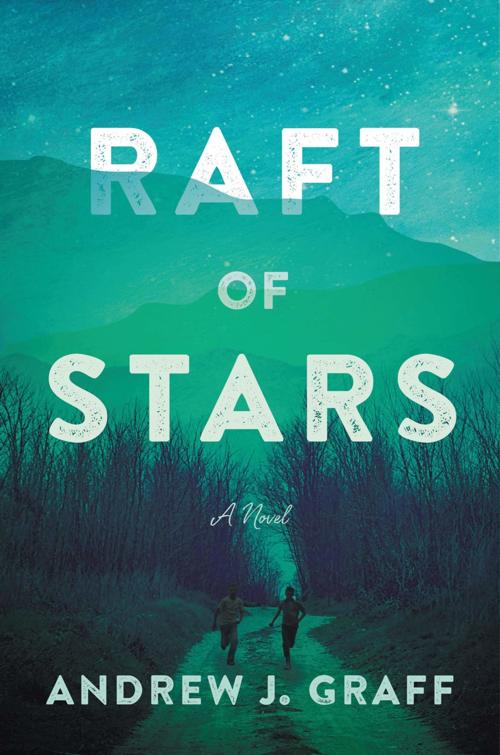 After Dale Breadwin's long-abusive father is found lying on the floor in a pool of blood, four residents of Claypot, Wisconsin, set out to find Dale and his best friend, Fischer Branson, a pair of 10-year-olds who have fled the scene.
All four have their own reasons for being involved in the hunt, and novelist Andrew J. Graff sets them out clearly in the impressive "Raft of Stars," mixing personal profiles with a steady parceling out of plot points to keep the story moving.
There's Cal, the local sheriff who has relocated to Wisconsin from Texas and is having second thoughts about a law enforcement career:
"Four years as a young cop in the city burnt him out. His nerves weren't built for it, nor was his bleeding heart."
Cal has a secret admirer in Tiffany, a convenience store clerk who writes poetry and has dyed her bangs purple and has little experience for the kind of woodsy quest she signs up for. She ends up paired in the hunt for the two boys, nicknamed Bread and Fish, with the latter's mother, Miranda, whose religious faith has helped her through tough times.
Cal's companion is Teddy, Fish's grandfather, whose knowledge of the local terrain and experience in the forest are essential in their search for the boys.
The story is set in 1994, a time when National Guard troops, including Fish's father, have been regularly deployed to the Middle East. That fact plays into a big secret that Fish has kept from Bread, but Bread has family secrets of his own, as the boys both find out while rafting down a local river.
Graff introduces a series of perils for the two, including rapids that they are quickly approaching, presenting their searchers with an urgent deadline to locate them.
Meanwhile, the fugitives don't know the real situation that they have left behind; all they know is that they wanted to get as far away from the scene of the shooting as possible.
And that fear mixes with a sense of independence that Fish finds liberating.
"He wondered why he had never tried this before — running away and swimming a river, getting muddied up and stalking birds on an island. The freedom thrilled him. He was a lone and painted warrior, cutting his teeth in the wild."
Graff, who served a tour of duty in Afghanistan, wrote this debut novel after earning a master's degree from the prestigious Iowa Writers' Workshop. His background as a hunter and a hiker gives him plenty of raw material to make the natural trials faced by Fish and Bread and their trackers realistic and, at times, harrowing.
Besides whitewater, there's violent weather, bears and the uncertainty of who will find the boys, if anyone, and when. There are also lessons in becoming an outdoorsman, including the best way to use a flint and a knife to build a fire, and the fact that worm soup flavored with Red Man chewing tobacco isn't the best meal for boys on the run.
Sprinkled through the book are the religious overtones you might expect when the main characters are called Bread and Fish, but Graff wisely doesn't go overboard with them.
"Raft of Stars" has a happyish ending, tying up a lot of loose ends in a way that readers may find a little too pat and implausible. But his outdoors expertise enriches the narrative to the point that, in the end, you'll be glad that most situations turn out just fine.
Dale Singer retired in 2017 after a 45-year career in journalism in St. Louis. He lives in west St. Louis County.