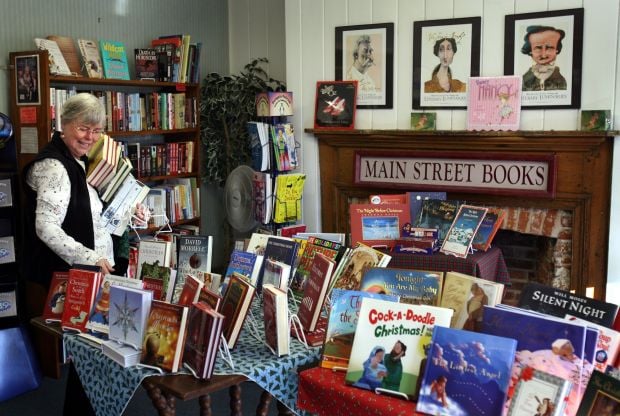 Only a few years ago, independent booksellers banded together for dear life.
Since a local alliance formed in early 2011, three stores have announced their closing and one is still struggling after a forced relocation.
But even though Main Street Books in St. Charles announced Monday that it will close, the reason wasn't falling fortunes. In fact, its owners, and other booksellers, say this year has been a pretty good one for indie stores.
"It's absolutely not closing because of economics," Vicki Erwin stressed. She and her husband, Jim, are both over 60 and want to spend more time traveling and visiting grandchildren.
After 7 ½ years as purveyors of books in St. Charles' historic downtown, the Erwins decided to retire. They bought the store when it was 12 years old, renting the 1,800-square-foot space on a cobblestone street filled with antique stores, tea shops and art galleries.
The news of their retirement has hit loyal Main Street Books customers hard, Erwin says. "It's been emotional these last few days."
As friends and customers call and express their regards and regrets, Erwin says she's struggled not to cry: "People act like I'm not going to be around anymore."
Last year, Pudd'nhead Books in Webster Groves and Sue's News at the Galleria both closed. The Book House was forced out of its longtime Rock Hill location this year. It relocated to Maplewood, but it is working on raising money to renovate and open full time.
Like Pudd'nhead Books did, Main Street has had inquiries from potential buyers, but whether one follows through before the planned closing on Jan. 31 remains to be seen. So far, no potential buyer has the kind of book background that Erwin, 62, does.
Although she went to the University of Missouri in Columbia to earn a degree in child development, she realized early on that children's books really sparked her interest. After a job at Kirkwood Public Library, Erwin worked for Scholastic book fairs, then became the children's manager at City Books in Creve Coeur. Her work there coincided with a boomtime for bookstores in the 1980s and '90s (the store closed in 1996).
"I just loved it," Erwin says. "I knew that this was what I wanted to do."
Before she and her husband, a lawyer, bought Main Street Books, Erwin also worked at the Booksource as a children's book buyer. In 2005, Booksource, a wholesaler, stopped distributing books to retail stores (it still works with schools).
A background of knowing how to choose books to order helped keep Main Street Books in the black, she says. One of the store's strongest departments remains children's titles.
"You have to find your niche," she says. "For me it was children's books and books about local history. Although it was frustrating for me that I couldn't sell more fiction."
Although James Erwin, 67, spent far less time in the store itself, he handled its accounting. As he started tapering off his work as a lawyer, he found a second-career writing. His first book, "Guerrillas in Civil War Missouri" was followed by "Guerrilla Hunters in Civil War Missouri." They have both done well as local paperback histories and now provide royalties. Although Erwin is working on a third Civil War-related book, he may never catch up with his wife, who counts 26 titles, most for children, among her backlist.
Vicki Erwin has written about St. Charles and Kirkwood (where she lives) and for the Babysitters and Scooby-Doo series, but her favorite is her first title.
"Jamie and the Mystery Quilt" came out in 1987, when "everything was so much fun," she says. "Before I learned all the realities of publishing."
Erwin laughs when she remembers the days when an unknown author had a chance to get a manuscript read by traditional publishers without a fancy agent.
"I never would have been able to do that today — just send it in and ask someone to consider it."
Likewise, the romantic idea of owning a store is much different from today's reality, she says.
She doesn't lounge in an easy chair reading all day. Even on the occasional day off (she has part-time workers, but most are there less than one day a week), Erwin is often doing errands related to the store. She spends hours studying publishers' catalogs and lugging around heavy boxes.
"You have to do outside events," such as selling books for author events at other sites. "You have to go to the people instead of just waiting for them to come to you."
Erwin's other hints for keeping an independent bookstore solvent include serving the customer and not just selling what fits the owner's taste. Erwin says, laughing, that her store is the least-literary indie in the area.
She also recommends supporting local authors, but within reason. Keep an eye out for quality, she says. In addition, resist sinking a lot of money into incidentals, like fancy shopping bags or expensive furniture.
An independent bookseller needs to live within her means, Erwin says. That doesn't mean forgoing a salary. "It can be demoralizing to work so hard and not get something out of it. We paid ourselves enough to make back the investment in the business."
Recently, Jim Erwin had stepped in as acting president of the St. Louis Independent Bookstore Alliance, the group that formed 2 ½ years ago when Subterranean Books in University City announced it expected to close. The group, which included Pudd'nhead, Sue's News and St. Louis' oldest and biggest indie store, Left Bank Books, sought to raise their profile.
In some ways, their efforts appear to have helped. Both Erwin and Kelly von Plonski, who owns Subterranean Books, say customers seem far more supportive of local stores, realizing that even if Amazon.com is cheaper, local businesses contribute much to the community. A recent story in the Washington Post about the nation's booksellers even said that "the indie resurgence became publishing's central narrative this year."
This week, von Plonski said that her store has had a "great summer and fall."
With the pending loss of Main Street Books, she has been asked to fill in as a supplier to some upcoming author events at local libraries.
But because her store is quite far from Main Street and has a different clientele, she does not expect to benefit financially: "The more bookstores you have, the better. The loss of any of them is a loss for everyone."
Left Bank Books, which added a second store five years ago, has seen "small, steady growth" at the downtown location, co-owner Jarek Steele said this week. Even though the local alliance hasn't been as active this year, he stays optimistic about the future for independent bookstores:
"I think the whole economic landscape is changing really fast. But that's not necessarily bad for independent stores. We can hold on, in some ways, better than a giant Barnes & Noble can."
Just last month a small store opened in Kirkwood called STLBooks & Gifts. Book lovers are ever optimistic.