Author Neil Gaiman amused hundreds Thursday night with tales from his writing career as he received the St. Louis Literary Award.
"I'm so incredibly honored," he told an at-capacity Sheldon Concert Hall after a standing ovation welcomed him to the stage. As the award's 55th recipient, the author, a fountain pen obsessive, seemed charmed by an image of an old-fashioned pen nib decorating the award's glass statuette.
The literary award's director, Edward Ibur, introduced Gaiman, saying he couldn't think of another writer who has done more to help "young people develop a love of literature."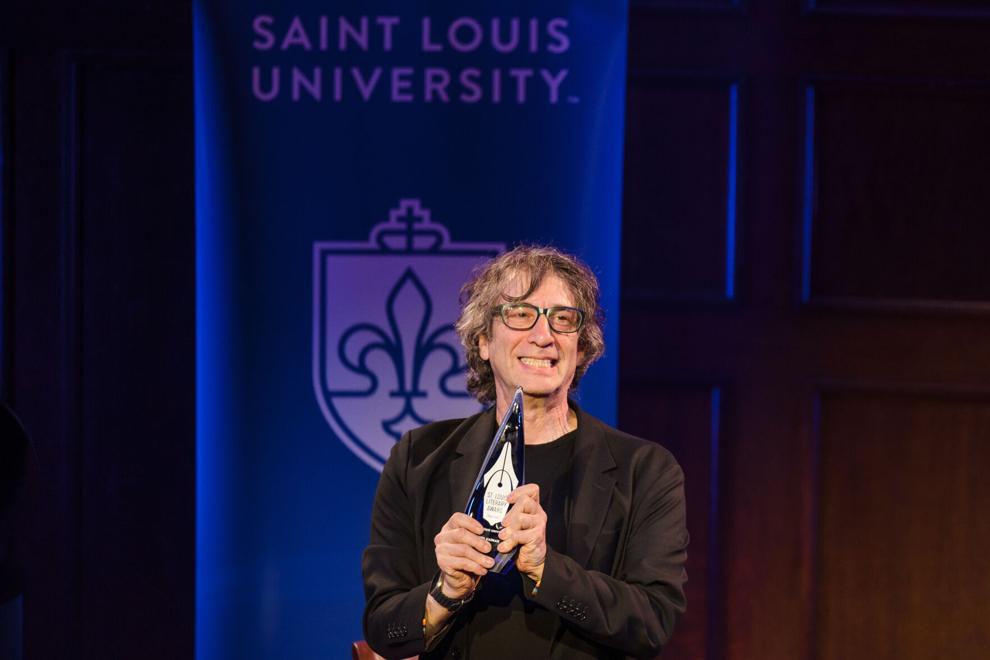 The author of comics, stories and novels for adults and children, Gaiman, 62, remarked on an "amazing lifetime when I got to dream on paper ... and they let me get away with it." And while answering questions from Ibur and the audience, Gaiman told stories about how some of his book ideas were stolen from his children or were inspired by a meteor or even Midwestern weirdness.
St. Louis native Jon Hamm was booked to interview Gaiman but backed out because of a scheduling conflict. The award, which next year will go to Jamaica Kincaid, is given by St. Louis University Libraries.
Coincidentally, Gaiman was named this week one of Time magazine's "100 Most Influential People," which he said before the ceremony made him feel like he had "imposter syndrome."
Born in England, Gaiman was always a voracious reader. Librarians, afraid parents would dump their kids off, later told him not to tell people "I was a feral child who raised himself in a library."
"Libraries have always been for me a support, a lifeline, and I will go to my death supporting libraries," he said.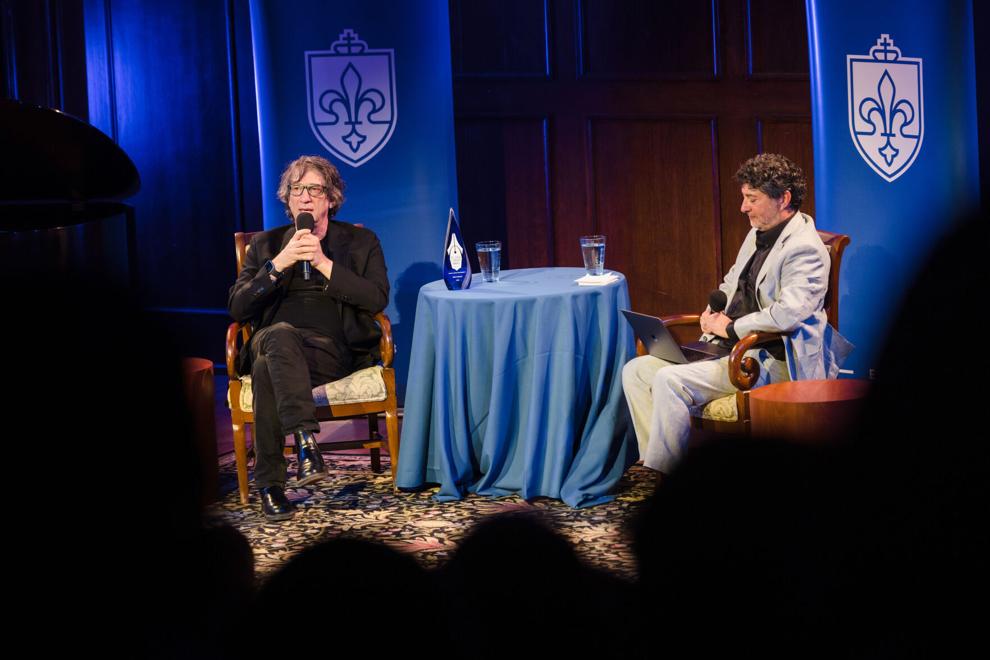 Although he now mostly works in Woodstock, New York, he and his first wife and two young children moved to rural Wisconsin in the early 1990s, living in an old house "that looked like it was built by the Addams family."
Gaiman said, "I'd never been anywhere before where the winters were trying to kill me." But the oddities and roadside attractions of the area (the "House on the Rock" and clunker cars driven onto frozen lakes to spur betting on which would break through first) would find a home in his "American Gods."
In an interview before the event, Gaiman said that when he started writing comics, he "wasn't even in the gutter."
He said: "I used to look up and admire the people in the gutter. The science-fiction people were in the gutter, the children's literature people were in the gutter, too, and I was so far down, I was in the storm drain."
In 1998, he had his first paying gig giving a lecture at a university. It was Washington University, where the art department brought him in to talk about "Myths About Myths" at Graham Chapel. Gaiman was told that the English department was boycotting the lecture because he was a comics writer.
There's been a "sea change" in the past 25 years, Gaiman said in the interview.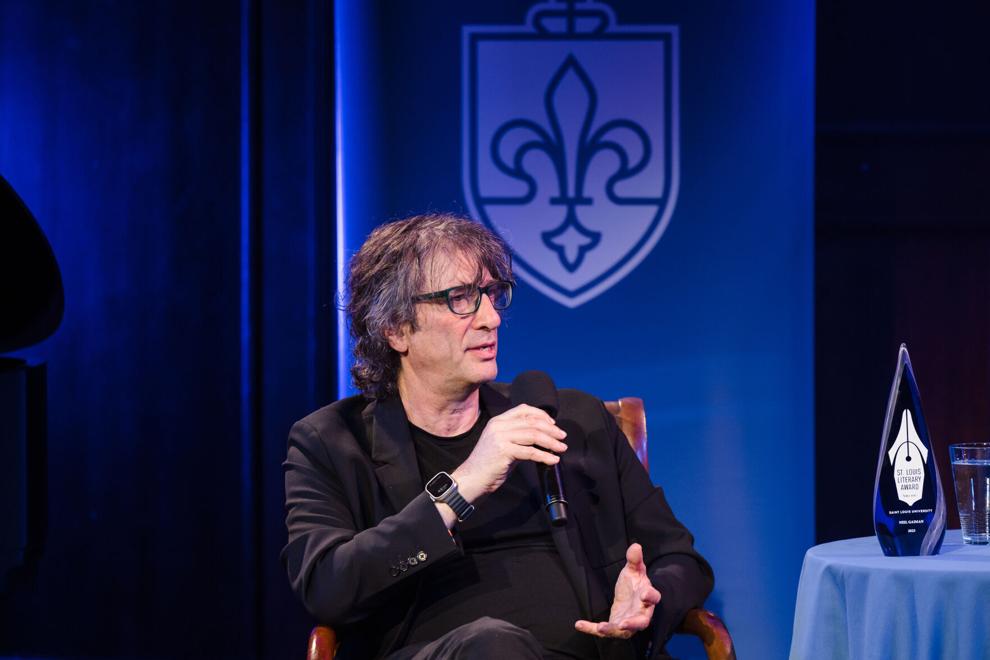 "Comics for me changed in about 2003 when the American Library Association did a pre-conference on graphic novels," he said. Librarians weren't even sure where to shelve them. Writers and illustrators including Art Spiegelman, Scott McCloud, Colleen Doran, Jeff Smith and Gaiman went to talk to the ALA about the changes and growth in graphic literature.
At the time, bookstores and libraries might contain a few "Calvin & Hobbes" and manga collections, Gaiman said. "Maybe a couple of 'Watchmen' and a couple of graphic novels. Now it's a whole new world."
In addition, he says, writers like Michael Chabon turn out books with alternative fiction and they are just shelved as "literature." Had they been published 20 years earlier, they likely would have been classified as science fiction or speculative fiction, Gaiman said. He also pointed to important work by David Mitchell ("Cloud Atlas") and Philip Pullman ("The Golden Compass").
"These days there is a level on which the gutters don't feel like they exist in the same way."
Many of Gaiman's own works have become TV series, movies or even a play, including "Stardust," "Sandman," "Good Omens," "Coraline," "American Gods" and "The Ocean at the End of the Lane." He's been waiting a good decade, however, for Disney to complete a movie of "The Graveyard Book." It's maybe inching toward production, he said.
"The Graveyard Book" was one of those works inspired by his children. A toddler son didn't have room to ride his tricycle in the family's tall, narrow home in Britain. Gaiman talked about how he took the boy to a nearby cemetery to ride and imagined writing about an orphan like Rudyard Kipling's Mowgli. Except the orphan would be cared for by spirits, not jungle animals.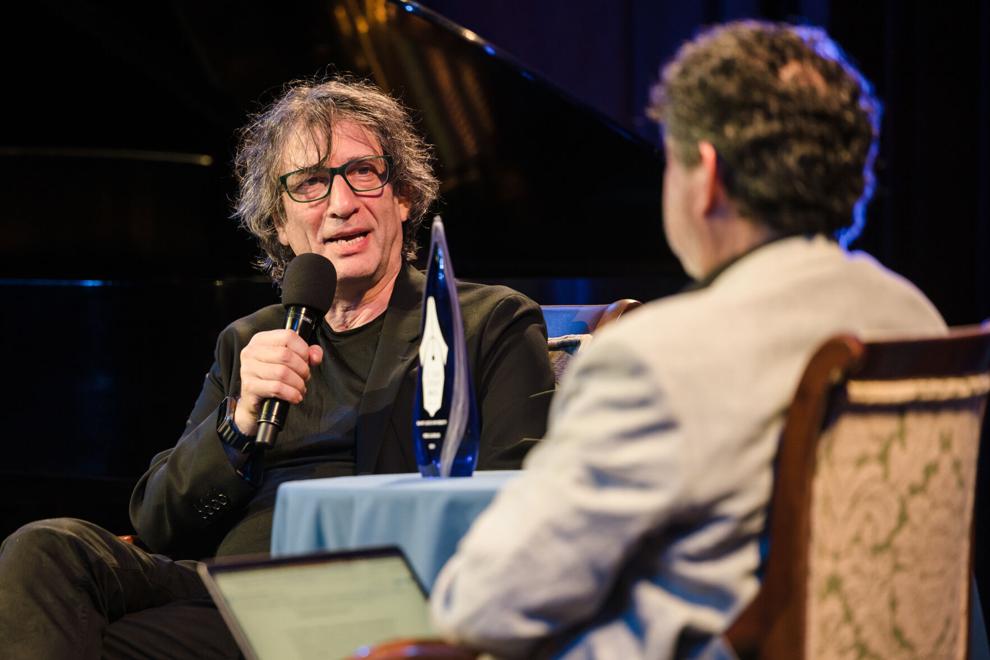 Gaiman tried to write the book but found he wasn't "good enough" early in his career. After thousands of hours learning to craft comics and spin other stories, the author said he tried again while on a beach holiday with his kids. His daughter, Maddy, asked him to read a couple of pages, and she told him she wanted to know the end, spurring on the 2008 novel that would win the Newbery and Carnegie medals.
Later at the award ceremony, Gaiman was asked what work he'd like to be remembered by.
"I don't care," he said, adding though, "I love the idea that something will survive me."
But he said that he won't be around to experience it and that often what "lasts is weird," pointing to the fact that A.A. Milne was well respected during his life for his humor writing and plays. Now, his reputation depends on a plump bear named Winnie-the-Pooh.
Gaiman, too, has written picture books, such as "Chu's Day," about a bear.
"I would be just fine if 200 years now someone says, 'Did you know the guy who wrote the book about that little panda that sneezes also wrote other stuff, too?'"
---