"My city refuse to perish, but my city be dying. My city been dying. My city be bullets and bullets and bullets and bullets and bodies and bodies and bodies, and my America be the smoking gun."
James Watford of St. Louis stood on the corner outside UrbArts in front of four other men one night last week reciting his poem "My City" with gusto, quickly capturing their attention and quieting their chatter. Throughout the night, Watford and the members of his St. Louis Poetry Slam team took turns rehearsing their own works on the street, speaking over the sounds of rainfall and passersby.
On Friday, the group will represent their city — the one Watford critiqued — in the biggest slam poetry competition in the Midwest.
MK Stallings founded UrbArts, a nonprofit dedicated to promoting various art forms in the St. Louis community, in 2001. His organization is hosting the 20th annual Rustbelt Poetry Slam on Friday and Saturday; teams from Michigan, California and even Canada will be in town to compete, and the public is invited to watch.
Slam poetry began in the 1980s as a way to entice the public to engage in poetry and with writers. The art form includes writing and performing the poems, and topics can range from personal feelings and experiences to social justice causes. Judges evaluate the performances and declare a winner.
This year's St. Louis Poetry Slam team is made up of four men from the region: Watford, Zaid Hameed, Louis "Conphliction" McGee and Calvin Rogers, known as "Abby the Truth." Stallings chose the team members based on past competition performances.
More than 100 spoken word poets — 20 slam poetry teams and 16 individual poets — are registered to compete at Rustbelt. While Stallings says he values the platform slam presents for networking writers, he also thinks poets should recognize the difference between competition and their art.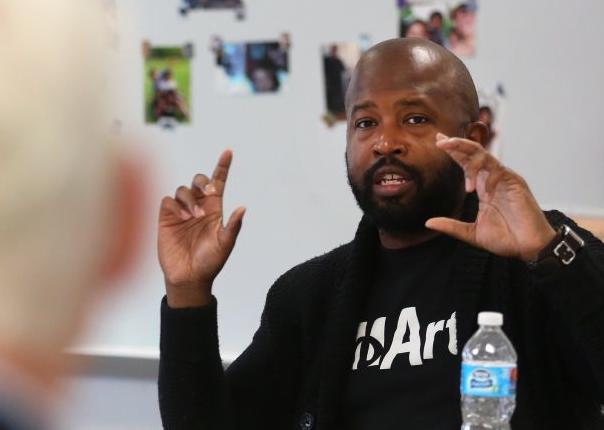 "There's another element of poetry slam, and that's just poetry," Stallings says. "There's a desire by the poets not to debase the art of poetry any further than you have to by making it this really crass competition between individuals who are engaging in some form of one-upsmanship."
The Rustbelt Poetry Slam gives poets an opportunity to meet artists from across the country, Stallings says, because it is one of the biggest regional competitions. The winning team earns $1,500, and the winning solo performer gets $600.
Events like Rustbelt create a pathway for poets to monetize their talents, even if that means "kind of feeding their souls, if it doesn't actually feed their stomachs," Stallings says.
Groups of four teams apiece will compete for three rounds, or bouts, speaking on undetermined topics. In each bout, teams can choose to send members individually or as groups, and each team will present four poems in each bout.
Each round is scored by a panel of judges randomly selected from the audience, and scores will accumulate as rounds progress. Winning teams will proceed to the final, which has the same format.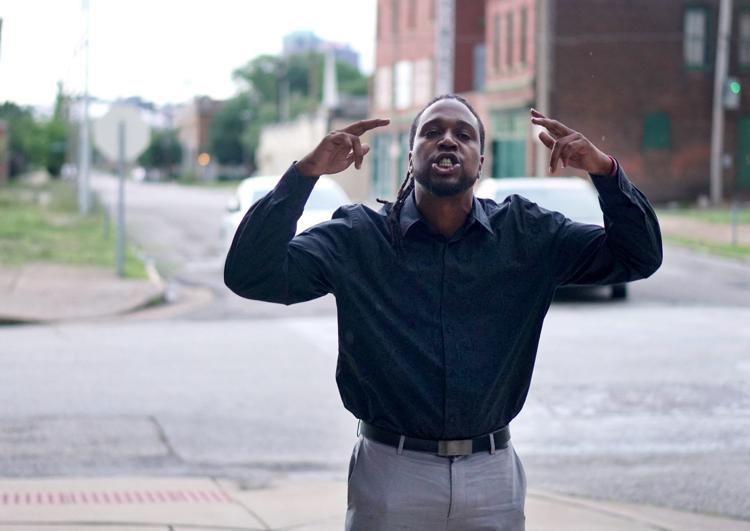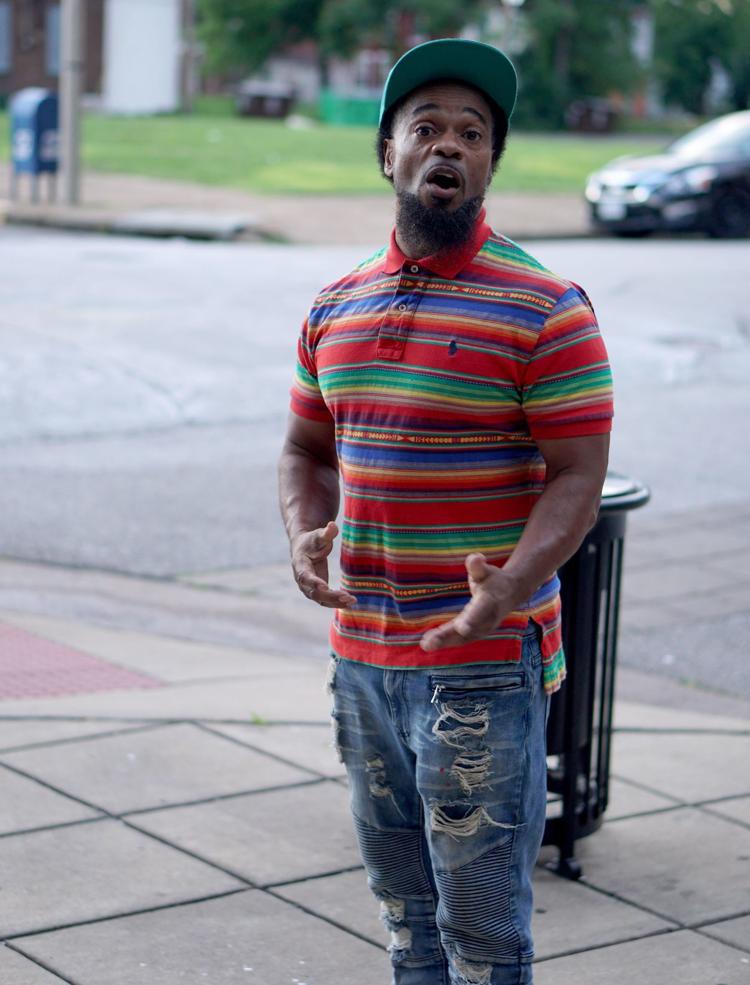 Stallings says he asked Conphliction, the team's leader, to coach, knowing he had the experience to make quick decisions, as well as a love for the art and the city.
Conphliction became involved in the St. Louis poetry scene 10 years ago at age 19. He since has traveled the country, headlining poetry readings and open-mic events. He says he hasn't participated in a slam competition in almost five years; he felt poets sometimes lost themselves in the competition, becoming disingenuous.
"I'd rather us completely go down in flames being ourselves than go down in flames trying to be something else and regretting it for the rest of the time," Conphliction says.
When listening to his team's poems, Conphliction says, some natural themes arose. This is the first time the team has consisted solely of black men from the St. Louis area, he says; it lacks the diversity of some of the opposing groups.
What the St. Louis team brings, however, is a sense of unity in a group that can speak for a community that doesn't always have the opportunity, Conphliction says.
"Regardless of whatever any of us says on that stage at any given time, we're still coming from the perspective of a black man," Conphliction says. "I'm fine with that."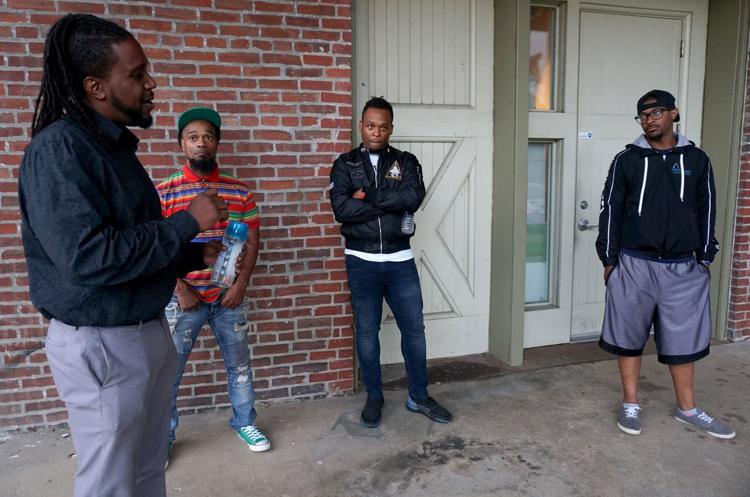 Problems can arise, he says, when poets stray from their own experiences or present narratives written to please judges or audiences. When traveling to places such as Louisiana and New York and hearing people speak the same way, he says, he leaves without a sense of the community's identity.
Poetry is education for team member Hameed. He is the youngest member of the group and only began attending open mics seriously in December. Since then, he says, he has participated in more than 30 of them.
Earlier this year, Hameed won the St. Louis Poetry Slam competition, which allowed him to join the Rustbelt team.
For Hameed, slam provides an opportunity to express himself while maintaining a competitive edge — a side of himself he doesn't show often.
Poetry also allows him an outlet for his anger. He feels passive in his daily life, but onstage, he lets everything out, sometimes even surprising those closest to him, he says.
Recently, he wrote and has performed a trilogy based on the movie "Black Panther." Because of his ability to express his feelings through stories that may not be his own, he considers himself not only a poet but also a storyteller.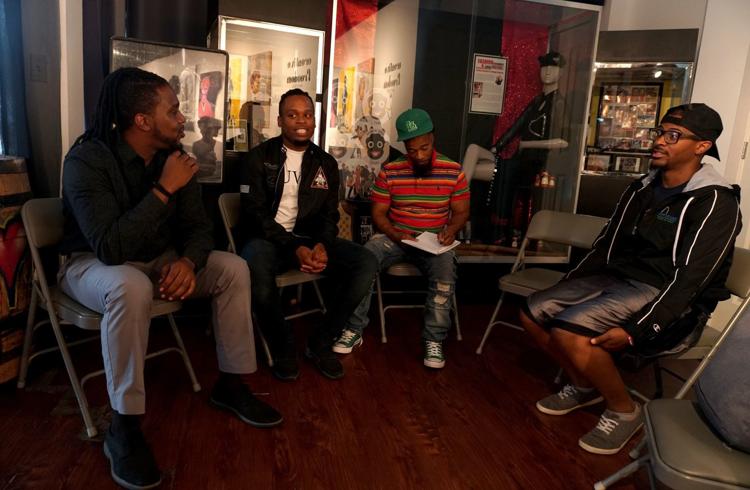 "Everybody wants to have their moment where they can say whatever's on their mind and nobody can interrupt them," Hameed says. "My friends know I talk a lot, but when I'm onstage, it's unfiltered — just expression. It's like energy in its raw form."
Hameed says competitions offer a different opportunity than open mics for performances without judgment. This is his opportunity to receive constructive criticism and to progress as a writer in the respectful but competitive atmosphere of the event.
Conphliction says judges may score poems differently because of what they see on YouTube or how they think slam poetry should sound. But the art form allows each person to be organically themselves.
The best poets balance the art of poetry and genuineness with rhetoric, Stallings says. Many of them speak about their own trauma, dragging it out again and again for others to critique. Great poets, he says, are able to stay true to themselves while staying relevant, especially in a competitive setting.
"I don't know if the poet really ever intends to reveal as much as she, he, they do in the work, but sometimes the nature of the work requires that you reach a place of authenticity — of truth," Stallings says. "Once that place is found, it can connect powerfully with audiences. It's that emotional thread that connects us as human beings."
The St. Louis team has only met to rehearse once, but Conphliction isn't worried. He says he and his teammates want to make St. Louis a place all artists feel they should visit by representing the city in the best way they can, with powerful poetry and good sportsmanship.
"Our team, we understand opposition, and when you can do that, can you really ever measure where you're gonna go?" Conphliction says. "It's going to be an up and down, but we're OK with the journey."
What Rustbelt Poetry Slam • When 7 and 9 p.m. Friday, 11 a.m. and 1 p.m. Saturday; individual final is 4 p.m. Saturday, team final is 7 p.m. Saturday • Where .ZACK, 3224 Locust Street • How much Free for preliminary rounds; final rounds are $20 • More info 314-534-1111; metrotix.com
Stay up-to-date on what's happening
Receive the latest in local entertainment news in your inbox weekly!