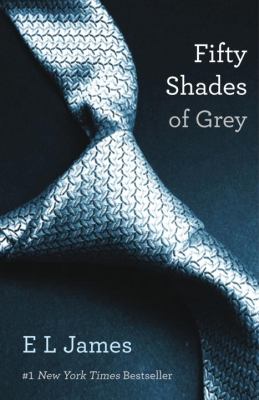 Some customers just ask for "The Book."
But even if the title makes people squirm, "Fifty Shades of Grey" not only plays in Peoria, it remains in high demand throughout the heartland.
The erotic romance novel, notorious for its bondage scenes, was popular as a Mother's Day gift, has already spawned imitators and may continue through the summer as a best-seller, local bookstore owners say.
"It's the summer of porn," quips Nikki Furrer at Pudd'nhead Books in Webster Groves.
Hundreds of readers are waiting for a copy through the St. Louis, St. Charles County and Illinois' Heartland library systems, just for starters.
A few libraries in other states have said they won't stock the book, but suburbanites here just need to wait patiently. On Tuesday, the St. Louis County Library had 1,343 requests for its 249 copies. This week it ordered 100 more.
Knopf Doubleday Publishing Group announced Tuesday that "Fifty Shades" and its two sequels had sold more than 10 million copies in six weeks, capturing up to 25 percent of the adult fiction market.
Quaint Main Street Books in St. Charles is one local store that can't keep the novel on the shelf. Over the weekend, a clerk had five requests in five hours, owner Vicki Erwin says. One recent customer asked only for "The Book." Erwin knew what she wanted.
"We're expecting more copies this week," she says. "I think it will sell for a while."
Like most booksellers, she says she's cool to the hot title, but "can't afford not to sell something people want."
So mainstream is the soft-core novel, the first in a trilogy, that even President Barack Obama was quizzed about it recently on TV (he denied knowledge and said he'd ask his wife).
At Puddn'head Books, Furrer has expanded a shelf of "what to read instead of 'Fifty Shades of Grey,'" even though she stocks the trilogy.
Like many readers, she thinks the books are poorly written.
"There are many romance novels that are better written," she says. "It's just become socially acceptable to talk about 'Fifty Shades.'"
Penguin's Berkley Books seems to want to ride the best-seller's coattails by heavily promoting its "Bared to You" by Sylvia Day, which goes on sale Thursday.
Meanwhile, bloggers contemplate who will star as the characters Anastasia Steele and Christian Grey in the movie adaptation of "Fifty Shades."
Author E.L. James started her novels as "Twilight"-based fan fiction. James is a pseudonym for Erica Leonard, who lives in London with her husband and sons.
After the self-published books proved popular, James sold U.S. rights to Vintage Books, part of the giant Knopf Doubleday group. The paperbacks have gone back to press 60 times.
Media reports tend to focus on the surprising appeal of the novel's bondage talk and the fact that middle-age couples say the story has recharged their sex lives.
But for romance aficionados, the surprise is that people don't know how popular and sexy romance novels have been.
Erotic romance started to become its own subgenre in the 1990s with ebooks, says Wendy Drew, who owns Rose's Bookhouse in O'Fallon, Mo.
Her shelves hold everything kind of romance from "Amish to bondage," she says.
With romance fiction tallying $1.3 billion in U.S. sales in 2010, the genre sells more than any other.
Drew counts among her customers women in their 80s who buy erotic romance. Other women like to read about gay love stories, but also "hot" are the mild-mannered Amish romances, which rarely include more than kissing and hand-holding.
"It's interesting that the fringes are becoming more accepted," Drew says. Almost every kind of romance, from historical to mysteries to contemporary paranormal, can also have an erotic element, she notes.
"The main difference between erotic romance and erotica is that erotic romance has a 'happily ever after' (although it doesn't have to be a traditional one man-one woman relationship)," she says.
For readers who have been left in the dark about the varied subgenres, "Fifty Shades of Grey" will "open their eyes," Drew says. The James trilogy is categorized in the erotica subgenre of BDSM (for bondage-discipline and sadomasochism).
Like Furrer, Drew says there are better-written romances that booksellers can recommend. One local author says writers don't understand the big to-do over "Fifty Shades."
Under the pen name Jeannie Lin, Chi Nguyen-Rettig has just published "My Fair Concubine," a bondage-free story set in ninth-century China. Romance is a fluid genre, she says, with lots of niches.
"A lot of romance has gotten hotter," Lin says. "Modern readers see so much on TV, they aren't as satisfied with just allusions to sex."
"Fifty Shades" takes a Cinderella fantasy and adds an element most readers don't know much about, she says:
"The hero is a mysterious billionaire; that's an easy fantasy to get into.
"'Fifty Shades' goes from something very accessible to something a little risqué and outside our realm of knowledge."
Every large library in Missouri seems to have bought "Fifty Shades," says Lucy M. Lockley, who for 12 years has been collection development manager for the St. Charles City-County Library.
When choosing romance novels, she tries to go by pre-publication reviews or past patron interest in an author or book series.
Although the library has no policy against buying pornography, Lockley usually doesn't buy graphic material that has no plot.
"Fifty Shades" was never in doubt. Customers asked for it from the start. The St. Charles City-County system has more than 600 patrons waiting for their chance to read one of 115 copies, and more than 250 wait for 26 copies of the ebook version. The audio book is on order.
"Fifty Shades" may be an unusual phenomenon, but the librarian says erotic stories aren't new to their catalog.
"Our system has been around for about 30 years," she says. "I'm sure we've had material classified as erotic literature from the beginning."