A horrific murder in St. Louis is something Jeanine Cummins has grappled with since she was a teenager. And that trauma indeed affected her new bestseller, "American Dirt."
"My life experiences very much come to bear on the way I've written this book," she says. "I am a person who has experienced significant trauma in life.
"I can't unbraid that part of my identity from any other part of my identity and determine which things match up with what in my books. But I know for a fact that one of the things that was a catalyst for me in wanting to write 'A Rip in Heaven' was also a catalyst for 'American Dirt' — the sense that this story, in large part, had been taken over by violent men.'"
"American Dirt" was published Tuesday, but it's already poised to be the most talked-about novel of early 2020.
Picked for book clubs by Oprah Winfrey and Barnes & Noble and already optioned for film, the propulsive story of a Mexican mother and son running for safety grips readers from the start. Cummins had been scheduled to speak at the Ethical Society in Ladue on Sunday, but Saturday night Left Bank Books, which was sponsoring the event, canceled Cummins' talk, citing calls and posts to social media "insisting we cancel the event" promoting "a white author who writes about a Latinx experience."
But on Wednesday, Cummins had shared her side of the controversy with us. She had already gotten some of the kind of feedback she'd hoped for. A woman in tears told her: "I'm the person who needed this book. I am not an empathetic person by nature. I did not care about migrants, and now I do." After reading "American Dirt," the woman said, she went online to find a place to volunteer to help migrants.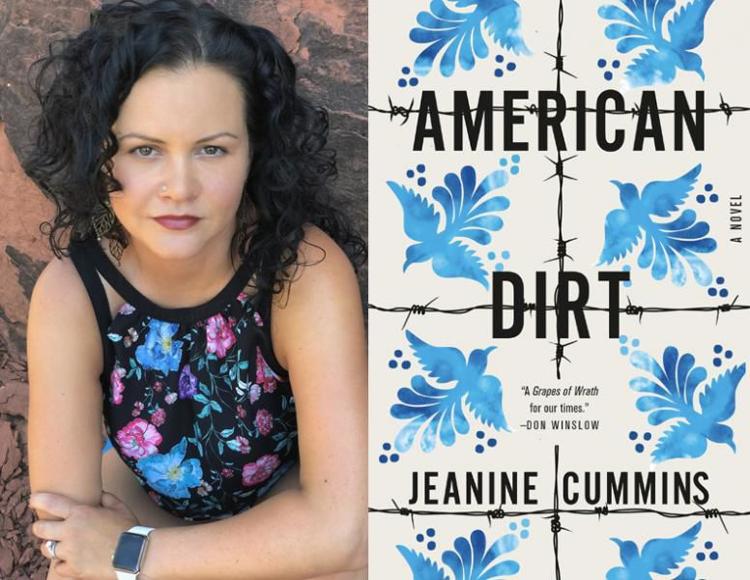 "Of course my hope is that the book can effect change in people's hearts and their minds," Cummins says, noting that's a "lofty" goal. But, she says, "I know that it's possible because it's happened to me."
The reader's comment helped counter vitriolic criticism the author has received, including personal attacks about not being Mexican yet imagining a protagonist from Acapulco who seeks entry to the U.S. after her husband, mother and other relatives are executed.
In the story, Lydia and Luca have survived by hiding in a shower stall as a drug cartel takes revenge on her husband, a journalist. When police arrive, Lydia goes to his body:
"Someone has removed the cardboard sign the gunmen left weighted to his chest with a simple rock. TODA MI FAMILIA ESTÁ MUERTA POR MI CULPA (Today my whole family is dead because of me)."
Like she did in "A Rip in Heaven," Cummins wants "American Dirt" to "reframe the story and put the people on the flip side of violence at front and center." She hopes to burrow into the hearts of those affected.
St. Louis past
A couple of writers who aimed attacks on the novel even before its publication seem to discount Cummins' own past, her living through the tragedy and grief of murdered relatives.
On April 4, 1991, Cummins' brother, Tom, and two cousins, Julie and Robin Kerry, went to the old Chain of Rocks Bridge to see a poem the sisters had spray-painted on the derelict structure, a hangout for teenagers. Jeanine, 16, remained safe in bed. Her family was to leave in the morning for home in Maryland after the spring break visit with family.
At the bridge, two young men and two youths attacked the Kerry sisters, Hazelwood East grads and students at the University of Missouri-St. Louis. One of the youths later told police that the other three raped the women and pushed them off the bridge into the Mississippi River. Tom was robbed and forced at gunpoint to jump. Julie's body was recovered three weeks later, but Robin's was never found.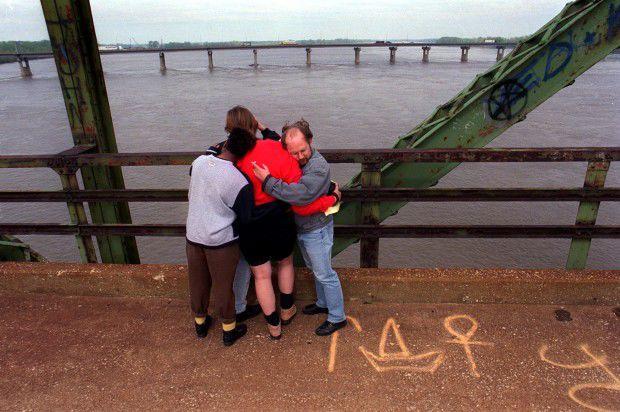 Only Tom, then 19, survived, crawling out of the river and warily looking for signs of the attackers. He flagged down two drivers, who called for help. Later, police found his story so unlikely that Tom was briefly the suspect.
Since then, the Post-Dispatch has printed hundreds of stories in connection with the case, but only the early ones were about the victims themselves. Most followed trials and appeals, including death penalties given for two men. One man would be put to death; the other, who had been beaten by police, was retried and finally admitted guilt. He was sentenced to life in prison.
Cummins published "A Rip in Heaven," about the events of that case, in 2004 because, she wrote then, her "family has watched helplessly while the press has demoted Julie and Robin to little more than background details. Meanwhile, their murderers became media darlings."
In 2015, she wrote an opinion column for the New York Times addressing the fact that three of the four suspects in the case were black:
"For almost 25 years, I asserted that race had no place in the discussion of what happened to my family. I still don't want to write about race. What I mean is, I really don't want to write about race. I'm terrified of striking the wrong chord, of being vulnerable, of uncovering shameful ignorance in my psyche. I'm afraid of being misinterpreted.
"I am white. The grandmother I shared with Julie and Robin was Puerto Rican, and their father is half Lebanese. But in every practical way, my family is mostly white. I'll never know the impotent rage of being profiled, or encounter institutionalized hurdles to success because of my skin or hair or name. But I care about race and equality. And it's imperative for white people to join the conversation about racism. Discomfort is the least of our obligations."
She wrote the column in the aftermath of the protests over the shooting death of Michael Brown and the coming appeal of one of her cousin's killers. She argued that police misconduct in questioning one of the killers "violated the justice Julie and Robin deserve" but didn't offset his guilt; it also didn't make her family a model for "'victimized' white people."
This column recently has been cited to highlight her "whiteness," but it's also clear Cummins has thought about social justice issues for many years, not just in connection with the new book. Her previous two novels also touched on the theme: "The Outside Boy" is about a boy who is an Irish traveler and the prejudice his family lives with ("I wanted to show him as a human boy, first," she says). "The Crooked Branch" delves into mothers in two historical periods, including the Irish potato famine and Britain's role.
All have been reprinted with new covers identifying Cummins as the "bestselling author of 'American Dirt.'"
Striking a chord
For several years, Cummins lived in Ireland to escape the land of her cousins' murders. Now, she's steadying herself for some 40 stops to talk about the new novel. If she was afraid of "striking the wrong chord" when writing about the Chain of Rocks killings, she faces more challenges over "American Dirt."
"I was resisting telling this story because I was afraid of this exact moment," she says, noting that she's trying to read fewer attacks on social media about whether she has a right to appropriate a different culture.
"I understand that voices of color and voices of women have been hijacked for a very long time," she says. "It has been a conversation long overdue."
But she questions whether novelists are the ones to solve the publishing industry's long history of favoring white authors. (Although many books and memoirs by Latinx writers have been published, this country's few millionaire novelists have usually been white. Cummins reportedly received a seven-figure deal for her book.)
In a New York Times review, novelist Lauren Groff wrote: "In contemporary literary circles, there is a serious and legitimate sensitivity to people writing about heritages that are not their own because, at its worst, this practice perpetuates the evils of colonization, stealing the stories of oppressed people for the profit of the dominant."
A Mexican American writer in Texas, David Bowles, wrote that he isn't against white authors writing about immigrants, but he cited the expensive deal, Winfrey's endorsement and what he said is poor use of Spanish as part of his takedown on medium.com: "At a time when Mexico and the Mexican American community are reviled in this country as they haven't been in decades, to elevate this inauthentic book written by someone outside our community is to slap our collective face."
A review on thebluenib.com lists inauthentic details, including that Luca would be "Lucas" in Spanish.
The issue focusing on writers will no doubt be debated in book clubs. Counter-arguments often bring up free speech and the primacy of imagination, fearing that demands for writers to stay "in their own lanes" smacks of censorship and segregation. If a poorly written book misrepresents or stereotypes another culture in fiction, readers can spotlight it. Let the author take the heat then.
Christopher-Alex Chablé, a poet in St. Louis, earned his master's degree from the University of Missouri-St. Louis. As a Chicano who grew up in Columbia, Missouri, Chablé is sensitive to the issue of "don't write the other," he says.
"I really think writers can write whatever they want," he says, "but just because you do it doesn't mean you aren't free from criticism. You have to write well and write with the intent of creating people who are real and are not stock characters." He doubts he'll read "American Dirt" because he's reading books by Latino writers.
Javier Ramirez, a Chicano bookseller in Chicago, supports the book and is angry over the controversy.
"I've seen this cancel culture in publishing, and we cannot let this happen," he told booksellers just days ago at the American Booksellers Association's annual conference.
Much of the criticism on social media has come from people who haven't read the novel, let alone actually had an experience anything like the one depicted in the book, he said.
"It chills me that they would talk about Jeanine as a terrible monster looking to make a buck off migrants."
Ramirez, one of the owners of Madison Street Books, which opens next month, says he will display "American Dirt" with books by Latino writers. He believes the novel will get people to "dig deeper" into Latino literature.
Kelly von Plonski, owner of Subterranean Books in University City, is one bookseller who will proclaim she loved the novel. "I think if we limited storytelling to only telling your own narrow experience, then imagination doesn't get enough play and the stories themselves would be very limited. Just because a non-Chicana wrote this one doesn't mean that there isn't room for Chicanas to (continue to) write them, too."
Cummins, who now lives in New York's Hudson Valley, believes "fiction will not exist if we are only allowed to write about what we know. That is memoir."
She doesn't want to fight social media attacks, saying that some of the questions will be better addressed on tour: "I feel confident when people actually read the book and are basing their judgments on the merits of the book itself and what's in the pages, that's a very different animal than what has grown online."
Her motivation for writing was to counter the superficial "dueling narratives in this country from the political right and left," she says, stereotypes either of "invading criminals" or "poor people" who must be saved. She saw a "glaring gap in the middle where humanity should be. I was determined to write into that gap. I was hoping the story might feel like a bridge of empathy and love into an experience that readers themselves have not had."
This book is more plot-driven than her others, she says. Over some five years of work, she concentrated first on the action after reading books by Mexican American writers and traveling to the border to interview migrants and workers there.
Supporters of Cummins' work have included Mexican American and Latina writers such as Sandra Cisneros, Julia Alvarez and Erika Sánchez.
Cummins wishes more fiction writers would pay attention to migrants' stories: "No one needs it more right now than the people all over the world who are compelled to leave their homes, who in many cases don't have any choice, and are taking great personal risk just in the hopes of getting to safety. In this country we're pretty complacent about it."
When she comes back to St. Louis, she'll return to the "place of her most significant heartbreak." But she also feels love toward the city and her aunts and cousins who still live here.
Her brother, Tom, she says, has been a firefighter for 30 years. Now a captain, he's getting ready to retire. He's proud of her new book, Cummins says. The teenager who survived a jump into the Mississippi is standing with her, she says. "He's very much enjoying this moment with me."
Stay up-to-date on what's happening
Receive the latest in local entertainment news in your inbox weekly!