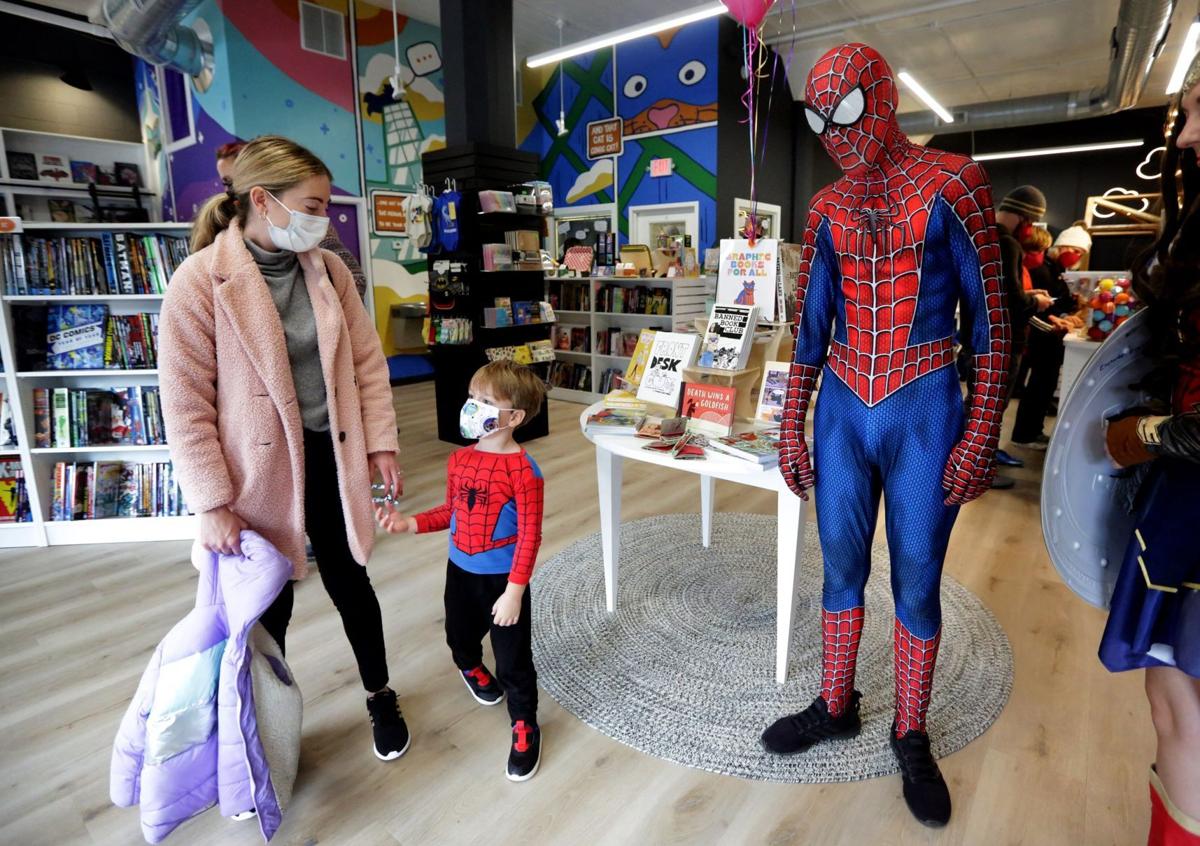 Despite the Baby Yoda socks, comics wallpaper in the bathroom, and a storytime seating nook, Betty's Books isn't just for kids.
The new Webster Groves store is for all ages — if not all genres.
"I never would have opened a general bookstore," Betty Bayer says. She wanted a niche, something manageable, and graphic literature, aka comics, seemed a reasonable entry point for the mother of two.
Boom! At its grand-opening last weekend, Betty's Books sold about 500 books, with teens and adults telling Bayer they were glad to have a store focused on the popular format, she says.
At a time when independent bookstores seem to be making a surprising comeback, two new locations centered on comics opened during the pandemic, while librarians saw a desire by readers for more graphic literature.
"It's a clever and beautiful format," says Lee Anne Litzsinger, collection development librarian for St. Charles City-County Library.
The library system's graphic literature was checked out over 167,000 times between July 2020 and June 2021, she said by email: "That's a 16% increase from the previous year, even though circulation was affected by closures due to the pandemic."
Publishers Weekly reported that last year's sales of comics, periodicals and graphic novels in North America was about $1.28 billion, a 6% increase over 2019.
And the good news for people such as Bayer is that bookstore sales are growing faster than those at the traditional comics shop, the report says.
Broader themes and audiences
Graphic literature includes everything from fiction to nonfiction, memoir to self-help. Although superheroes are classics, and comic strips for decades have explored social issues, politics and sex, contemporary topics now range from pregnancy and cooking to immigration and civil rights.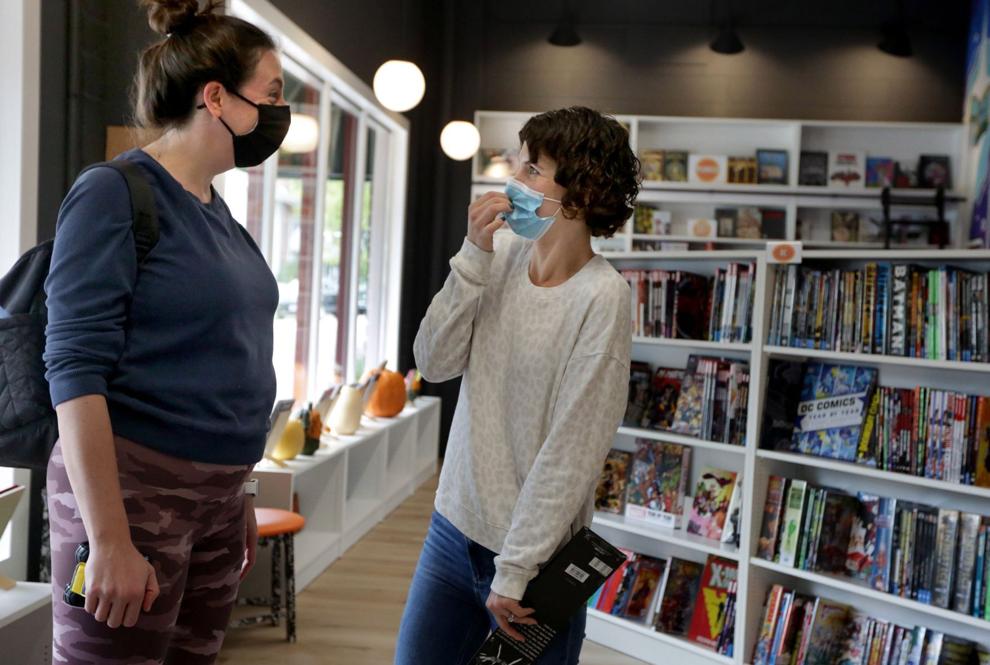 In 1992, "Maus" by Art Spiegelman won a Pulitzer Prize (the first, and only, graphic novel to do so). Alison Bechdel's "Fun Home," a coming-of-age story about growing up in a funeral home in the 1970s, has been around for 15 years (and turned into a stage musical). Its themes of suicide, homosexuality and family disfunction helped graphic lit grow up. Like "Maus" and others, it drew more attention to the genre as adult fare.
Yet, Bayer says, some adults coming into her store still seem to mistake it as just for kids.
On Summit Avenue, just around the corner from Cyrano's Cafe on East Lockwood Avenue, Betty's Books separates offerings by age.
Individual, serial comics aren't sold except in collected, bound form. The 6,000-plus titles include everything from children's picture books all the way up to sexy, very adult collections. Workers will gently guide young shoppers to appropriate shelves if necessary (many adult titles are also plastic-wrapped).
A few toys and gifts are stocked, along with snacks. And Bayer does want the store to be family friendly, appealing to both kids and adults. Kids are allowed to make noise and color while their parents wander a few yards away to browse adult titles.
Part of her mission, Bayer says, is to make sure everybody can find an interesting book.
One of the things she loves about graphic literature in general is it has so much diversity in terms of sexuality, ethnicity and race. "It's pretty easy to make sure we have a diverse collection."
She also notes that "the new superheroes have more diversity and more women," such as Ironheart and She-Hulk.
Comics and cocktails
Martin Casas has also expanded the city's comics offerings during the pandemic, opening a second location of his Apotheosis Comics & Lounge. The first store, on South Grand Boulevard, turned 4 years old just a couple of months after a new site appeared at the corner of Jefferson Avenue and Cherokee Street.
One reason he opened another store was to expand special event space.
The Cherokee spot will focus on open mics, music and comedy shows, Casas says. It has a bar that sells canned drinks, both soda and cocktails.
The South Grand store offers a lot of tabletop games such as Dungeons & Dragons. Both stores, he says, are meant to appeal to "comics curious people."
"We try to change the narrative of what a comics store is. Historically, they haven't been warm places, the customer service hasn't been great."
Casas wants to provide a place for people to talk about comics and ask questions. While Cherokee will focus on graphic literature, the South Grand store has both it and single-issue comics.
Something that helped the store during the pandemic was online sales — although Casas admits that what he sells is available from other online venues. The store, however, also provides camaraderie.
"One thing you can only get from us is customer service, a community."
A bestseller during the COVID pandemic has been "Science Comics: Plagues." Not a joke, Casas says.
Graphic lit that educates in math, history, even gardening is a boon for today's young readers, he says. "It's the perfect transition between what you see on an iPad and what you see in a book. The perfect medium for kids to learn."
At 41, Casas calls himself an "old-school nerd" who looked for classic novels in comic book form as a struggling student. "I'm glad it's easier for kids now to experience them."
Reading graphic novels isn't an easy out for students, says Litzsinger, the St. Charles librarian. "We live in a very visual world, and graphic novels teach crucial visual literacy skills as well as textual literacy. Our world is so visual; movies, television and video games all rely on the interpretation of images to tell a story — and graphic novels help teach kids how to interpret images and text."
One nerdy haven, Seattle, has lost some comic book stores in recent years. But according to the Seattle Times, stores that have survived are doing some of what Casas and Bayer are trying: welcoming diverse audiences and expanding business models.
Just this month, the newspaper pointed out examples: "Golden Age Collectables in Pike Place Market is a full-fledged pop culture emporium, for instance, and Capitol Hill's Phoenix Comics & Games offers a wide array of board games and in-store gaming opportunities." One Seattle seller also noted, "We focus on people who have never read comic books."
Growing demand
Betty Bayer has an old-fashioned first name, but she's only 32. Named for her grandmother, she's an "Elizabeth" who has always gone by Betty. Now it's also the name of her store.
Bayer grew up near Bettendorf, Iowa, and came to St. Louis to study art history at Washington University. A book lover, she didn't really pick up graphic literature until her 20s. Bayer has worked teaching English and at the St. Louis Public Library.
There, she learned what a passion young readers and teens had for manga and other comics.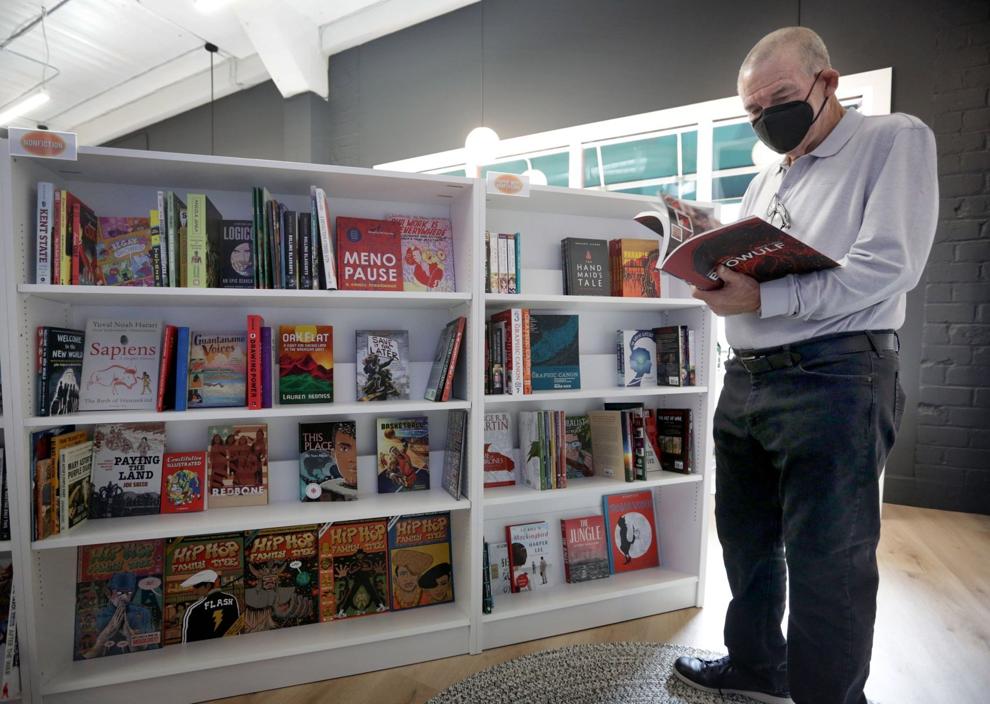 Currently, the city library has about 10,000 graphic novels for kids and 9,500 for teens, says Karen Young, a materials selector for the library. Graphic novels make up about 35% of children's fiction check-outs, and 42% of teen fiction check-outs.
With the growing demand, Bayer decided there was a market for graphic literature that wasn't necessarily being met locally.
"I always liked the romantic idea of idea of opening a bookstore, but I kind of knew that practically, with competition from Amazon, etc., it wasn't realistic."
During the pandemic, however, she was home with her children, Mary, now 4, and Bruce, 2. Bayer was restless and decided to take an online class about starting a bookstore through the American Booksellers Association.
Although it was "kind of just for fun," the class helped her see how it might be feasible. "Indie bookstores are really coming back and have been for five years or so," she says.
During the store's opening weekend, she said, shoppers told her they were glad her store was there. "People were very excited."
She's starting off with Monday morning storytimes and hopes to offer comics drawing classes in the future. Perhaps tabletop gaming, too. "I'm going to try to get through the holiday season and gather intel," Bayer says.
"I feel with bookstores you have to manage your costs." But if she's careful, she thinks, the new store might work: