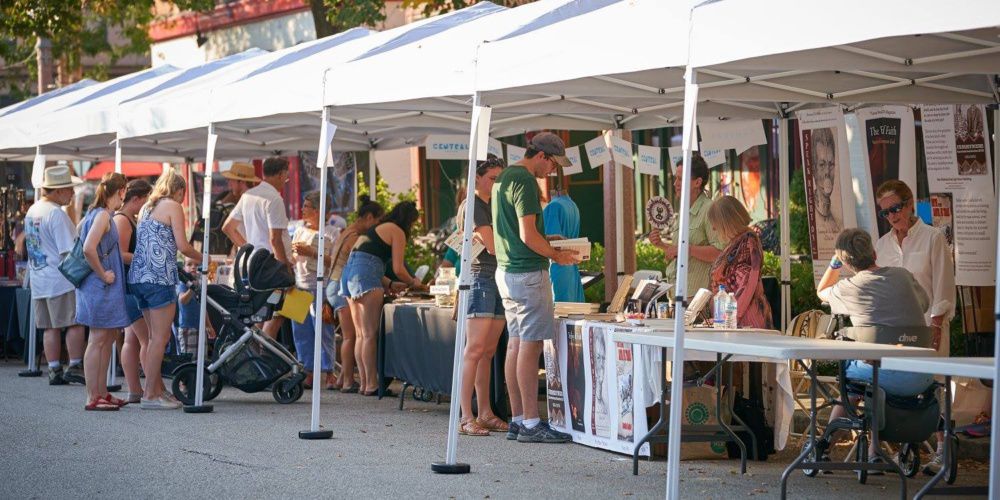 Mary Englebreit talks about 40 years of illustrating cheery cherries and charming children. Romance specialists survey the online dating scene. And singers perform a piece from the Tony-nominated musical "The Prom." Is this really a book festival?
Yes, they all have literary links. But at BookFest St. Louis, even what sound like traditional panels strive for an edge at the third-annual event Saturday in the Central West End.
"In previous years, we've mainly focused on uniting writers based on the genre they write," says Sarah Holt of Left Bank Books, one of the festival's organizers. "And this year, we're doing some of that. But we're also mixing and matching some authors to talk more about thematic similarities or how they approach their work.
"I think there are some panels that will be surprises to people in how interesting they are, where their discussion goes."
For example, many readers are eager to hear novelist Elizabeth McCracken, the two-time National Book Award nominee who gained attention with "The Giant's House." She'll talk about her first novel in 18 years, "Bowlaway," a quirky, historical story, on the panel "(Un)ordinary Survival," which also features different, dynamic heroines from Danielle Dutton ("Margaret, the First") and Amanda Goldblatt ("Hard Mouth").
Other panels include one on romance writing for the modern age (Sonali Devi, Alisha Rai and Tessa Bailey); another on keeping middle-school readers interested in history (Nathan Hale, Teri Kanefield, John Hendrix); and a third on turning real-life problems into art (Abbigail Rosewood, Bassey Ikpi, Aaron Coleman).
Ikpi, whose essays compose the memoir "I'm Telling the Truth, but I'm Lying," talked last month on NPR with Scott Simon. Simon summed up the many elements of the book, including "childhood moments in Nigeria, adolescence in Oklahoma, abuse at home, what she calls the pain and fog of a bipolar disorder and her hard work to make a real life for herself."
With enough topics for multiple panels, Ikpi is also scheduled for "True Tales of Remarkable Women."
"The Prom" (whose lyricist, Chad Beguelin, grew up in this area) makes an appearance both in a young adult panel with LGBT+ themes and later when Fox Theatricals' John O'Brien provides a "backstage look at developing the show from concept to script," the festival says. Author Saundra Mitchell will discuss writing a book for teens based on the production, and then Stages' Triple Threats perform a number from the show.
Holt says local connections to "The Prom" (the executive producer was Jack Lane of Stages St. Louis) provided an unusual opportunity to have a live, local discussion of what goes into a Broadway show. She will moderate the panel.
BookFest begins Friday night with a marathon reading of Walt Whitman's "Song of Myself."
The reading is pegged to the 200th anniversary of his birth and the poet's largely unknown link to this city. His brother, Jeff, was the head of the water department, and Walt lived with him for a few months in 1879. The poet often walked to look at the Eads Bridge, which he admired, or visit the Mercantile Library.
"I have haunted the river every night lately, where I could get a look at the bridge by moonlight," Whitman wrote.
The reading starts at 7 p.m. Friday at Mahler Ballroom, 4915 Washington Boulevard, and is followed by a meet-and-greet with authors.
If the festival's opening features groundbreaking Victorian-era poetry, its closing will be completely 21st century. UrbArt's youth slam poetry team, which came in first in a national tournament this summer, will perform.
In between, there will also be vendors selling goods and food nearby. Find more details about BookFest, presented by the Central West End Business Community Improvement District, Left Bank Books and the Left Bank Books Foundation, at bookfeststl.com.
What BookFest St. Louis • When 7 p.m. Friday ("Song of Myself" reading and meet-and-greet); 10:30 a.m.-8 p.m. Saturday • Where Central West End venues including Left Bank Books, Schlafly library branch, Vino Gallery, TechArtista, Mahler Ballroom and 510 N. Euclid; main author tent will be on McPherson Avenue, in front of Centro • How much Free • More info bookfeststl.com
"In previous years, we've mainly focused on uniting writers based on the genre they write. And this year, we're doing some of that. But we're also mixing and matching some authors to talk more about thematic similarities or how they approach their work."

Sarah Holt