Jane Ellen Ibur has taught not only young would-be poets, but also killers, both legal and not.
For decades, she went into the St. Louis County jail, where she met prisoners who later had no possibility of parole. More recently, she's coached veterans with depression and post-traumatic stress disorder, one a former sniper.
"Even when the subject of the poetry is horrifying, we have a good time," she says. "It's been fabulous.
"My work has always been about taking poetry to people who weren't expecting poetry to come to them."
She does that with a combination of humor and seriousness, qualities of her own writing. Now, as St. Louis' official poet laureate, Ibur's audience is the whole metro area. But there are probably few constituents who haven't already been in her wheelhouse.
On Friday, the 68-year-old St. Louisan became the city's third poet laureate, whose role for the next two years is to promote literacy and the joy of poetry. Officially inducted by aldermanic President Lewis Reed at City Hall, Ibur told a crowd of former students, friends and poets that her job will be to "bring in new voices," people never "expecting poetry to change their lives."
Ibur thanked her supporters, read poems by others and herself, drawing hearty laughter for "Mrs. Noah — Two Weeks Out."
Cheryl Walker, who led the task force that recommended Ibur for the post, spoke of Ibur's "openness and willingness to help people."
Earlier in the week, Walker called Ibur a "thoughtful, energetic and prolific writer."
Walker, a lawyer and poet herself, said: "We can't wait to see what she does with her term. The St. Louis region will benefit greatly from the passion and creativity she will bring to the role."
Their pick follows Shirley LeFlore, who was the city's second poet laureate (and the subject of Ibur's tribute "Mama Shirley." The first city laureate, Michael Castro, was appointed in December 2014. He died last year. The appointment receives no stipend from the city.
On Tuesday, Ibur talked about her career writing and teaching poetry. "This was my gift, and I'm devoting myself to it," she said, sitting in her dining room.
She and her spouse, Sondra Seiler, have lived in an elegant old home in Tower Grove East for decades. Together for 44 years, they married in Maui five years ago while on one of their many snorkeling trips. Hundreds of shells and pieces of sea-related décor fill their back porch, one of her visual "installations," Ibur says. There's also a "spaceship" in the basement and a cowboy room on the third floor. She loved TV's horse-and-boy show "Fury," even though she was annoyed that women were virtually absent from exciting Westerns.
"It's better to be a child as an adult," she says.
Ibur goes by "Janie," mostly because she's known a couple of unpleasant Janes. (This writer didn't take it personally.)
Growing up in Frontenac, Ibur was the second of six children and the first daughter for Leslie and Betty Ibur. At Ladue High School, Jane Ellen didn't have an easy go of it, she says, even though she had many friends and was active in drama.
"I didn't know I was gay then," she says. But that was less an issue than depression and some chronic pain, which would turn out to be ulcerative colitis. She was given paregoric, a tincture of opium available over the counter.
She has said her family's housekeeper, Mary R. Woodard, was a source of comfort. Later, Ibur would care for Woodard during the last years of her life and write about her in poems collected in the book "Both Wings Flappin', Still Not Flyin'," published in 2014 by PenUltimate Press.
In "What Mary Said," Ibur evokes her longtime friend's voice: "You got to thank/the Lord for what you have. He didn't promise/you every day it's gonna be sunshine./'Cause some days it's gonna rain."
At Webster College, Ibur graduated with a degree in English and earned a lifetime certificate to teaching it to secondary students.
She lasted two years as a middle-school teacher, hating everything about it — the grades, the administration, the rules. Ibur would work at different jobs, including helping her insurance adjuster father assess damage from natural disasters.
She went back to teaching, but in a more independent capacity, sometimes juggling 15 classes a month. Creating her own curricula, she'd wear a cape and carry a wand to visit young children and convince them of the "magic of poetry." They learned that when they saw her get-up, "it means poetry is in the house."
Poetry for all
Ibur's students have included seniors, pregnant teens, abused women, cancer patients and homeless men. Some of her classes were funded by mental health grants, and she often talks with classes about depression. She tells people not to count themselves out: "You can learn to live with it."
For 19 years, she was co-host of "Literature for the Halibut" on KDHX radio. A founder of the Community Arts Training Institute, which focuses on art as an agent for social change, Ibur says she has contacts in many different communities. "Poetry is available for all of these people."
As poet laureate, she's eager to find even more converts. She's thinking about parochial schools, East Indian or Latinx groups. Her decades of practice make her encouraging words natural, convincing.
"My poetry's not over your head," she tells the fearful. If they can't seem to find the right writer, she says, "there is other great stuff that is accessible for you."
Ibur still marvels over how jail inmates took to writing poetry. "I know I have men in every single state prison."
As students, they were strict about telling others in the class to stand up straight and read their work clearly.
She'd suggest inventive prompts (rewrite a fairy tale), telling them she wasn't interested in hearing about crimes or sex or bad language. Teaching forms such as villanelles and demanding exact language, Ibur pushed revision. "Your mind can be freer than it's ever been if you learn to write."
When one told her "the writing saved his life," that was no metaphor.
'Dancing with the divine'
Ibur's own work has been printed in some 60 anthologies, but she's only compiled poems for two books, finding it "brutal" to organize a volume.
She's never at a loss for subjects, even writing about her own pain and bout with breast cancer. She thinks of poetry as "dancing with the divine," but Ibur says she's terrible at the business side.
Her second book, "The Little Mrs./Misses" (2017), was inspired by unnamed women (i.e. "Mrs. Noah," "Mrs. Abraham"), fairy tales and past female characters often surrounded by men (Miss Kitty of "Gunsmoke," for instance).
Of "Mrs. Sandman," Ibur imagines the title character finds a secret relationship between her husband and the Tooth Fairy. It could be a lucrative partnership — or perhaps Mrs. Sandman has competition from a woman with "wings who dazzles, sparkles."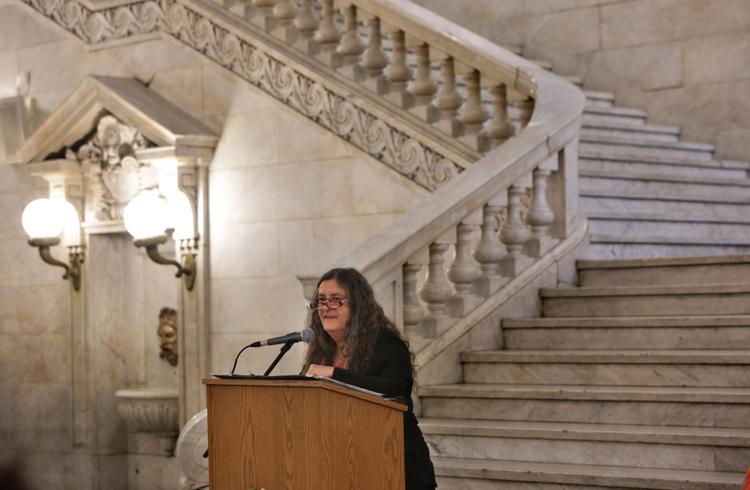 As poet laureate, however, Ibur doesn't just plan to stand before crowds and read her imaginative poetry about meetings between, say, Cinderella and a beached selkie (both out too late).
"I'm not focused on how many readings I can do, but I want to see how many people I can get to stand up to read for the first time."
Like her student, Ibur feels beholden to poetry.
"The bottom line is, it saved my life, and I couldn't keep it to myself."
Stay up-to-date on what's happening
Receive the latest in local entertainment news in your inbox weekly!