Jenifer Lewis is a hot mess.
She knows it, her fans know it, and it was more than evident Saturday afternoon when the "Black-ish" actress and singer came to the Loretto-Hilton Center for the Performing Arts at Webster University for a joyfully raucous celebration of her popular memoir "The Mother of Black Hollywood."
Part song, part talk, part comedy show and part family reunion, with a couple of high kicks thrown in, Lewis centered an event that could only happen in her old stomping grounds of Webster Groves, on the very stage she walked across for her Webster University graduation in 1979.
While her book tour has taken her from city to city for months, this one was certainly the most meaningful not only because of its location but also because so many family members, teachers and classmates were among the several hundred in attendance.
"I got nervous about the show. I wanted to really do well for you," she said early on.
Kinloch native Lewis sauntered onto the stage to promptly light it on fire after an introduction from Dottie Marshall Englis, chair of the Conservatory of Theatre Arts at Webster (the program from which Lewis graduated).
"St. Louis in the house, Kinloch in the house," she chanted. "Don't start no (expletive), won't be none."
Proclaiming off the top she was Jenny from the block, her local references and various quips were widespread and quick during the unscripted event. She joked about everything from having slept with certain men in the crowd to talking "country" whenever she comes home. She spoke to any number of folks in the audience individually, including Broderick Washington, who joined her on stage for an impromptu duet (they used to sing in church together years ago).
She darted in and out of story and song, and took so many left turns she assigned someone to keep her on track with topics.
She talked about the social justice work she has done in cities such as Flint, Mich., and elsewhere, complete with a song she wrote about the water crisis there, and talked about why she doesn't do a gun joke any longer, leading to another song she wrote with the opening lyric "our children shouldn't have to run from bullets."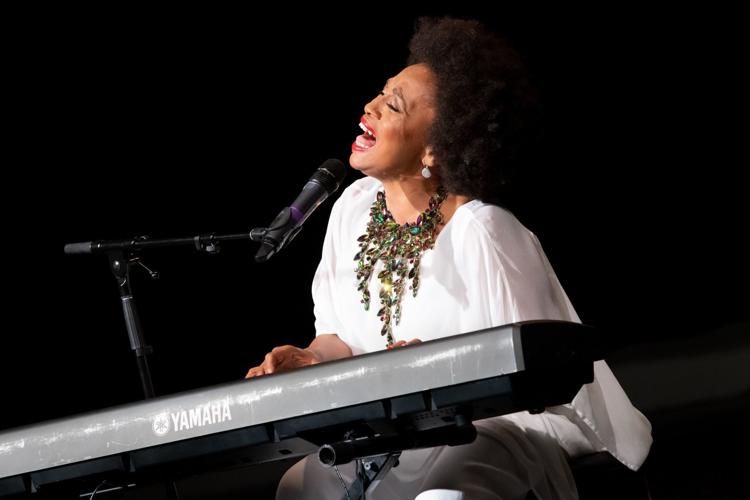 The heart of the show was rooted in her family, which appeared to be in full attendance judging by how many of them stood at her request. She told several stories about family members, including her late mother, her daughter Charmaine and her siblings, calling out the latter individually for past treatment, good and bad. "I love that I get to get them back," she said.
Lewis called out a number of faces familiar in the audience, including poet Shirley LeFlore, a Webster administrator while Lewis was enrolled. She credits LeFlore with saving her life. And at one point she even said for anyone who knows her to speak up if she hadn't seen them already.
Allowing spontaneity to happen and rolling with it throughout, Lewis chastised latecomers, including a party of three who arrived an hour into the event, and a woman who got up while she was talking, presumably use the restroom.
"You don't get to go to the bathroom when you come see me. The memo said wear Depends," she joked.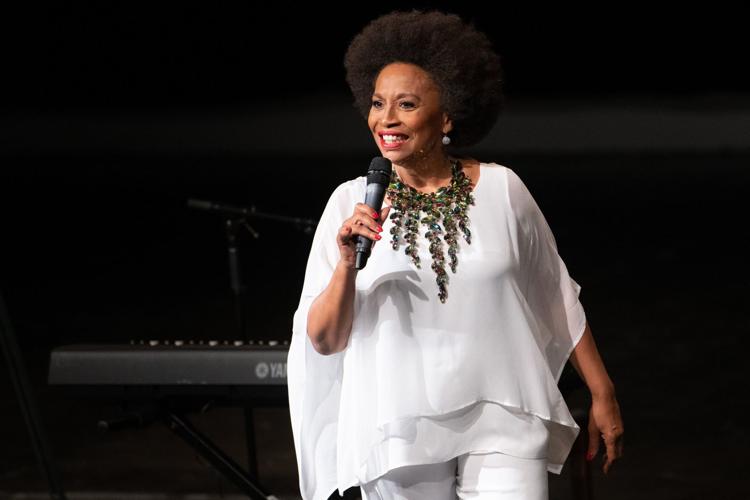 Cellphones went off several times during the show, which Lewis addressed every time. "Turn that (expletive) off or let me answer it," she said at one point, and later approached a woman in the audience who apparently was clueless as to how to turn off her phone.During an especially physical bit, she acted out being an astronaut on a space shuttle beating down another female astronaut after finding out the woman slept with her man.
Among the several messages she wanted fans to take home: talk to your children rather than hit them, take the stairs over the elevator, stop eating fried chicken, lead with love, and grab a journal and write your own story.When a fan presented Lewis with her own story in a journal, Lewis accepted it before handing it off to her daughter with instructions to throw in the trash, drawing huge laughter.
"So St. Louis, I had a ball," she said near the event's end, which ran well over the allotted time. But she couldn't leave before singing "In These Streets" and "For My Book," viral hits for Lewis and fan favorites.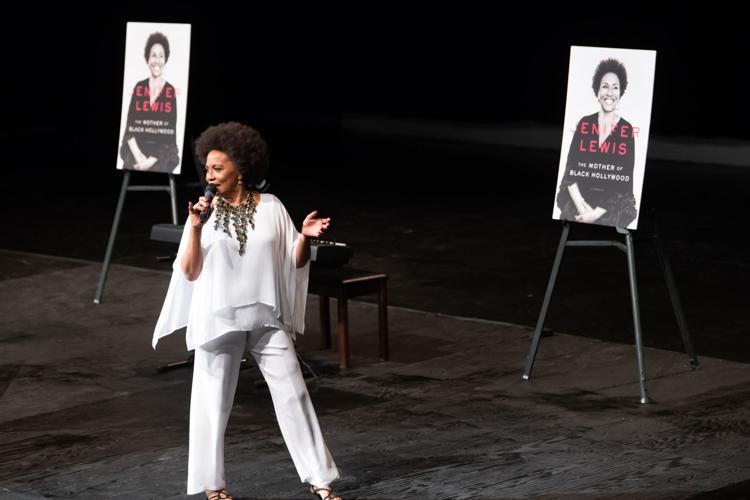 Jenifer Lewis was amazing!!! Real, funny, emotional all rolled into one star package. Her book is a must read. @ Webster University https://t.co/kCBBTkOLWU

— Cillah Hall (@Cillah_Hall) July 28, 2018