Ken Kwapis watched his first big-screen movie at the Skyview Drive-In in Belleville. Well, "watched" isn't entirely correct. He spent most of "King Kong vs. Godzilla" cowering under the dashboard of his father's Thunderbird.
But 5-year-old Ken wasn't scared off movies by the experience. Just the opposite: By the time he was 8, he had persuaded his parents to buy him a Super 8 camera with which he planned to create his own experimental films. In his early teens, he spent summer days voraciously reading film criticism in the library at Southern Illinois University Edwardsville. As soon as he could drive, he regularly made 30-mile roundtrips to theaters like the Westport Plaza Twin, which had big new releases such as "American Graffiti."
The son of an oral surgeon and surgical nurse, Kwapis, who was born in East St. Louis and grew up in Belleville, can't pinpoint where his passion for movies, and desire to make them, came from. But he has turned that passion into a solid and respected career as a director in both movies (from the "Sesame Street" film "Follow That Bird" to Robert Redford's "A Walk in the Woods") and television. As director of the pilot episode of Garry Shandling's "The Larry Sanders Show" for HBO, Kwapis helped set the tone for everything that would follow. He directed multiple episodes of series including "The Bernie Mac Show" and "Malcolm in the Middle" and was instrumental in getting "The Office" off to its start and to wrapping it up.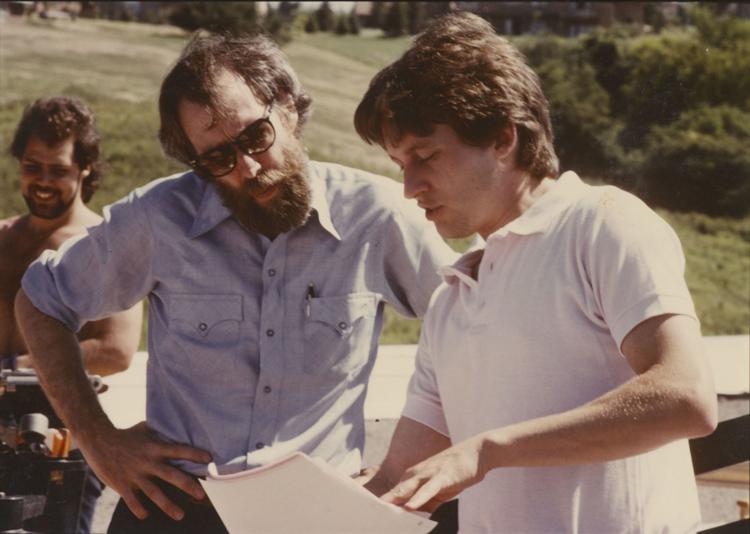 As of Tuesday, he will also be a published author. "But What I Really Want To Do Is Direct: Lessons From a Life Behind the Camera" is part memoir and part guide for aspiring directors, offering hard-won insights into the craft of movie making. Mere moviegoers will also find it as illuminating as it is entertaining.
"I really don't know why film captured me so intensely, except that the mid-'60s was a great time to be a movie fan," Kwapis, 63, said last week from his home in Los Angeles. "But I remember watching and sensing that there was someone back there, someone behind the scenes, who was in charge. If a movie was well-directed, you felt comfortable. You knew there was someone at the wheel."
A graduate of St. Louis University High School and Northwestern University, Kwapis also studied at the University of Southern California's film school but dropped out just shy of a master's degree when he got a chance to direct a "CBS Afternoon Playhouse" episode produced by Bob Keeshan, "Captain Kangaroo" himself.
Kwapis' self-effacing account of meeting with (and fibbing about his grades to!) the Captain is one of many entertaining anecdotes in "But What I Really Want to Do Is Direct," in which Kwapis also recounts his first meeting with Jim Henson (and Kermit the Frog), the shopping trip that bonded the young stars of "The Sisterhood of the Traveling Pants," and the casting session for "The Office" in which his distraction wound up getting St. Louisan Phyllis Smith the role of Phyllis.
"It's in no way a tell-all," Kwapis says. "Plenty of books like that have been written." But Kwapis, whose working style is low-key and thoughtful, designed to get the best from all involved, had different goals for his first book, including sharing what he has learned about "the craft of directing."
After working with Redford's Sundance Directors Lab and enjoying getting to mentor and observe young directors, Kwapis found that they most want to know things not found in a film school textbook.
"Namely," he writes, "how do you comport yourself as a director? How do you assert authority on the set without being authoritarian? How do you navigate a path in such a turbulent business?" In an industry in which "everything conspires to make you feel inadequate," he urges budding directors not to accept "the received wisdom about achievement in Hollywood. You must create your own standard."
That means asking yourself such things as "do I invest the work with my personality?" and "do I create an atmosphere that encourages people to contribute their best work?" His own standard, he writes, is "how much I manage to improve the process with each new film or show."
Kwapis is generous not just with philosophy but with specifics. A self-described compulsive list-maker, he shares his own 10-point checklist for preparing to direct, beginning with creating an "emotional road map," a guide to each character's emotional journey, and continuing with considerations of shot selection, color and light, tempo and transitions. He breaks the tips down via a close look at his own "The Sisterhood of the Traveling Pants."
Kwapis' thoughts on creating a working environment in which everyone can flourish will be useful for anyone in a leadership position, he hopes. Specific to filmmaking, he offers suggestions on "how to survive in a punishing business, to hang in when things go off the rails, to be tenacious and resilient" — advice that likewise could be helpful for many of us in the punishing year of 2020.
"Reframe problems as opportunities," he urges. "At some point ... you will be forced to abandon your brilliant plans and improvise, and for me, the mark of success is whipping up a backup plan that actually exceeds your original. It's pulling a rabbit from a hat. With no rabbit. And no hat."
"But What I Really Want To Do Is Direct" took shape as Kwapis reflected on the myriad film images that had impact on him over the years. At his side was his wife of 19 years, Marisa Silver, a director who changed course to become a bestselling author.
"Marisa is the writer," Kwapis says. "She read every chapter and gave notes. She always reads everything I do, and I'm happy to say she asks me to return the favor with her work. It's always good to have a second sharp pair of eyes."
Getting the book launched amid a pandemic means spending a lot of time doing remote interviews from his garage, which has been converted to a music studio for his and Silver's two sons, Henry, 26, and Oliver, 23, both musicians.
Kwapis hopes to be as supportive of his sons as his own parents, Dr. Bruno Kwapis and Marjorie Wells Kwapis, were of him. "My parents were very encouraging of me wanting a career in film. They also wanted me to choose practically, and ironically I chose something entirely impractical. I don't think they really knew how capricious the film business is."
And that is another point Kwapis makes in "But What I Really Want To Do Is Direct."
"Careers rise and fall willy nilly. You give your best, but you can't predict the response — from the studio, from the critics, from the public." What you can trust, Kwapis says, is the process. "You cannot control the outcome, but you can control the process."
Gail Pennington is a former longtime television critic for the Post-Dispatch.
St. Louisans look back on time at 'The Office'
'The Office' clocks out after 9 seasons
In many ways, "The Office" was a rarity. Adapted from a cult-favorite British comedy, it not only didn't embarrass the original but even, at best, exceeded it. Debuting at the tail end of the 2004-05 season, it wasn't a throw-away but a keeper, running nine seasons and, by the end, about 200 episodes.
Even when ratings sagged in the last few seasons, "The Office" was still a bright spot on NBC's faltering schedule. Since 2007, repeats have aired practically around the clock in syndication, and the show is also seen in countries from Australia and India to Germany and France.
A workplace comedy that was, at heart, a family comedy, "The Office" depicted a scene that (except for the film crew shooting an unending documentary) was very much like that of many American workplaces. The job, selling paper for Dunder Mifflin in Scranton, Pa., was drab, but the people were colorful, once you got to know them, playing pranks and revealing quirks, falling in love and winning our hearts.
Michael Scott (Steve Carell), Dwight Schrute (Rainn Wilson), Jim Halpert (John Krasinski) and Pam Beesly (Jenna Fischer) were clearly the leads. But in a brilliant move, producers solidified the ensemble early on, making all the background characters into regulars rather than treating them as disposable.
That provided a rich background tapestry of Stanley (Leslie David Baker), Phyllis (Phyllis Smith), Angela (Angela Kinsey), Kevin (Brian Bumgardner) and more. Even if they didn't have a line in an episode, all were there, tapping away at their computers, just like in a real office where people come to work every day.
"The Office" also created a workplace for an unusual number of St. Louisans, so many that the set once played host to a gooey butter cake bake-off. Fischer, Smith and Ellie Kemper, who plays secretary Erin, all grew up here (as did first assistant director Rusty Mahmood). Ken Kwapis, who directed the pilot and this week's finale, is from Belleville. Kemper's younger sister, Carrie, joined the staff as a writer in the last three seasons.
With the end approaching, we asked the three actors, Kwapis and Carrie Kemper to reflect on the "Office" experience, and what it had meant to them. 
Jenna Fischer says 'wildest dreams' came true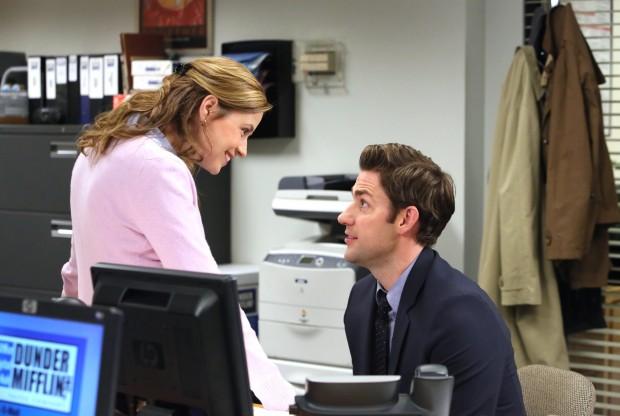 JENNA FISCHER
Grew up • Chesterfield
High school • Nerinx Hall
Played • Pam Beesly Halpert, 2005-2013
Fischer was doing office temp work just two years before being cast as one of the leads in "The Office." At the time, her acting roles had included playing "Sorority Girl 1" in the movie "Lucky 13." "The Office" has kept her busy, but she starred in the 2010 movie "A Little Help" and appeared in several others, including two still due out. Fischer also became a mother; she and husband Lee Kirk, a writer, had a son, Weston, in September 2011.
Fischer writes:
It is nearly impossible for me to explain what 'The Office' has meant to me because its effect on my life has been profound.
Before "The Office" began, I was an unknown, struggling actor, worried about how I was going to maintain some sort of decent health insurance. I was basically just another head shot on a desk, and I had to audition countless times just to get small walk-on roles. Every day was a struggle, every week was a fight, my only goal was to be a working actor. Not famous, just working. Sometimes to keep myself motivated I would write in a journal. I would write about my ups and downs and my hopes for the future. Here is what I wrote, 11 years ago, describing what would be my wildest dream come true:
"I want to be a regular character on a long-running, ensemble, comedy, television show that is innovative, award-winning and ground-breaking. A show in which I've been cast because of my unique contribution to my character, where my input and point-of-view are encouraged. A show in which I get to help develop my character and I don't have to worry about being hot. And shoots in LA so I don't have to move."
And it was "The Office" that made my wildest dreams come true. In fact, it was an even better manifestation of what I had written down, because in addition to all those qualities I had hoped for, I also got to work with the most amazing cast and crew. I was surrounded every day by people who are the best at what they do. And that was my JOB! My job was to go to this magical place every day for nine years and laugh and create and get paid to have fun. 'The Office' provided me with some of the best friends of my life, some of my richest memories and, yes, even great health insurance.
Phyllis Smith feels grateful for 'a prayer answered'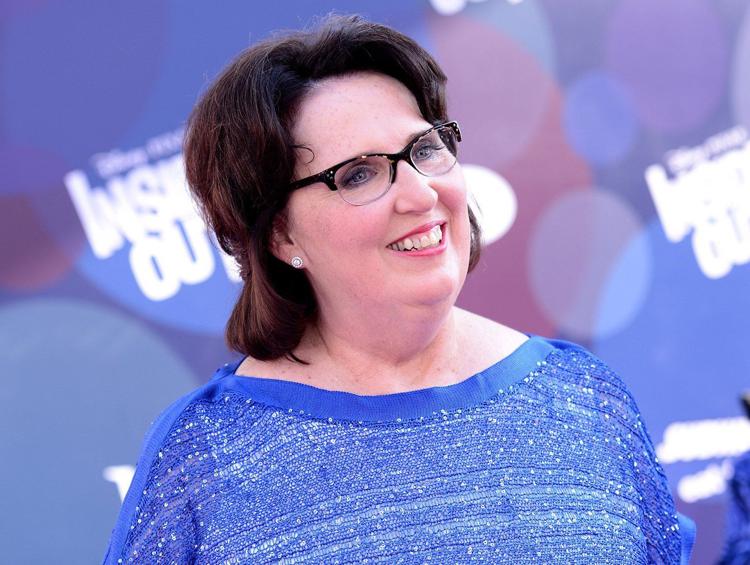 PHYLLIS SMITH
Grew up • South St. Louis
High school • Cleveland
Played • Phyllis Lapin-Vance, 2005-2013
Smith was a football Cardinals cheerleader and a burlesque dancer ("no stripping!") with Will B. Able and his Baggy Pants Revue at the Chase-Park Plaza in the 1970s. She continued dancing in California until she injured her knees; she then worked in casting with Allison Jones, who cast "The Office." When executive producer Greg Daniels and director Ken Kwapis (who grew up in Belleville) heard Smith read lines opposite various auditioners, they wrote a role for her.
Since then, Smith has appeared in movies including "Butter" and "Bad Teacher," in which she played Cameron Diaz's best friend. She will make her debut at the Muny this summer in "Nunsense — Muny Style!"
Smith writes:
This past weekend in Scranton our fans made it clear that we were all loved and they will miss watching us every week. I had one young man tell me he wished I was his mom. Another young woman told me that every time she watched "The Office," I reminded her of her mother, who had just passed away a year ago, and that every time she saw me she felt as if she had a piece of her mom still with her. Another fan told me that when she was recovering from cancer, watching "The Office" was the only thing that got her through. Those kind of sincere remarks make you humble and grateful for the opportunity to contribute to making someone feel better.
Personally, I was able to experience things I never imagined, like going to the Emmys, the SAG Awards, going on locations to beautiful settings I never knew existed in California. I now have a second family with the wonderful people I worked with for nine years. We had babies born, a few deaths, some tears, but mostly laughter and heartfelt memories.
Someone said to me, "now that the show is over are you going back to casting?" I said absolutely not, I am blessed to have a new career to pursue in my life.
By the way, thanks to Ken Kwapis, who suggested they cast me. Ken, even though I was happy before, your decision made my life profoundly blessed.
I miss my fellow "Office" mates and crew, but know that the bonds made and friendships will continue.
I have said in many interviews that God had a better plan for me than I ever anticipated. I still firmly believe that and I am grateful for a prayer answered. I once prayed when struggling financially and worried how I was going to be able to assist my parents in their latter years living thousands of miles away, to help me win the lottery or something. And I did win the lottery, just in a different and better way.
In a final note, thank you "Office" fans for always being so polite, thoughtful, and just all around GREAT!
Ellie Kemper calls herself 'unreasonably lucky'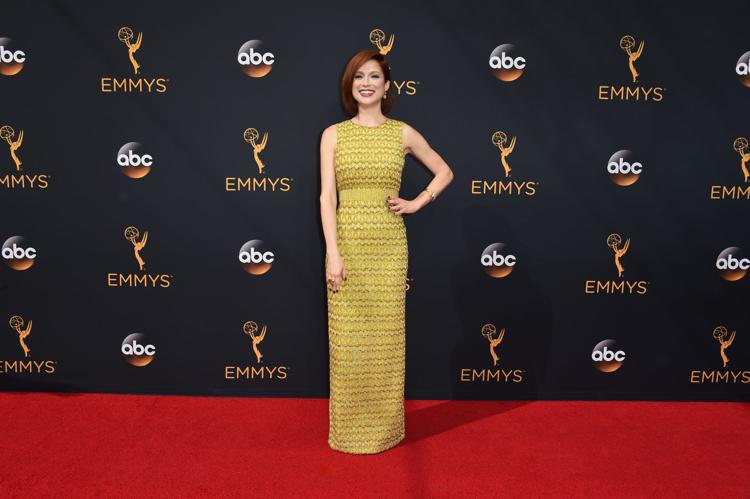 ELLIE KEMPER
Grew up • Ladue
High school • John Burroughs (Jon Hamm once taught her drama there)
Played • Erin Hannon, 2009-2013
Kemper, who graduated from Princeton University, got her start writing and doing improv comedy; she had lived in New York and worked on shows including "Late Night With Conan O'Brien" (where she met her future husband) before being cast in "The Office." Kemper appeared in the mega-hit "Bridesmaids" and turned up this season on pal Mindy Kaling's "Mindy Project." For the last three years, "The Office" was a family affair for Kemper; her younger sister, Carrie, wrote for the show.
Kemper writes:
The assignment is a 300-600 word essay on what "The Office" has meant to me over the years. The writer is a horribly sentimental, unreasonably lucky, and forever grateful fan of and actress on "The Office." I need 6 million words.
"The Office" is a television show that will go down in history as one of the best television shows in the history of television shows. As someone who works in show business and, for the most part, does not understand business, I do my best to try and figure out exactly what made this model work. And I keep coming back to the same thing: We, as viewers, connect to what is real.
How much more real could "The Office" get? Who were these barely made-up, balding, beautiful characters, and how could I get them into my closet-sized apartment more than just once a week? I had never seen anything like it on TV before. There weren't really punch lines. There weren't really hairstyles. There were lots of extremely uncomfortable, deeply funny, and sincerely sweet moments where I just sat there, cringing, laughing, or crying, until the moment ended. I loved those moments, and I loved those people.
I knew Jim (or, I knew a guy like Jim). I understood Pam (or, I thought I was some version of Pam). Having just started working with a temp agency in New York, I knew bosses like Michael Scott (in some form), and having an older brother who bears an uncanny resemblance to Mose Schrute, I knew Mose (minus the beets). These characters weren't far-off or remote or out of reach. I already knew them.
"The Office" was not mean, or cynical, or pessimistic. It rooted itself in a firm sense of hope. The workers of Dunder Mifflin fought with each other, annoyed each other, and helped each other. They were a family, and like all good families, at the core of everything was a very good heart.
On May 4, the fabulous city of Scranton welcomed the cast and crew of "The Office" for a final farewell party. I try to explain how it felt, and I come up short — 10,000 fans celebrating the end of a television show was a remarkable thing. Everyone was just happy. I'm not sure people make television like this anymore. I think "The Office" was an incredibly healing show.
Greg Daniels is the man to thank for all of this. He gathered a group of abnormally smart, funny, and weird people, and he led them as they all designed, wrote, and performed what we saw in our living rooms every Thursday night. When I met them in person, they proved to be every bit as smart, funny, and weird in real life. That is another key piece in all of this. From Steve Carell to Jenna Fischer to Phyllis Smith to Ken Kwapis to Rusty Mahmood to Carrie Kemper, this group of people was a gracious and generous bunch.
I don't pretend to think that I will ever get to work on a show as special as this again.
Kwapis directed first and final episode of 'The Office'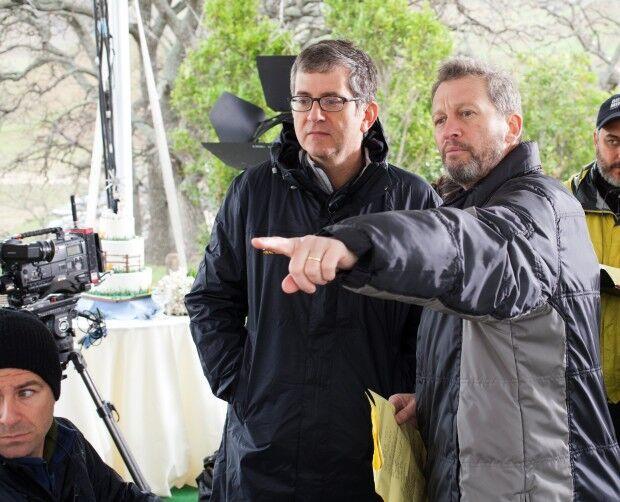 KEN KWAPIS
Grew up • Belleville
High School • St. Louis University High
Kwapis directed (and helped cast) "The Office" pilot and also directed the finale, plus more than a dozen episodes in between. He also directed "The Larry Sanders Show," developed "Bernie Mac" and adapted the movie "Outsourced" for TV. Kwapis has also directed movies including "Big Miracle," "He's Just Not That Into You" and "The Sisterhood of the Traveling Pants."
Kwapis writes:
I had the privilege of directing both the first episode of "The Office" and the last — the Pilot and the Finale.
When we launched the show, we wanted it to behave differently than other television comedies. Greg Daniels, who adapted the British original, wanted our show to be both poignant and funny, and we worked hard to make sure the emotional content of each episode was as strong as the comedy.
As the series grew, every member of the ensemble blossomed. The Finale covers a lot of ground — there are nearly 20 characters with vital story lines. Needless to say, wrapping up all those stories was exhilarating, but also very emotional. The moment I called "Cut" for the last time brought a lot of tears.
Nine years ago, most pundits predicted that an American version of "The Office" would never succeed. This truly was The Little Show That Could, and I'm proud to have been a part of it.
Carrie Kemper learned dull moments can be funniest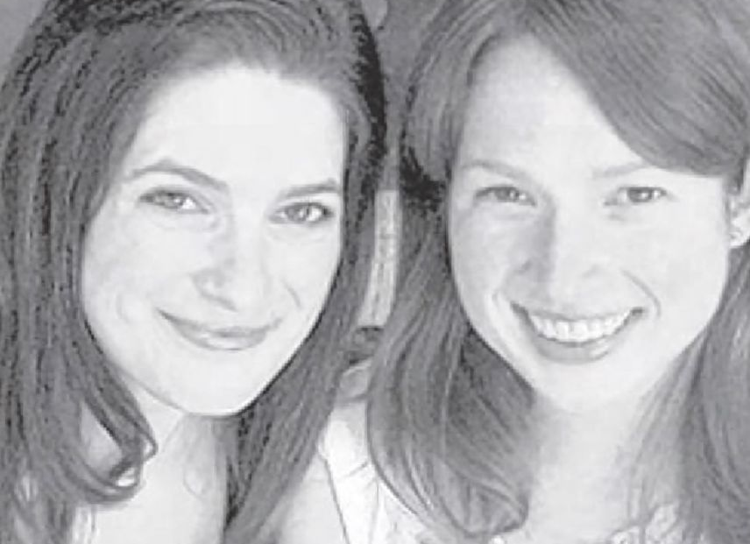 CARRIE KEMPER
Writer • Seasons 7-9
Grew up • Ladue
High school • John Burroughs
Kemper was fresh off an internship at "Late Show With David Letterman" when she began writing scripts for "The Office," on which her sister Ellie played Erin. Currently, she's writing a movie for Universal.
Kemper writes:
It's honestly hard to count all of the things "The Office" has done for me. It exposed me to some of the most talented comedy writers in television, as well as a brilliant cast and crew. It taught me to pay attention to the small, seemingly dull moments in life, because they can often be the funniest. And before any of that — before I stepped foot in the writers' room — it entertained me for years. It's rare to get to work on a series you actually enjoy, and when I started, "The Office" was my favorite show on television. These days, of course, it's "Shark Tank."
~~ VERTICAL GALLERY: HIDE TITLES, ENLARGE TYPE ~~
"At some point ... you will be forced to abandon your brilliant plans and improvise, and for me, the mark of success is whipping up a backup plan that actually exceeds your original. It's pulling a rabbit from a hat. With no rabbit. And no hat."

Ken Kwapis
Weekly movie reviews, local festivals and more.