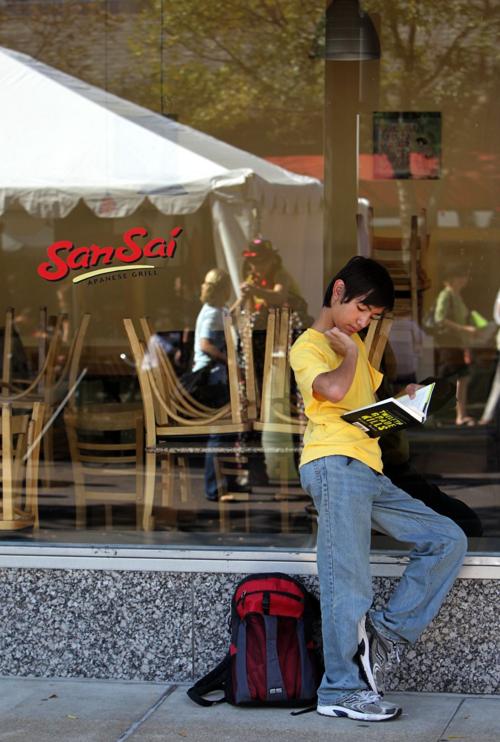 At a new book festival in the Central West End, living writers can mingle on the Writer's Corner that celebrates the area's past.
Although previous efforts in St. Louis haven't climbed any festival "best-seller" list, a fresh event by the area's literary anchor may attract excited readers.
"People associate the neighborhood with literary events," says Kris Kleindienst, co-owner of Left Bank Books. She's a major driver behind plans to create a successful festival that brings in national and local authors.
Sherman Alexie will kick off Bookfest St. Louis the night before the daylong event, set for Sept. 23. Children can meet authors and costumed characters while adults listen to live music and hear writers — all under the bronze and copper gazes of T.S. Eliot, Kate Chopin and Tennessee Williams.
"I feel like we have great resources in this community," Kleindienst says. Still, St. Louis has been home to two author festivals that didn't meet expectations: the defunct Big Read in Clayton and Lit in the Lou, a University City event that is taking a break this year.
The bookseller knows creating a successful author festival is difficult: "I think the project is huge and has the potential for going awry."
And yet, Left Bank Books, at the corner of Euclid and McPherson avenues, is not just a community anchor but the biggest and oldest independent bookstore in St. Louis. It has survived for more than four decades and schedules about 200 author events a year. So Kleindienst seems fairly confident of success, noting that "there isn't a wrinkle we haven't encountered."
In collaboration with the CWE Business Community Improvement District, Left Bank wants to bring in about two dozen authors, with out-of-towners staying at the Chase Park Plaza. For the festival, McPherson Avenue will be partially closed. Some children's events will be at the Schlafly library, and the former Berger Memorial funeral home, which is being renovated for event space, may host an event.
Kleindienst also thinks other events may be tied to the World Chess Hall of Fame and the nearby MaryAnn's Tea Room. Most of the festival will be free, but the Alexie event will be ticketed and take place at the Sheldon Concert Hall & Art Galleries in Grand Center. Alexie, a popular Native American author, has just published a memoir, "You Don't Have to Say You Love Me."
The Central West End is known for its restaurants, of course. Kleindienst says that "as for food, we are inviting the area restaurants to do patio to-go menus as they have done at other area festivals, and if someone from the Maryland end of the neighborhood wants to have a stand at the festival vendor area on McPherson, which is the bookstore and festival home base, they will be able to."
The corner of McPherson and Euclid is called Writer's Corner for the sculptures of Eliot, Chopin and Williams installed there. (William Burroughs is in the works.)
Included on the (living) guest list so far are Alison Rollins, Ann Ingalls, Annalee Newitz, Charlie Jane Anders, Kathleen Finneran, Kea Wilson, Michael Kahn, Robin Sloan, Shanthi Sekaran, Zac Brewer, Gabriel Tallent, Anne Leckie, Edward Kelsey Moore, George Hodgman and Tongo Eisen-Martin.
Author confirmations are coming almost every day, Kleindienst says. The official announcement of the festival is expected Monday, with the website (bookfeststl.com) expected by Tuesday.
One of the authors booked is novelist Alex George of Columbia, Mo., who successfully pulled off that city's first festival, Unbound Book Festival, just last year. He knows how much work is involved, but said via email that "the rewards for the community as a whole make it all worthwhile. The more wonderful writers we can bring to Missouri, the better, and so I'm thrilled about Bookfest St. Louis and am very much looking forward to attending."