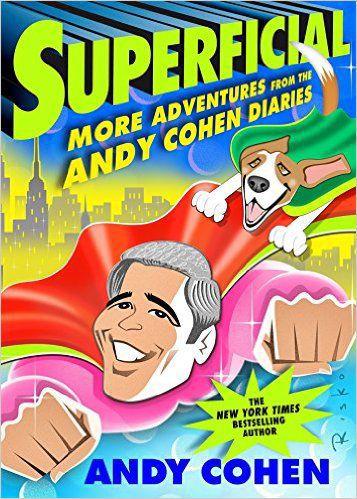 Andy Cohen is one busy guy.
He's so busy that his latest book, "Superficial: More Adventures From the Andy Cohen Diaries," which chronicles two years in the life of the media mogul from St. Louis, is completely exhausting — in the best possible way. When does the man sleep?
It's tough to imagine the stamina required to host both a morning radio show and a late-night talk show, produce the popular "Real Housewives" franchise and other reality series, make (and hear) pitches for new TV shows, travel seemingly nonstop for appearances and speaking gigs, and write three books — two of which have been New York Times best-sellers.
And that's to say nothing of fancy galas, a huge apartment renovation and no-big-whoop hang-outs with Anderson Cooper, Sarah Jessica Parker, Kelly Ripa, Mark Consuelos, John Mayer, Amy Sedaris, Jon Jay and others from Cohen's celeb circle. He often doesn't include last names or explain who the incidental characters are — doing so would make the book twice as long — so it's helpful to have a working knowledge of his pop-culture pals.
Cohen keeps the tone conversational, appropriate for dishing on the "feud" that blocked a development deal with Wendy Williams, his unintentional insult to Tori Spelling when she suffered burn injuries at a Benihana, his all-caps prison correspondence from New Jersey Housewife Teresa Giudice and his last-minute gig interviewing the cast of "Friends" this year at NBC's tribute to legendary TV director James Burrows.
The informal diary format, with a mix of long and short entries, makes for a fun read. Cohen is an engaging, humorous storyteller; inserting some paragraph breaks and cleaning up the punctuation, though, would have enhanced the reading experience.
Though Cohen writes frequently about his own friends, his preoccupation in "Superficial" is with finding that special someone — besides Wacha, his beagle-foxhound rescue who is working through issues with aggression and potty-training. (He writes about meeting Wacha's namesake, Cardinals pitcher Michael Wacha; the dog was the least impressed party.)
Loneliness is a common thread.
"I feel like I've had a repressed or delayed early adulthood and never moved on to the next phase," Cohen writes. "I came out at twenty-one and for the next many years experienced all the sexuality I'd been repressing for so long with little intimacy and certainly no goal line of marriage or kids, which simply didn't exist in that era. Fifteen years later, I've been having too much fun to get off the train when people around me start to settle down and have kids. I have either chosen work or every sparkly object and fun experience that's been dropped in my path."
One night with friends aboard a yacht in Indonesia, he discusses his plight with fashion icon Diane Von Furstenberg: "I talked about nights of coming home from the show and feeling lonely — allowing myself to feel that recently for the first time. The dog, I fear, is a Band-Aid. In ten years he will be dead, then I'll be alone again."
Cohen candidly describes dates and text-message flirtations. He even befriends a straight couple on one of his tour stops for "The Andy Cohen Diaries," which leads to some — ahem — exploration of unfamiliar territory.
"A hotel suite, a book tour, a free pass, a swinging New England couple — the Penthouse Forum letter is basically written and I began an entire-day freak-out about the possibility of finally losing my virginity. At forty-six. In a threesome with a tan motorcycle mechanic from New Hampshire and his 'lady.' What I did next should surprise no one. I told everyone I knew."
He also hits it off with a 28-year-old he refers to as #BrazilianAndySamberg. Could this finally be the one?
As on "WWHL," Cohen's charming parents, Lou and Evelyn Cohen (of Clayton), figure prominently. Some of the most enjoyable parts are text messages and pearls of wisdom from his mother, including nightly critiques of his talk show. ("Your show has JUMPED THE SHARK," she texted one night after he and his guests played a game of "guess the crotch.")
Cohen makes regular visits to St. Louis, so there are plenty of local references, such as reactions to events in Ferguson and to Stan Kroenke packing up his NFL team.
"The Rams' greedy owner with the bad hair system, Kroenke, announced he's moving the team back to LA," he writes. "I called Mom and said I want to give him the finger on air on behalf of St. Louis. She said, 'I think that's PERFECTLY APPROPRIATE.'"