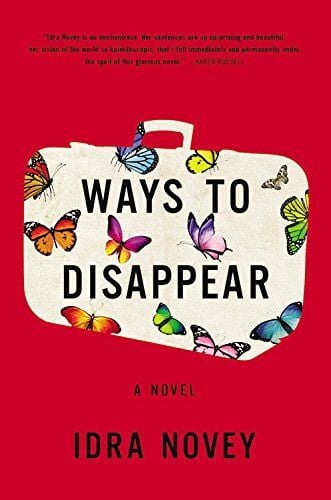 How many novels have you read in which the missing person, in this case a female novelist in her 60s carrying a suitcase and smoking a cigar, was last seen climbing up an almond tree?
That's the opening scene of Idra Novey's "Ways to Disappear," a fun first novel that's exciting, romantic and deceptively simple. Novey, a young poet and translator, was born in Pennsylvania. She's lived in Brazil and sets her story in Rio de Janeiro, São Paulo and other Brazilian locales.
In Novey's story, Beatriz Yagoda, the missing Brazilian novelist, is popular in South America, Europe and even sells a few books in the U.S. When friends and relatives hear she's missing, they set out to find her.
Emma, Beatriz's Portuguese translator in Pittsburgh, flies down to Brazil to meet Beatriz's adult children, Marcus and Raquel, even though Raquel sees no need for Emma to come.
Soon, Emma also meets a psychopathic loan shark called Flamenguinho, whom Beatriz owes money: gambling debts.
Flamenguinho wants to find Beatriz for half-a-million reasons. But Rocha, a publisher, helps her hide, and her disappearance sells more of her books.
A romantic subplot involves Emma, a 34-year-old who teaches "Portuguese for Spanish Speakers" at the University of Pittsburgh. She's supposed to marry Miles. Or so he thinks. She's not so sure. Dissatisfied with her life, she wonders, what has all her knowledge gotten her? A Ph.D. But Emma will be "devoted to Beatriz's work for the rest of her life."
Beatriz's children aren't so dedicated. Raquel, an intense labor negotiator, searches Beatriz's computer for clues about her disappearance. But she's never read any of Beatriz's books, until her mother disappears. Then she starts reading the last unfinished manuscript, certain to be a jackpot considering the author's mysterious disappearance.
Adonis-like Marcus tends bar at an expensive club: Guess who's Emma's new love interest. Marcus has the same "radioactive-green eyes and high cheekbones as Beatriz," but lacks his mother's intensity. Raquel sends text messages to monitor Marcus and Emma as they look for Beatriz — when the two aren't fooling around.
Novey adds one-page chapters with e-mails from Miles. Similarly short chapters give blurb-like news updates and media gossip about Beatriz's disappearance and the movements and frolicking of Beatriz's family and translator. As the plots progress, there's a kidnapping, a knifing and a murder-for-hire, but most of the violence is muted.
The writing, too, is low-key in this engaging novel. It's more than just adventure and romance; it's Novey's story of a character who tries "to push everything. ... To take all of it too far" told by a writer, who, like the publisher Rocha, trims "each passage down to its intrinsic perfection."