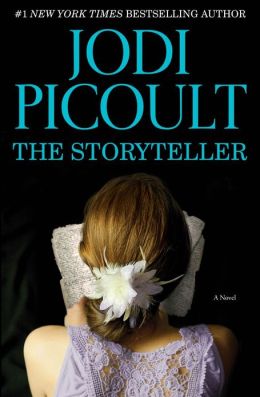 Combining the stories of a young woman with a scarred face, an elderly man who may have been a Nazi, and a Holocaust survivor may be a daunting task to some authors. Not Jodi Picoult, who weaves them together in her seamless and graceful new novel, "The Storyteller."
Picoult's last novel, "Lone Wolf" was a strange departure from what many of her readers expect. This effort is a return to storytelling through well-drawn characters that fans will welcome.
The young woman, Sage Singer, is close to her grandmother, who is the Holocaust survivor. Picoult begins with Sage's point of view, anchoring the story firmly in the present before she takes us back to 1930s and '40s Poland and Germany. Sage, who works nights as a baker, finds herself floundering in college after her father's sudden death.
"My mother arrived unexpectedly one day. She took up residence in my dorm room and micromanaged my life, from making sure I was fed to walking me to class and quizzing me on my homework readings. ... My mother stood up and whistled through her teeth when I crossed the stage to get my diploma. And then everything went to hell."
Although we don't learn until late in the book exactly how Sage's mother dies, we know early on that Sage blames herself, which is one of the reasons she lands at a grief support group and meets Josef Weber, a 90-something man dealing with his own losses.
From there, Picoult launches a moving tale that weaves together Sage's relationship with her grandmother, Minka, who is reluctant to talk about her years in the Nazi camps, and Josef, a retired teacher who wants Sage to help him with the ultimate task — dying.
As each character tells his or her story, we learn about Minka's family and friends in the years leading up to the rise of the Nazis. Picoult takes us inside the life of a young girl who watches her world shrink as the Nazis impose their will on Jews. The chilling question is whether one of Minka's tormenters was indeed Josef, who says he was a Nazi officer at a concentration camp.
We learn about Josef as the less intelligent of two sons, but with physical skills that make him a favorite in the Hitler Youth. And we see his humanity pushed deep inside him. He recalls the first person he shot during the invasion of Poland:
"I screamed in the face of the woman, asking her where her husband was, but she would not answer. As the rain drenched her, she fell to her knees and started sobbing and pointing back to the house. It was giving me a headache like no other. ... The teenage boy started to run back to the house."
After Josef shot the boy, he realized what the boy was going back for — an infant lying in a laundry basket. "Say what you will about the inhumanity during the invasion of Poland, but I gave that woman her baby before we marched her off."
Chapters alternate between these characters and Leo, a government lawyer Sage asks to help her determine whether Josef really was a Nazi and if he should now be prosecuted.
Readers know the eventual fate of Nazi Germany and concentration camps. But Picoult draws her readers past the history book lessons by showing the horrific yet still human lives for Minka and Josef. She leaves readers pondering whether justice could be served decades later.
---
Published by Atria, 462 pages, $28