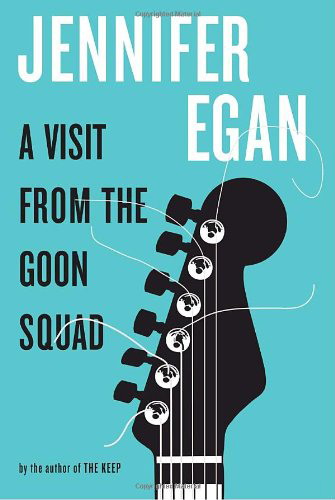 Elegies to the days when rock music was more than just another commodity tend to be at best romantic and at worst embarrassing. So it's all the more impressive that "A Visit From the Goon Squad," the latest novel from Jennifer Egan ("The Invisible Circus"), is neither unduly nostalgic nor fashionably cynical. Rather, Egan situates rock as a cultural signpost that her characters encounter on the road to maturity or oblivion.
Central among them is Bennie Salazar, a punk rocker who becomes a record-company honcho — and enjoys fame and success until his conscience catches up with him. Through Salazar, Egan traces rock's sad but perhaps inevitable tumble down the slippery slope of commercialism. But the novel is equally the story of Sasha, a troubled young woman who works for Salazar when she's not stealing unattended wallets in women's bathrooms.
Salazar and Sasha are at least tangentially connected to the novel's other characters, some of whom Egan allows to narrate the story before they've been properly introduced. The effect is at once disorienting and intriguing, not unlike director Quentin Tarantino's strategy in "Pulp Fiction."
Egan's kaleidoscopic approach might contribute to the impression that "A Visit From the Goon Squad" is not so much a novel as it is a collection of related short stories. But while some of the chapters could stand alone as gems of short fiction — particularly one involving a hotshot New York publicist who makes a huge and irrevocable mistake — it's only toward the end of the novel that Egan's grand design reveals itself.
At her best, Egan achieves a simple eloquence, as in this passage about an art historian who's more interested in gazing at Italian art than in tracking down his runaway niece — who suddenly enters his line of sight:
"She had grown up. And so uncompromising was this adulthood, so unstinting its inventory of breasts and hips and gently indented waist, the expert flicking away of her cigarette, that Ted experienced the change as instantaneous. A miracle."
And in this passage, set in the not-too-distant future:
"Rebecca was an academic star. Her new book was on the phenomenon of word casings, a term she'd invented for words that no longer had meaning outside quotation marks. English was full of these empty words — 'friend' and 'real' and 'story' and 'change' — words that had been shucked of their meanings and reduced to husks."
"A Visit From the Goon Squad" doesn't quite qualify as easy beach reading, but it's probably not intended to be. Instead, it's something much more rewarding: poignant, provocative and ultimately profound.
'A Visit From the Goon Squad'
Published by Knopf, 274 pages, $25.95