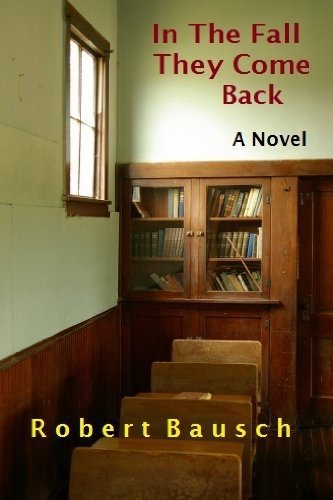 Robert Bausch is an award-winning writer who's written and traditionally published seven books. His newest novel, "In the Fall They Come Back," is as good as the best novels I've read in quite a while, but Bausch has done what some midlist authors are now choosing to do: self-publish.
Based on a true story, "In the Fall They Come Back" is about a teacher's experiences at a small prep school in Virginia. It's a quiet story about Ben Jameson's relationship with his students. There's Leslie, beautiful and dangerous, a femme fatale who has "fine hair almost the color of a daisy's eye, swaying in the fall breezes"; Suzanne, who is mysteriously mute, "never took her eyes off the floor in front of her"; and George, who's physically beaten at home and bullied by the kids at school.
Ben tells his story with the benefit that a few years of contemplation and wisdom provide. He's in law school as he recounts those two years of not just teaching, but "about caring a little too much; or maybe about not caring enough" about his teenage students.
Ben's girlfriend, Annie, says he has a "Christ Complex": trying to fix everything and solve the problems of his students. It's his benevolence that undoes Ben and ultimately destroys one of the three students he attempts to save.
Bausch does a masterful job, seamlessly moving from the mid- to late-1980s in this wise and heartrending novel.
Bausch is a marvelous artist and storyteller as he proved in his first novel, "On the Way Home" (1982), and again in "A Hole in the Earth" (2000) and "Out of Season" (2005). But "In the Fall They Come Back," an indie-published book, is among his best work.
---
'In the Fall They Come Back'
Published by CreateSpace, 508 pages, $19.99 (paperback)
Joseph Peschel (josephpeschel.com) is a freelance writer in South Dakota.