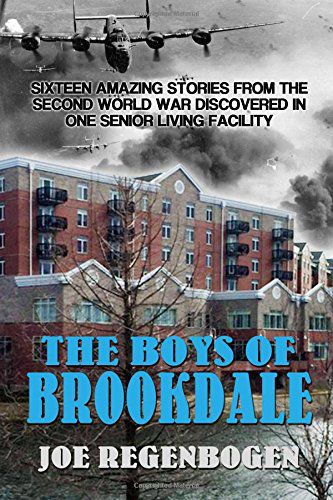 This Memorial Day, St. Louisans might keep in mind Arnold Leidner, Nathan Silverman and Irvin Shore.
Each of them gets a chapter in "The Boys of Brookdale," accounts of those who lived through World War II and now reside at Brookdale Creve Coeur, a facility for the elderly. But since the author wrapped up his manuscript," Leidner, Silverman and Shore have died.
Author Joe Regenbogen long taught high school history in the Parkway School District and got the idea for this book when he moved his father into Brookdale, where he saw a lot of WWII memorabilia. So two years ago, he set about interviewing 16 residents with wartime stories to tell.
Regenbogen confesses that his book's title misleads — not just because the subjects are way past boyhood but because three of the chapters stem from interviews with women:
• Szyfra Alexandra Braitberg, a Polish-born Jew who found herself fleeing from the Nazis but running into pitched battles between the Germans and the Red Army.
• Jeanne Dohogne, the widow of bomber pilot (and Purple Heart recipient) Urban Dologne, who died in 2011.
• Norma Schweig, who served in uniform in the Navy's WAVES (Women Accepted for Volunteer Emergency Service).
Regenbogen reminds readers as his book opens that the ranks of WWII vets have thinned dramatically. He writes: "Of the more than sixteen million Americans who served their county in World War Two, only about 620,000 were still alive in 2016. It is estimated that number is being reduced at a current rate of almost five hundred per day. In a relatively short time, there will no longer be any eyewitnesses left from the Second World War to describe what they saw."
Most saw little in the way of combat. As the author notes, "Instead, many served in a wide array of support capacities: cooks, communication specialists, payroll clerks — all necessary for keeping the colossal American military machine churning toward its final victory."
Among those behind-the-lines laborers was the late Leidner, a University City native. He joined the Army Air Forces and wound up in the South Pacific. There, he spent day after day "typing, filing, and record keeping for his unit. Arnold did not mind the work. In fact, it was because of his ability to type so well that he had landed this position while back in the States, and he was grateful that it had kept him relatively removed from the hellfire of combat."
Still, many of Regenbogen's interviews cover accounts of combat and terror. And some of those who never saw combat still had to deal with terror. Take Paul Johnson: In a long career as a Navy test pilot, from 1943 to 1970, "he never dropped any bombs on a populated target or waged any dogfights against enemy aircraft." Even so, "high risk shadowed Paul throughout much of his military career. He had to train himself to deal with the ongoing tension and to always remain composed under any and all circumstances. The stress was the high price Paul had to pay in order to serve his country."
One of the Brookdale accounts comes from a man whose only uniform came from the Boy Scouts, St. Louis native Joe Schenburg. But as a teenager, Schenburg followed the news accounts closely, took part in blackout drills and volunteered for war bond drives.
Throughout, author Regenbogen finds evidence that WWII service uplifted many. He cites Jack Finklestein, who used the GI Bill to finance his college diploma and home loan.
"For a St. Louis kid who once shoveled snow just to buy soup for his family during the Great Depression," the author writes, "Jack would be the first to admit that his experiences at the end of World War Two served as the springboard into a wonderful life."
But the author had better prepare for flak from readers who have served as Marines. Regenbogen spells the word with a lowercase "m," and that's a Major Misjudgment.
Harry Levins of Manchester retired in 2007 as senior writer of the Post-Dispatch. The Army drafted his father in 1944, when his father was 37 and had five kids.