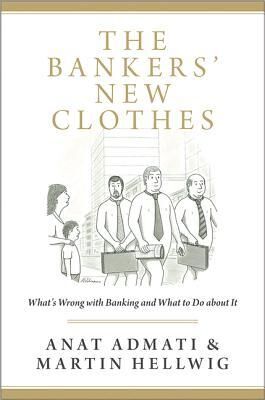 Three truths about banking that I learned when I ran the Post-Dispatch business news department more than 30 years ago came back to me while reading "The Bankers' New Clothes," a clearly written, sensible analysis of problems and cures for the U.S. banking system.
Truth No. 1: Banking is a 3-6-3 business — or at least it used to be.
When the financial world was a much less complex place, bankers were said to have a very simple job: They attracted deposits that earned 3 percent, turned around and lent that money out to others at 6 percent and were on the golf course by 3 p.m.
Then, the once-staid industry became more complicated and less regulated, and bankers used that freedom to help themselves but ultimately hurt society at large, Anat Admati and Martin Hellwig argue.
To make their point, they use the analogy of Hans Christian Andersen's tale of the emperor who claims to have the most exquisite outfit ever made — a boast that his frightened underlings agree with until a little child shouts out that he really is wearing no clothes at all.
Admati, a finance professor at Stanford, and Hellwig, director of the Max Planck Institute in Germany, say "The Bankers' New Clothes" are claims of privilege and complexity that bankers often use to fend off new rules designed to curb their activities.
The authors' main point is that the rules need to be changed so that banks, instead of being highly leveraged through borrowing, would need a more solid foundation of equity to help them weather tough times and to curb their desire to devise and invest in increasingly intricate and risky financial instruments.
Admati and Hellwig take a lot of time to clearly explain the problems with depending too much on borrowed money, which brings us to the second saying that explains why banking can be precarious.
Truth No. 2: If you owe someone $50,000 and can't pay, you're in trouble. If you owe someone $50 million and can't pay, they're in trouble.
To illustrate the benefits and the perils of debt, the authors do a pretty good job of keeping things simple. The example they return to again and again is Kate, a homeowner who, depending on how much money she must borrow to buy a $300,000 house, can either be sitting pretty or just a step away from ruin.
(It doesn't hurt that she has a rich Aunt Claire to call on, to ease her burden.)
Their point: Debt has both benefits and perils, and banks that borrow too much and have too little equity to cover their debt are setting themselves up for trouble.
As hard as they try, Admati and Hellwig can't always keep everything simple when it comes to modern banking. At times, they wander off into acronym land, talking about GAAP, CDS, IFRS, ICB, SIV and more. But they provide one more three-letter abbreviation that is easy to understand and underscores their argument.
Truth No. 3: Three of the most powerful letters in finance are OPM — Other People's Money.
That phrase was first highlighted in 1914 by Louis Brandeis to illustrate the fact that what bankers do has an impact far beyond their own business. Admati and Hellwig write:
"In making and controlling the laws and regulations, politicians, regulators, and supervisors make decisions that affect many other people, including not only the banks' investors but also the public as a whole. The 'other people,' however, do not have a say in the bankers' decisions."
To fix the conditions that prompted 2008's Great Recession and help make sure that they don't cause another meltdown, "The Bankers' New Clothes" lays out a strong case for ignoring protests by bankers that their industry is too difficult for anyone else to understand, much less regulate. What is needed, the authors say, is courage.
"We can have a financial system that works much better for the economy than the current system — without sacrificing anything," Admati and Hellwig conclude. "But achieving this requires that politicians and regulators focus on the public interest and carry out the necessary steps. The critical ingredient — still missing — is political will."
And the courage to say that the bankers' new clothes don't really exist.