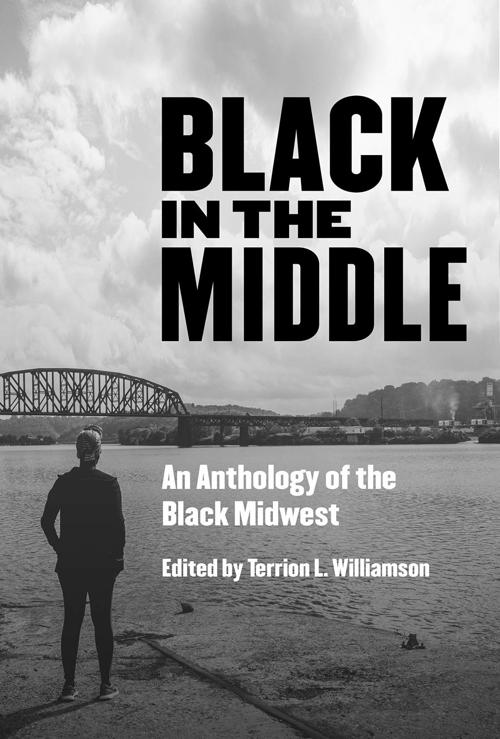 Within "Black in the Middle," there is a horizon of experience that sits in the valley of uncomfortable realities. Through well-crafted essays, poems, photography and other musings on everyday life, the anthology shares the inner workings of some families who make due with what little they are given or build, with worn-out tools, a future on their own terms.
As a Black writer born in St. Louis, I often wonder how my kindred fare in other Midwestern cities. Single-parent households can leave children with scars that take years to heal, if healing happens at all. And it's evident in Tanisha C. Ford's essay "Traveling While Black" that my family wasn't alone. Many children of color can relate to hearing about the places they should not go.
Ford writes: "I could hear my mom, in the driver's seat, bickering with my aunt, who was riding shotgun. My eight-year-old spirit registered a panic in my aunt's voice that I had never heard from her before. 'Girl, we can't stop! We're in Martinsville,' my aunt said."
The essay goes on to shed light on the reality of traveling while Black, moving it from fable to fact, from hearsay to history. The author's 1987 car ride in Indiana, and a town reputed to be a Klan enclave, would help make her aware that "navigating the state was less about knowing direction and more about knowing 'your place.'"
In "Cleveland and Chicago: A Tale of Four Cities," Mark V. Reynolds reminds readers of the many cities within our own. The ethnic clusters, the parts of town I knew to stay away from, the dilapidation in those neighborhoods where I knew I'd see whole communities of Black and brown faces. Reynolds writes of segregation in Cleveland:
"That racial geography stemmed in large part from the city's balkanized racial history. There were two different groups of white people to contend with: the old-money gentry, controllers of the business and political arenas and patrons of culture; and European immigrants — Polish, Irish, Italian, Slovakian, German and so on — who assimilated into non-ethnic, all-American whiteness and gained positions of power in the police and fire departments, trade unions, and even the Catholic Church. In their respective ways, neither group made it any easier for the black community, which began to swell in the 1910s as the Great Migration brought impoverished southern blacks northward to Cleveland and other booming Midwestern industrial meccas."
The essay makes it apparent that the segregation that has permeated Missouri was not an anomaly. All over the Midwest, people of color have faced similar, if not identical, challenges.
Editor Terrion L. Williamson notes, too, that the anthology is meant to provide a wide range of viewpoints and expand discussion of the Midwest beyond "narrow political talking points and misinformed media portrayals" by compiling the work of people who actually have deep experiences here.
The anthology, which skews to the upper Midwest, also includes photographs that help tell stories. A photo of Young Brothers Bar near the Ohio River in Pittsburgh is part of an essay about living near water, including a water treatment plant. Jamie Younger is quoted as saying, "When I first moved up here, when the wind blew, the smell was vicious."
Photographer Njaimeh Njie, who earned a degree in film and media studies at Washington University, says: "Black residents have traditionally lived close to waterways — sometimes by choice, but often because of racist housing and land-use policies."
The honesty in the essays, the emergency in the poetry, and the intensity of the photographs and paintings help to sharpen the edge of what it means to be Black in the middle of anything, which is the sum of our fears and the hope that manifests itself in our dreams. "Black in the Middle" reminded me of a home imagined and of a home realized as someone who grew up in the Midwest.
Jason Vasser-Elong is a St. Louis-based author, poet and essayist.