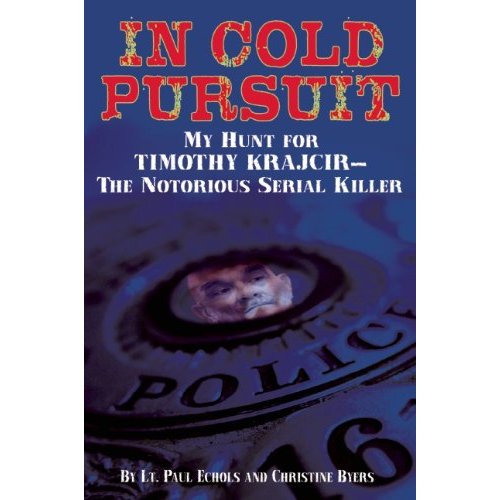 Paul Echols was a rookie police officer in Carbondale when somebody murdered Southern Illinois University student Deborah Sheppard on April 8, 1982. The case went cold, but Echols always felt compelled to solve the crime.
Because of Echols' persistence, advances in DNA testing and an eventual confession, Echols could announce in 2007 that Timothy Krajcir had committed the crime. Echols, working with law officers in Illinois, Kentucky and Pennsylvania plus Cape Girardeau, Mo., documented that Krajcir had killed at least eight other women, as well as committing multiple nonlethal rapes and burglaries.
Echols' police procedural, "In Cold Pursuit," was written with Christine Byers, who wrote about Krajcir for the Post-Dispatch.
Krajcir, born in 1944, was a known sexual deviant who served short prison terms for a variety of crimes before graduating to serial killer status. He possessed a high IQ, was a good athlete and, when not serving prison time, worked as an emergency medical technician saving lives.
Echols became obsessed not only with solving cold cases, but also trying to understand what had caused Krajcir to become a remorseless killer. Readers might become obsessed with questioning why prison officials and judges released Krajcir back into society so frequently, when escalation of his sexual violence should have seemed inevitable.
One especially sad chapter tells the saga of a Mount Vernon, Ill., rape that resulted in the conviction of Grover W. Thompson. Echols determined that Krajcir committed the crime. By then, though, Thompson had died in prison.
Throughout the investigation, Echols is haunted that he might not close some of the crimes committed by Krajcir, leaving wounded families without closure. Had all rape victims even reported the assaults to police? Echols writes that he and a colleague "talked of how seemingly unreal all the facts that we had been finding about Tim's past were, but we were both still haunted by the ones we couldn't tie up."
Warning: Although the book is painstakingly reported and clearly written, it is difficult to read in large segments because the details are so gruesome, page after page.
Steve Weinberg is a freelance investigative reporter who writes frequently about flaws in the criminal justice system.
---
'In Cold Pursuit: My Hunt for Timothy Krajcir, the Notorious Serial Killer'
By Paul Echols and Christine Byers
Published by New Horizon, 305 pages, $24.95