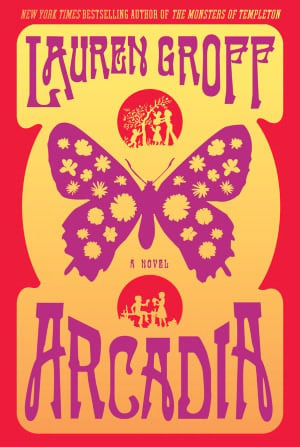 Lauren Groff's second novel, "Arcadia," tells the story of Bit Stone and communal life in the early 1970s through the '80s, and follows Bit, his hippie friends and family to about 2018. The characters and setting in the early chapters will remind readers of the hippies in T.C. Boyle's "Drop City." But throughout the book, Bit ages and changes as does his community, "worn a little more by time and loss, gradually dragged down by gravity."
Groff is a talented writer with a novel, the widely praised "The Monsters of Templeton," and a book of short stories, "Delicate Edible Birds," to her credit. From start to finish, "Arcadia" is poetically delivered through Bit's eyes.
Bit is Ridley Sorrel Stone, an endearing, diminutive character nicknamed from the phrase "Our Littlest Bit of a Hippie." Groff begins in 1968 with a two-page prologue of Bit's earliest memories from the womb. This mystical recounting of Bit's prenatal recollections becomes a legend among the hippies.
Later, she describes him at a pond with a friend:
"There is peace in this deep. He (Bit) is free from the layered tensions of Arcadia, the overcrowding, the hunger. But up where the surface meets the sky, a speck becomes an open hand, becomes a star slowly falling toward him. A pulse in his gut when he sees that it is Helle, her eyes open to search for him. Her feet, landing, send shivers of mud to his knees."
Soon it's 1973 in central New York State. Free People, a coterie of hippies and beatniks led by a charismatic folk musician named Handy, are close to completing the building of utopia — refitting a 19th-century mansion that they call Arcadia House. The utopian commune's foundations are equality, love, work and openness to the needs of everyone. As you might expect, there's little chance these gentlefolk will succeed.
Still, like Thomas More's Utopia, the commune sets down rules: All possessions will be held in common, and anyone will be welcome as long as they promise to work. "They would lead pure and truthful lives; no illegal activities." At least nothing that should be illegal. They plan to live with the land, not on it, "outside the evil of commerce."
While they refurbish the mansion, they live in a mishmash of lean-tos, buses and tents. And despite petty jealousies and brutally hard work, they struggle through the Reagan era. They're inevitably forced to abandon the commune, and nearly a thousand children of Arcadia dwindles before the last hard-core utopians leave.
After the millennium, the kids have gone urban. Bit is teaching in a university, and the old Arcadians are still looking for what they've lost. It's about 2018 when what's left of these hippies, the United States and the rest of the world suffer from the effects of global warming and a devastating contagious disease that results in Bit's revisiting his ancestral roots.
Despite her relative youth, the 33-year-old author depicts the voice and attitude of her hippies as perfectly as child-of-the-era Boyle does. Groff's choice of present tense to tell Bit's story lends immediacy to the novel and the lyrical voice emulates the voice of an intelligent and perceptive hippie. Later, that lyricism finds "in its fragmentation the proper echo of the disintegrating world."
---
Published by Hyperion Voice, 304 pages, $25.99