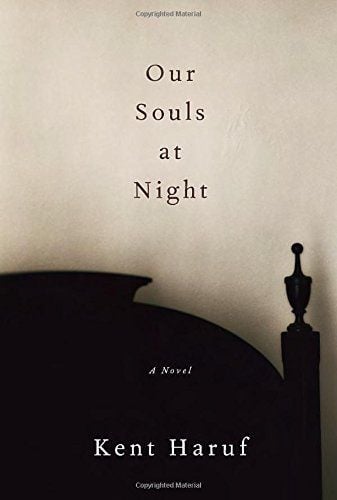 Kent Haruf, who died at 71 in November, published five novels, all of which take place in fictional Holt, Colo. His posthumously published sixth novel, "Our Souls at Night," takes place in Holt, too, where two lonely 70-year-olds try to find companionship for however long it might last.
It's a fine and poignant novel that demonstrates that our desire to love and to be loved does not dissolve with age, no matter what younger society may think. Or as Addie says about her relationship with Louis, "it turns out we're not finished with changes and excitements. And not all dried up in body and spirit."
Addie Moore and Louis Waters lost their spouses years ago. One day, Addie decides to invite over Louis, whom she judges a "good man." She suggests he spend his nights with her, talking in bed, because when it comes to loneliness, "the nights are the worst," she says. Louis considers the idea and agrees.
There is risk in their decision — what will people think? If they were young, would anyone care? Or even notice? Despite the inevitable gossip, Addie wants Louis to come in the front door, not sneak in the back door, because there is nothing for them to be ashamed about. As their companionship and love evolves, Addie's son's marriage devolves and his 6-year-old son, Jamie, stays with Addie. The boy likes Louis, who becomes a father figure to him. Louis plays catch, takes Jamie camping and buys him a dog.
But soon, Jamie's father, a bitter man who believes his father blamed him for his sister's death, becomes an obstacle to Addie and Louis' relationship, and he eventually uses his son against them.
As in his other novels, Haruf writes the dialogue in "Our Souls at Night" as unquoted conversation. The dialogue is so abundant that the novel reads like drama and could easily be staged for theater. Indeed, what many call Haruf's Plainsong Trilogy ("Plainsong," "Eventide," and "Benediction") has been adapted into a single play. The technique of dialogue sans quote marks infuses a feeling of action when little is happening: there are no physical fights, no hysterics, but the story speeds along, almost as if it's a page-turning mystery.
You hear a lot about the power of Haruf's "spare" prose, and rightly so. Of his own writing, Haruf, in a final interview with the Denver Center for the Performing Arts, said, "I have written as close to the bone as I could. By that I mean that I was trying to get down to the fundamental, irreducible structure of life, and of our lives with one another."
It's proof of Haruf's skill as a writer that he, knowing he was dying, was able to write "close to the bone"; as overly sentimental as this story might have gotten, it refuses to be mawkish. Midway through, Louis tells Addie, "I just want to live simply and pay attention to what's happening each day," and that simplicity and perceptiveness are imitated in Haruf's thoughtful and evocative prose.
---
Published by Knopf, 192 pages, $24