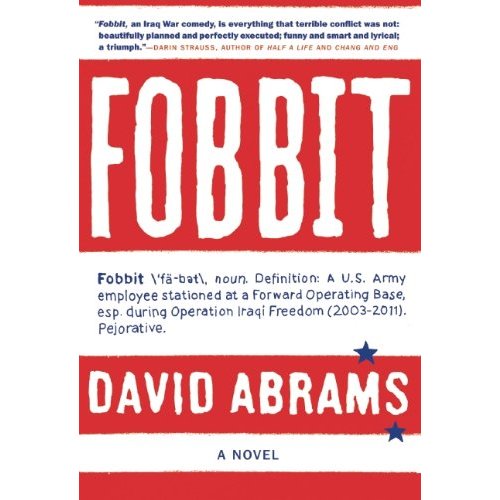 Halfway through "Fobbit," Staff Sgt. Chance Gooding compares "Catch-22" to "an owner's manual for war."
Like Joseph Heller's classic book, David Abrams' first novel is a satire that lampoons the stupidity, terror and futility of war. Rather than World War II Italy, however, "Fobbit" takes place in modern Iraq, with satire as scathing and funny as "Catch-22."
Told from the viewpoints of five soldiers, the action goes down at and around Forward Operating Base (FOB) Triumph, headquarters of the Seventh Armored Division.
Here, combat soldiers and rear-echelon personnel share the same base, but not the same housing. Infantry grunts live in Connex shipping containers, "something akin to a Dumpster," while officers and Fobbits live in air-conditioned trailers. Grunts call non-combat personnel "Fobbits," a pejorative combination of FOB and hobbit, each "reluctant to venture beyond their shire."
Some Fobbits are good soldiers mired in absurdly bureaucratic red tape. Career Fobbit Sgt. Gooding works in the Public Affairs Office and writes press releases, putting the best patriotic spin on sniper attacks, suicide bombings and Iraqi unrest.
Unfortunately for Gooding, his press releases go through so many channels and rewrites that he's seldom able to positively propagandize the war before AP and CNN report the news.
Other Fobbits are bunglers like Lt. Col. Harkleroad, Gooding's boss. He's fat, prone to nosebleeds and has earned the pity and ridicule of other staff officers.
When he's away from his desk, he's either munching on a treat or writing lies to his mother about his "heroism." After an explosion, Harkleroad writes, "Everyone else was running away and it turned out your son was the only one to move forward to give comfort and aid to the wounded."
Lt. Col. Colonel Duret, a dedicated and competent combat officer, daydreams of his wife and his dog. He longs to be away from the madness in Iraq. His biggest problem is handling Capt. Shrinkle, an overzealous fool who causes so much trouble that he's eventually Fobbitized and worse.
Abrams, an army veteran, says he kept "scribbled diary entries which would later be transmogrified into the fiction of 'Fobbit.'" The result is provocative satire that rarely misses its target. But Abrams could've cut a few clichés and the cartoonish gag where Harkleroad marches into a wall after getting chewed out by his chief.
 But "Fobbit" entertains enough to atone for those minor flaws. And like Gooding says of "Catch-22," I can't think of a better new book than "Fobbit" to get your perspective on war skewed in the right direction.
---