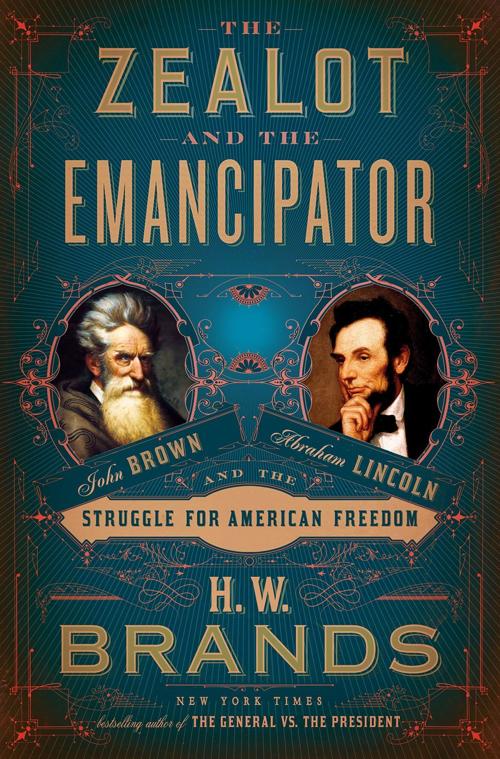 In "The Zealot and the Emancipator," history professor H.W. Brands hands the title roles to abolitionist John Brown and President Abraham Lincoln.
Well, most of us know what happened to Brown — hanged in 1859 for leading a raid on a federal arsenal to grab weapons for a slave uprising. And all of us know what happened to Lincoln from 1859 to 1865. So what makes Brands' book worth reading?
The answer: its deep look at its two main characters and their views on slavery.
At a debate with Stephen Douglas in Peoria in 1854, political hopeful Lincoln spoke to the topic of slavery. Brands' take:
"Perhaps in the long run, sending freed slaves to Africa would work, but not at once. Lincoln hoped it would, for the alternatives were dismal. 'Free them all and keep them among us as underlings? Is it quite certain that this benefits their condition?' Lincoln couldn't say that it would. 'What next? Free them, and make them politically and socially, our equals? My own feelings will not admit of this; and if mine would, we well know that the great mass of white people will not. Whether this feeling accords with justice and sound judgment is not the sole question, if indeed it is any part of it. A universal feeling, whether well or ill-founded, cannot be safely disregarded. We cannot, then, make them equals.'"
Four years later, again while debating Douglas, Lincoln said:
"I have no purpose to introduce political and social equality between the white and the black races. There is a physical difference between the two which, in my judgment, will probably forever forbid their living together upon the footing of perfect equality; and inasmuch as it becomes a necessity that there must be a difference, I, as well as Judge Douglas, am in favor the race to which I belong having the superior position."
Next to views like those, Brown's calls for racial equality have a clear moral edge. Brands writes that Brown "had embraced violence in the struggle against slavery, while Lincoln had condemned it. But Lincoln's path had by now led to slaughter a thousand times greater than anything John Brown ever committed" — the Civil War.
Indeed, Lincoln insisted at first that the war was being waged to preserve the union, not to abolish slavery. Only after the war turned in the North's favor did Lincoln issue his Emancipation Proclamation, effective Jan. 1, 1863.
Brands quotes his characters at length; their stilted 19th-century English can raise readers' eyebrows. But Brands also tucks in some stray factual gems. For example, readers will learn that John Wilkes Booth of historical infamy personally witnessed both Brown's hanging and Lincoln's second inauguration.
And some readers may find eerie parallels to events in recent months — widespread racial tension, for example, and the debate over whether federal or state government should act to handle a problem — in our time, the coronavirus, and in Lincoln's, the extension of slavery.
Let's hope that whoever takes the presidential oath of office in January has a better term than the one Lincoln started in 1861.
Harry Levins of Manchester retired in 2007 as senior writer of the Post-Dispatch.
Stay up-to-date on what's happening
Receive the latest in local entertainment news in your inbox weekly!