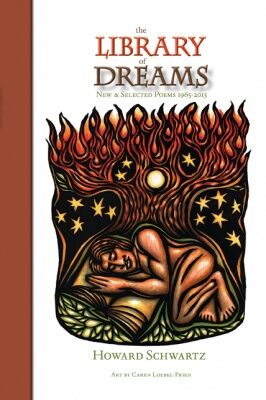 For all the 20th century's focus on economics, technology and social progress, it still gave birth to poets like Howard Schwartz, whose primary subject is the soul.
Ever since his first collection, "Vessels," appeared in 1977, Schwartz has been exploring, through symbol and narrative, such questions as how we are made, why we are here, what it means to sleep, to wake, to love. "We, too, were created from clay," begins one poem, "shaped by the hand of a father / and mother / and blessed / with the breath of life."
His poems are marked by sadness and by quiet ecstasy. "A song / that seemed so brief at first / has lasted," he writes in one of the book's sweetest love poems. Its subject "haunts my buds into blossom, / my voice / into song."
This poem, titled "A Song," makes use of the chiastic structure typical of ancient Judaic literature. It ends where it begins.
Reminiscent of poets like Octavio Paz and Gabriel Garcia Lorca, perhaps, Schwartz, now retired from the University of Missouri-St. Louis, does not mind repeating and repeating the same words. Rain, moons, shadows, blossoms, darkness, fire, stars and other elemental images, by repetition, become not boring but incantatory. They tend to both weave and relax Schwartz's poetry.
Truly remarkable is Schwartz's ability to capture grief. His voice speaks with such confidence, especially on emotional and spiritual subjects, the poems become immediate treasures.
"You are sad tonight," begins "Descent"; "I would go to you / but your door is shut to everyone, / even yourself."
Six lines later he describes the addressee "sinking into shadowy waters, / and I want to rescue you, / but I can't reach you." The poem ends as it had begun, with the image of a closed door.
A historically accurate comparison would be to medieval Spanish Jewish poet Yehuda ha-Levi, whose spiritual understanding informed not only his religious verse but also his poems of love and sorrow. A more exciting comparison, however, is to King David of Israel, whose psalms have been balm to human wounds for millennia.
But not all of Schwartz's poems are emotionally loaded or overly wise. Some merely describe: "A small white deer with antlers / wants to come into my room, / to sleep at the foot of my bed." The poet allows the deer to do this, resulting in a peaceful night's sleep "beneath a canopy of stars." There is also room for comedy, self-deprecation, the occasional foray into sexuality.
Without a doubt, "The Library of Dreams" is the definitive collection from a poet whose work deserves a wider audience.
Aaron Belz has published two books of poetry including "Lovely, Raspberry" (Persea, 2010). A third, "Glitter Bomb," is forthcoming in February.
{hr /} 'The Library of Dreams: New & Selected Poems 1965-2013'
Published by BkMk Press, 253 pages, $15.95 (paper)
Where • University City Library, 6701 Delmar Boulevard