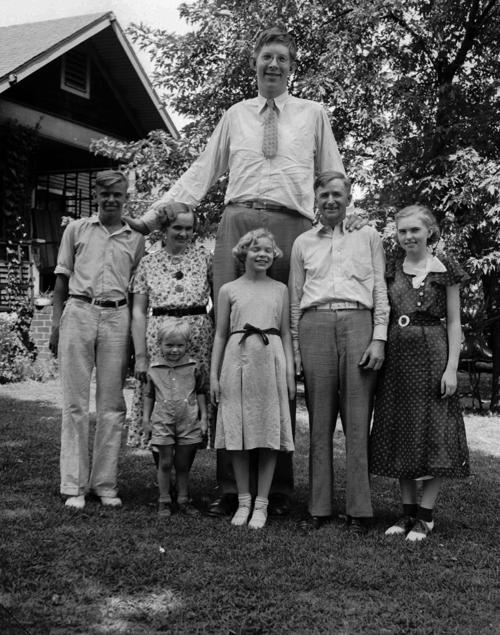 My hometown — Alton— was the birthplace of Robert Wadlow, the tallest human being in recorded history. Wadlow was 8 feet, 11.1 inches at the time of his death in 1940 at 22 — and he was still growing.
Wadlow's family was loving and supportive. His parents raised him to respect himself and didn't allow their son to be exploited. Wadlow's career consisted of making promotional appearances for local businesses such as the Peters Shoe Co. of St. Louis, which made the enormous, specially crafted shoes he required.
In 1937, he did agreed to appear with the Ringling Bros. Circus but only under a specific set of terms. He would wear a conservative business suit — not any kind of costume. And under no circumstances would he be part of the notorious sideshow.
Randall Platt has written a historical novel about a fictional giant, 14-year-old Fern Marie Killingsworth. Nicknamed "Babe," she stands just under 7 feet in height and, like Wadlow, is still growing. Babe is no beanpole. She weighs 342 pounds.
But her widower father, unlike Wadlow's parents, isn't exactly loving and supportive. He characteristically summons her by telling Babe to "get your fat rear over here."
He agrees in 1896 to sell her to Professor Renoir, the proprietor of a traveling carnival that features what Americans of that era referred to as freaks. Babe, who was mercilessly teased by her classmates and never got beyond the third grade, isn't even permitted to try to read the contract that so drastically changes her life.
Babe is billed as Magnifica, an Amazon queen who is stronger than any man and proves it nightly by throwing all challengers from the audience out of the ring she occupies. This girl doesn't lose her humanity as a carny, however. She finds it. Babe's earnestness and compassion earn her the respect of the other performers. For the first time in her life, she feels accepted and has friends.
My only criticism of the book is its title, "Professor Renoir's Collection of Oddities, Curiosities, and Delights." The truly pivotal events in Babe's life occur after she confronts Professor Renoir and leaves the carnival in the company of her best friend and two animal performers: a bear and an elephant.
To make the Idaho landscape even more interesting, a chimpanzee Babe had befriended escapes from the carnival and joins them. And this is just the beginning of Babe's new life.
Harper advertises the novel as suitable for ages 8 and up. I'm 65 and found it altogether suitable for this newly minted senior citizen.
John J. Dunphy is a writer and poet. He owns the Second Reading Book Shop in Alton.