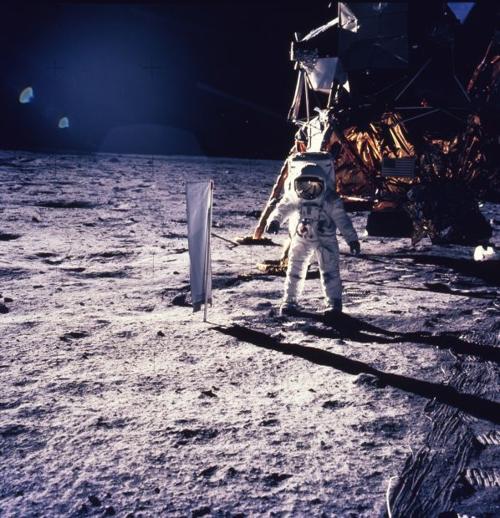 In the title story of Patrick Ryan's "The Dream Life of Astronauts," an almost-astronaut (the mission was canceled) gives a sparsely attended talk at a public library. A woman in the audience raises her hand to ask a question, but instead uses her chance to point out to the speaker, "God made the Earth for people to live on, not leave."
The nine funny and sharply observed stories that make up this collection, all set around Cape Canaveral from the 1960s to the present, are about the people who stayed on Earth while the space program made history in their backyards.
Though there's little interaction with NASA (in "Go Fever" engineers deal with the psychological fall out from their culpability in the Challenger explosion), "The Dream Life of Astronauts" offers plenty of otherworldly moments. Ryan's characters are witty, strange and immersed in escapist fantasies — not the level of escape going to the Moon offers, but the kind of escape you might find when you imagine winning the Miss America pageant or pretend to be French. In each story, a desire for reinvention and romance scrapes against the disappointment of reality. Ryan's characters are forced to find a compromise between the fantastical and the unavoidable.
The first half of "The Dream Life of Astronauts" inhabits the perspectives of children. A 9-year-old boy becomes close with his hippie uncle as his parents deteriorate in alcohol abuse and vicious fights. Teenage Frankie falls in love with an astronaut-turned-real estate agent while his mother eats ice cream in bed and his sister wraps her hair in mayonnaise and cellophane. A pregnant high schooler, her mother grieving her failed marriage with copious desserts and self-pity, finds herself drinking from a Slurpee cup with a sketchy talent scout. The world Ryan's children inhabit is lawless and unsupervised, allowing them to pursue their quirky obsessions but with the threat of sexual violation and trauma ever-looming.
In the latter half, Ryan moves into Florida's senior citizen condos and assisted-living facilities. Like his child protagonists, these seniors struggle against boredom and powerlessness, craving escape. A woman drops her granddaughter off at the sitter for a nervously anticipated rendezvous with her defensive-driving instructor. A 90-year-old antagonizes her nursing home roommate, who's cutting up Playboys for collages, and trades her wedding ring for Weetabix. Characters who appeared in earlier stories return, no less feisty or eccentric with age.
It's the collision of these two stages of life that bring the greatest pleasures in Ryan's stories. In "Earth, Mostly," perhaps the collection's strongest story, Gail's granddaughter Becca rails against the babysitter she's just left, wailing "Everyone's awful!" through mouthfuls of fruit leather.
Her grandmother, fresh from the disappointment of a bad date, is first angry for the child's petulance and selfishness, then reconsiders. Wrapping Becca in her arms, Gail cries with her. "You're absolutely right!"
Though there are weaker stories in the middle of the book, throughout the collection there's a tenderness and attentiveness in Ryan's stories, each character rendered with vivid compassion. His dialogue is wonderfully observed: Becca who speaks in a French accent ("Moi stomage ez hurt avec poison"), Melissa's mordant teenage wit and obsession with her weight ("There are people … who only want to get naked with fat human beings. I should find out if they have a club and join it"), Gail's sarcasm and repeated exclamations of "Jesus on the Cross!"
Ryan has an eye for striking and quirky details that gives the book a rich texture, and allow him to fully inhabit the decades he's writing in without easy kitsch: Frankie's Admiral Ackbar and David Bowie T-shirts and how, in the clouds, he sees "seahorses pulling giant ice statues on sleds." The booger bubble blooming from a child's nose as he plays with Legos in the bathtub. The quizzes in teen magazines Hannah works through ("I was 'tempestuous' according to the quiz, but I didn't know what 'tempestuous' meant") and her dollhouses made out of saltine boxes.
"The Dream Life of Astronauts" is a collection of small and lovely surprises — a book brimming with humor, compassion, and heartbreaks. Ryan's characters aren't great American heroes, but the people around the television and in their backyards while the shuttles launch, looking up.
Kelsey Ronan is the Fiction Editor of River Styx.
"The Dream Life of Astronauts"
Published by Random House, 272 pages, $26