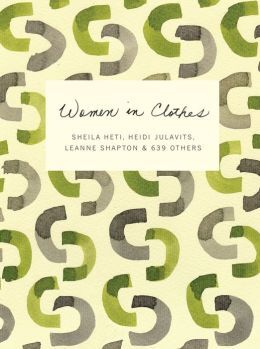 "Women in Clothes" is a luxurious, intimate book spilling over with photographs, interviews, conversations, poems, maps and memories compiled by three big talents in literature: Sheila Heti, Heidi Julavits and Leanne Shapton.
More than 600 women of all ages, backgrounds, sizes and dispositions contribute. Tavi Gevinson declares "Tippi-Hedren-in-The-Birds mint is possibly the best color visible to the human eye." Molly Ringwald interviews Cindy Sherman. Kalpona Akter, executive director of the Bangladesh Center for Worker Solidarity, translates for a teen survivor of last year's garment-factory collapse. And Ruth Reichl discusses the psychology of wearing her mother's clothes to disguise herself as a restaurant critic.
One of the more revelatory offerings is Miranda July's "Six Strangers Wearing Each Other's Favorite Outfits," which range from a caftan to a short and slinky one-sleeved cocktail dress.
It is unsurprising to read that Lena Dunham believes she was put on this earth to help "normalize a certain kind of body." But she also reveals the stylist trick of "a tight belt INSIDE the dress" to cinch for photos.
One of many anonymous and non-celebrities, Tryntje (Elgersma) Kramer, age 95, writes hauntingly of a lifelong love of style:
"To get nice clothes during the war, I would barter or trade. Butter or milk could be exchanged for material or sewing. I didn't have many clothes because of the war. I took really good care of them. I had a good figure." And later, "in a picture with friends in Niagara Falls, a blue-and-white polka dot dress. It fit me so well, I had seven or eight kids then. I still had a good figure."
The book ends with nearly 20 stories of lost clothing. But it isn't just snapping the arm off the perfect eyeglasses when you accidentally sat on them. It's the lost 1990s alternative culture that influenced style, a watch sold to pay the rent, heirloom bracelets stolen, lost weight that transformed how you dressed, losing a sense of style during a marriage to a jealous husband; and — of course — still pining for that dress you didn't actually ever buy.
Holly Silva is a St Louis editor.
---
By Shelia Heti, Heidi Julavits, Leanne Shapton, and 639 others
Published by Blue Rider Press, 528 pages, $30 (paper)