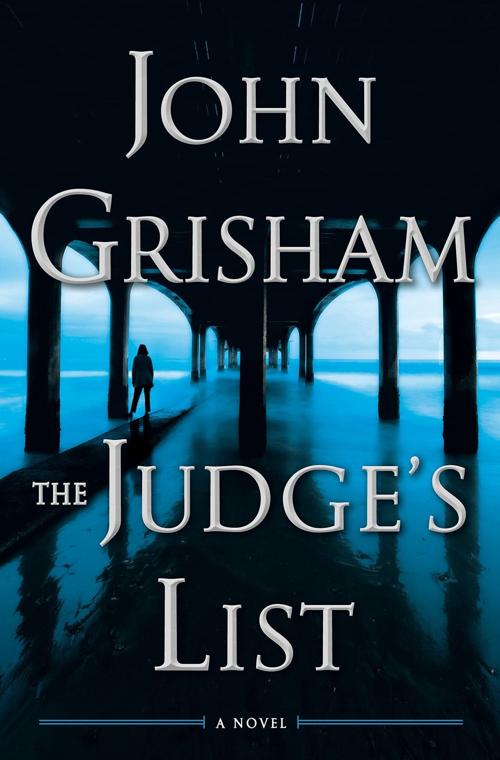 For a woman in what should be a staid bureaucratic job, Lacy Stoltz leads a pretty precarious life.
In John Grisham's "The Whistler," published in 2016, she helped break up a ring involving a corrupt judge and bribes from a crime syndicate, and she almost died in the process. Her colleague was killed.
Now, in "The Judge's List," she's back in harm's way, working to help solve a series of cold-case murders committed over a long stretch of years and a wide swath of territory.
The case begins when an anonymous tipster — variously known as Margie or LuLu or Betty Roe — contacts Stoltz's Florida Board of Judicial Conduct, alleging that a judge has killed several people with a signature method: strangulation with a three-eighths-inch nylon cord, marine grade, double twin braided, light duty, and secured with a double clove hitch knot.
Stoltz receives the report with a sizable dose of skepticism and reluctance, saying that her board isn't equipped to investigate something that really should be handled by law enforcement. The mantra of those in her agency is that "we're lawyers, not cops."
But as the tipster persists, showing how doggedly she has probed the case for years, Stoltz is persuaded enough to get other agencies involved, with predictable peril for herself and for her source.
Meanwhile, the judge, Ross Bannick, has used his patience and his computer cunning to avoid detection and any controversy over activities in his court. Grisham gives him an impeccable record:
"For the past five years, Bannick had received a stellar A+ rating from the bar. The comments were glowing: prompt, punctual, prepared, courteous, professional, witty, compassionate, bright, an 'intimidating intellect.'"
But the pace of his killings is speeding up, and both Stoltz and her source — real name: Jeri Crosby, whose father was one of the first victims — realize that if they are going to make any progress on the case, they will have to move quickly. Accepting Crosby's formal complaint kicks off a 45-day timeline that helps push the narrative forward.
Since this is a Grisham novel, it includes basic facts about the crime involved, including some perspective — each year, about 300 murders by suffocation, strangulation or asphyxiation are reported in the United States, half of them using weapons ranging from belts and electrical cords to chains and ropes
There's also a tutorial about how perps can alter or destroy their fingerprints, a method that the killer uses to help avoid detection. That ploy, plus his sophisticated use of computer malware, helps him keep steps ahead of the investigators whose case is heating up.
Will justice triumph in the end? The climax is suitably satisfying, and Crosby recognizes a universal truth when the case that has taken over her life for so many years is finally over:
"She had read somewhere that we often grow to admire, even love, the very thing we so obsessively hate. It can become a part of our life, and we grow to rely on it, to need it. It defines us."
Grisham has once again told a good story in an engaging way. Put "The Judge's List" on your reading list.
Dale Singer retired in 2017 after a 45-year career in journalism in St. Louis. He lives in west St. Louis County.