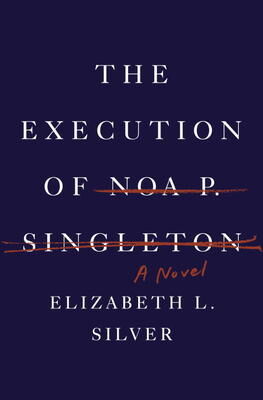 Elizabeth L. Silver, with a background in both creative writing and law, has written a sophisticated debut novel highlighting both her academic fields.
"The Execution of Noa P. Singleton" is narrated by 35-year-old Noa, a woman on death row in Pennsylvania for capital murder. "You can never visit your own funeral, but if you want to see how people feel about you, commit a crime."
In cool detail, Noa describes the last decade of her life in a maximum-security penitentiary: "It's literally a vacuum into which people are sucked to clean up the outside."
Days of 23 clockless hours alone in her cell, 1 hour out for exercise and bathing. She grieves her atrophying verbal skills, how other people "have the ability to spit back a witty comment, a genuine retort that stabs like a thumbtack. After nearly ten years in here, any extraordinary potential I might have been given was as rusty and dry as a corroded nail."
But much of the book unfurls in two suspenseful mysteries of remembering and imagining: what happened 10 years ago on the night of the murder, and what will happen six months from now on Noa's execution date, as appeals, clemency and writs are submitted to spare her life.
And when Marlene Dixon, an affluent attorney who is also the murder victim's mother, takes up the cause of Noa's clemency, the novel takes on a nearly mathematical elegance as it grapples with legality versus morality.
Silver deftly handles dark and weighty topics without ever sacrificing a literary attention to detail. Marlene has a "small cemetery of photographs" on her desk, and Noa submerges the "tender skin" of a tea bag.
In Noa's criminal trial, Marlene presents memories to the jury of her deceased adult daughter, Sarah, as a Girl Scout: "Marlene selected a photograph of Sarah, missing one of her front teeth, her tongue pushing through the gap as she grinned widely, saturated with chocolate and charity."
But Silver is aiming for something more than good writing, satisfyingly complicated characters or a page-turning mystery. Naturally worked into her story are real-life last meals and last words from Ricky Lee Sanderson, Bobby Atworth and George Harris. She discusses the legal minutia that makes a crime punishable by death in some states, but not others. She lists the many (sometimes amusing) reasons people give for skipping jury duty.
"The Execution of Noa P. Singleton" is a not just a novel, but a mirror upheld to a fragile, human criminal justice system.
Holly Silva is a St Louis editor.
---
'The Execution of Noa P. Singleton'