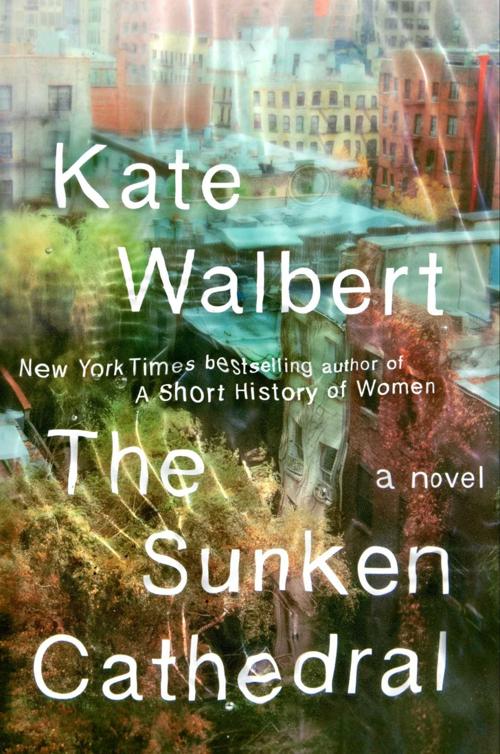 In "The Sunken Cathedral," Kate Walbert renders an impressionistic portrayal of an imperiled New York, whose residents live with the threat of weather surges and terrorism in a city that is at once mythical and real.
The novel foretells a hazy and calamitous future through several characters — octogenarian immigrants, middle-age school teachers, concerned parents and a painting instructor. They live in different boroughs, but each, apprehensive in his or her own way, faces extraordinary anxiety: "The curse of the twenty-first century," as one character puts it.
The title of this brilliant allegory comes from Claude Debussy's prelude for piano "La Cathédrale Engloutie," which he based on a mythological city in Brittany that was consumed by the sea. When Helen, an art historian, was a young girl, her father told her Debussy's " 'The Sunken Cathedral' is the musical version of Impressionism." Debussy was Cézanne's musical counterpart, and as if it were borrowing techniques from the two, Walbert's novel nudges the reader "to see in the way one must see to be alive" as they try to prepare for The Surge.
In Walbert's world, a weather surge becomes The Surge, a term that includes natural disasters tornadoes, floods and hurricanes but also includes citywide, nationwide and worldwide dangers such as global warming, anthrax scares, bombing and other terrorism.
Told from various third-person viewpoints, the book's anxiety manifests itself through characters at a painting school and an elementary school. Marie and Simone are a couple of 80-plus-year-old immigrant widows who along with Helen, the art historian, take painting classes at the School of Inspired Arts.
As Marie and Simone start to dabble in painting as a sort of fun therapy, Helen finishes another in her series of paintings called "Life Underwater," in which, near St. Patrick's Cathedral, a homeless man floats up in a flood, "unfurled from his shabby blanket like a figure out of Magritte," a surrealistic image that reflects the actual flooding of the Hudson River and portends the future.
Elizabeth is Marie's tenant, an involved parent at Progressive K-8, where parents, expected to support their children's lives at school, act as crossing guards and committee members. Dr. Margaret Constantine, the interim school principal, encourages "better communication by way of stronger community," and suggests family members should write "Who We Are" stories, describing where they came from and how they got here.
She also wants children to be prepared for potential future catastrophes. She hypothesizes "What Ifs": "What If an earthquake were to knock out the power grid? What If an outbreak of avian flu occurred during a blizzard?" So, the children deal with those dangers and learn how to scream and escape terrorists and other attackers.
Plot in the novel is minimal and understated. But fascinating characters and their backstories propel the novel from serenity to angst, as each character prepares for the coming deluge. A sunken New York, whether metaphorical or literal, becomes as mythical as that lost city in Brittany.
---
Published by Scribner, 208 pages, $25