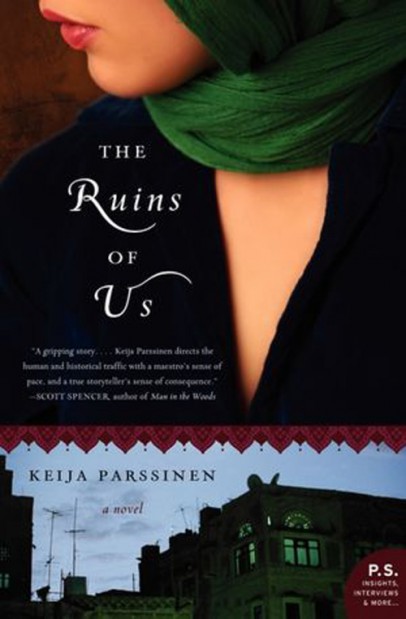 Keija Parssinen is a debut novelist who moved to Columbia, Mo., in 2009. Her novel is set far away from mid-Missouri, primarily in Saudi Arabia, which is no surprise given Parssinen's history.
Born in Saudi Arabia to a multigeneration expatriate family, Parssinen lived there until age 12. Inside a garage office within the oil company-provided Saudi home, Parssinen used her father's typewriter to compose stories. She never lost the writing fever.
Shifting her life to the United States, she earned an English literature degree from Princeton University and a master's degree from the Iowa Writers' Workshop.
In her first novel, "The Ruins of Us," the protagonist wife and mother, Rosalie, is a Texan who marries a Saudi Arabian student she meets at the University of Texas. Rosalie agreed to live in Saudi Arabia, where she grew up, and they have two teenage children. The story mingles subplots of marriage, child rearing, extramarital passion, business matters, internal Saudi politics and international hatreds.
Despite the crisscrossing narrative lines, Parssinen never loses control of the book. Many, probably most, first novels demonstrate large patches of rawness. Parssinen's first novel feels extraordinary polished, supremely mature:
"Rosalie set her handbag in the dirt so she could rewrap the scarf around her head. The absence of pins forced her to tuck the fabric's long edge close to her chin, making her look like a tourist who had never learned to properly veil herself. She was tempted to let it blow away altogether. Her red hair was shining and straight for once, begging to be looked at — a result of the olive oil she had started to mix with her conditioner, the trick Lamees had recommended when Rosalie had complained about the winter's dulling effects on her hair. She picked up her purse and dusted it off. She should have known better than to attempt a winter-white handbag in Saudi Arabia, where sand was always the victor. Sometimes, though — and Rosalie firmly believed this — in a place as harsh as the Kingdom, you had to do frivolous things to prove you hadn't forfeited the fight."
At the end of the paperback is a seven-page essay by the author plus five pages of recommendations about literature related to Saudi Arabia and the Middle East.
In her early 30s, she expects to publish lots more. Parssinen says her next novel is shaping up as "an epic tale of good versus evil and true love, set partially in an American workplace and partially in Libya during the Arab Spring."
Steve Weinberg, Columbia, Mo., writes and reviews books.
---
Where • Left Bank Books, 399 North Euclid Avenue
---
A novel by Keija Parssinen
Published by Harper-Perennial, 324 pages, $14.99 (paperback)