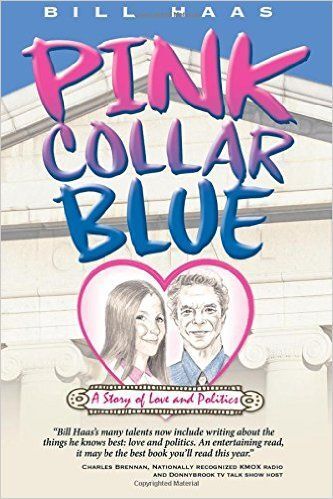 Political gadfly Bill Haas has run in many an election but has won only a seat on the St. Louis School Board. Even so, the Central West End resident plans to run for Democratic nomination for the U.S. Senate next year.
In his spare time, Haas has written his first novel — well, more of a 128-page novella — about politics. It's titled "Pink Collar Blue," and it features Arland Thomas. He's an idealist with a bachelor's degree from Yale, a law degree from Harvard and a hankering for political office — in other words, the same credentials as author Haas carries.
Haas sets his story in an unspecified Midwestern city somewhere between Cleveland (Haas' hometown) and St. Louis. But as his hero Thomas gads about the city, it sounds a lot like St. Louis.
Anyway, Thomas scores two big victories. First, he wins the hand of the woman of his dreams, Rebecca Sestarsa. When he tells her of his political plans to seek the mayor's office, the following conversation ensues:
"'Does anyone think you have a chance of winning?'
"'Great. Is it part of your plan that no one who knows about politics takes you seriously?'"
But through some clever politicking, he wins the election as well as the woman.
Then, the plot sort of jumps the shark. Thanks to Rebecca's ex-boyfriend and current stalker, things take a chaotic turn. But in the end, the mayor bears up and carries on.
Although St. Louis readers may like the local tone, professional novelists can rest easy. Perhaps half of Haas' book is dialogue that drones at times, as lawyers tend to do. Prudish readers may find the sex scenes too explicit.
Still, the tale has its high points — for example, the back-and-forth as Thomas finally gets in bed with Rebecca, who asks:
"'I'm okay, but not as good as I am at politics.'
"'That's not much of a recommendation.'"
Harry Levins of Manchester retired in 2007 as senior writer of the Post-Dispatch.