Though spring is a season abundant with distractions — daffodils, spring training, wild storms and unlikely snowfalls — four recently released collections by Missouri poets invite us to slow down and pay attention to the wind, flowers, umbrellas and our own feelings of exhilaration.
•••
Carl Phillips' "Wild Is the Wind" meditates on the historical and emotional complexities embedded in human interactions. There is a throughline about relationships where the speaker has more tenderness and commitment to offer than is reciprocated. There is abuse but also, through attention to history, an awareness of how people in pain themselves enact cruelty toward others.
In "Several Birds in Hand but the Rest Go Free" the speaker considers the morally ambiguous figures of pioneers in the age of westward expansion while walking through a restored prairie in the present. "The happiest / people I know are those whose main strategy has / always been detachment," he muses. "I've been working on that." Detachment is not easy, of course, and readers are given cause to worry about the speaker's reasons for trying so hard to detach when he confesses,
long ago, for example, a sentence like 'The skin where you
burned me last week with your cigarette has almost healed
was so much harder to say.
He then returns attention to the prairie, with all its unique and particular grasses and wildflowers. But by then it is not really the prairie readers are paying attention to but the vulnerability in the people around us.
The Washington University professor writes: "True pity, / as in deeply felt — I save mine, what is left of it, for / the wounded animals, the ones not yet dead." How can a reader not become more sensitive to those who perhaps cannot express themselves with the depth and clarity of a poet like Phillips? They may also consider whether it really serves them to be as detached as a pioneer staking a claim or whether there are things — like those now-rare native species of bluestem, mallow or clover — they might wish to hold onto.
•••
In "The New Nudity," Hadara Bar-Nadav's method of lyric meditation involves describing mundane objects such as a wine glass or a bridge in careful and unexpected detail until they become stripped of all usual associations. Her poems make the familiar seem utterly strange. Reading them is like being given a new pair of eyes to explore, discover and marvel at a world that has been surrounding us this whole time.
"Door," for example, begins with a simple description: "Hung by two pins and swelling / lacquered and puckering. // Effaced by thumbprints / sealed with grease and ink." As the poem goes on, though, the door transforms into a figure of powerlessness, vulnerable to many greater forces. "You handle, he handles me. // …. I am legless and cannot move."
The door also has unexpected power and autonomy in its inner life that is shown by the final lines — "I unleash my deranged triangle / of shadows when pushed. // If you look under my skirt you'll see / the darkness of another world." Throughout this book, a marvelous strangeness that has been before our eyes all along is revealed. The associate professor of English at the University of Missouri-Kansas City invites readers to enter into an ordinary and mundane world with newfound tenderness, imagining even a doorknob may be full of yearning.
•••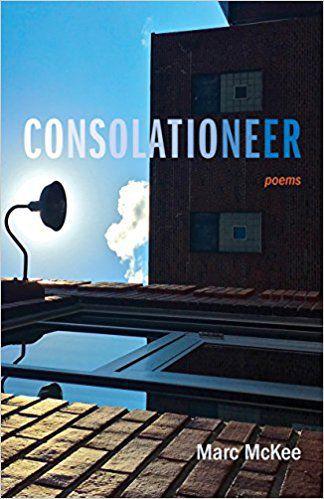 In "Consolationeer," Marc McKee attends to the mind itself making sense out of the world as it receives, processes, interprets and connects one perception to the next. This creates a reading experience that is chaotic, surprising and oh-so-exhilarating.
"Lately Indesolate" is a poem of perceptions organized around a cab ride. It begins with delightfully surreal descriptions of the scene: "so rapid / it appears to ripple and bunch // in the rearview mirror and "followed after by wheelsmoke / like a languorous countercloud."
But the poem soon pivots to its more pressing theme of how we perceive and interpret. "In the car / everything is a movie where everything / everything stretches, suddenly you think …" And after contemplating a near accident, slammed breaks, a flipped bird, the speaker notices "the world rushes / into you like a fuss."
What follows is a meditation on the ephemeral and transcendent way each individual perception is connected to an interwoven cosmos of being. Even something so simple as the left turn signal becomes, by the end of this poem, "an emerald / trying to touch your shoulder." McKee teaches at the University of Missouri-Columbia.
•••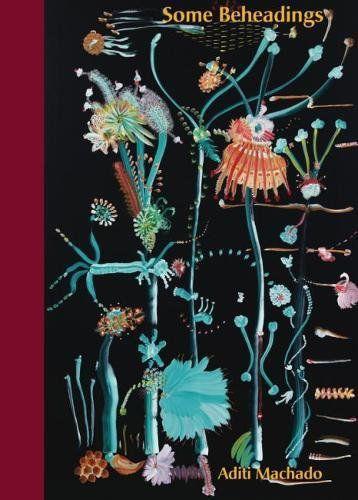 The poems in Aditi Machado's "Some Beheadings" focus with a microscopically precise eye on plants, their architecture and pollinators, their ecosystems of fields and ditches.
"A pause, a shrub. / I look, I prune / the recession, // dip & think ..." she writes. But these poems with terse lines, carefully pruned diction and clipped grammar, soon reveal their true subject to be the botany of language. We might think we know so much, but what can we say that has meaning and consequence before a plant growing?
Machado's poems suggest we can say very little that will be more astonishing than the way a tendril reaches toward the light. She writes in "No, But" that instead of seeking drama and high lyricism she wants to "find its / opposite // is thicket. / Attend it."
Or in "Pastural" she asks, "how express / a rustic thought // how when / everywhere …" It is not often a poet, whose medium is words, asks us to pay such close attention to the limits of what language can do. But these poems, which she wrote while earning her MFA at Washington University, are beautiful in the way they open up silence and mystery and teach us how to pay attention to such absences as a kind of photosynthesis that might nourish us.
What a pleasure to find so much creative vitality springing up in our gardens, parks, lawns, even between the sidewalk cracks in time for National Poetry Month. And how wonderful to have these poets among us who can teach us to better notice each strange and unexpected new shoot of green.
Poet Kathryn Nuernberger, author of "The End of Pink," lives in Columbia, Mo.