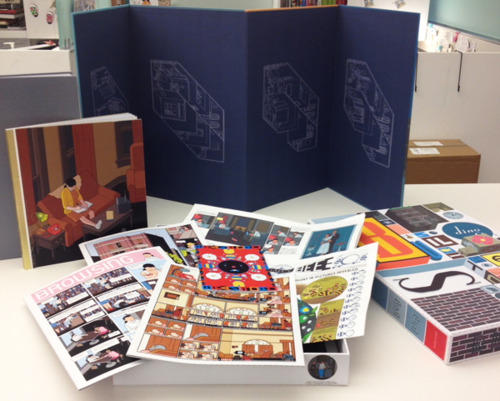 Chris Ware, best known for the lavishly (and deservedly) praised "Jimmy Corrigan: The Smartest Kid on Earth," has few cartooning rivals in either ambition or accomplishment, so his new "Building Stories" will only enhance the artist's exalted status within the world of graphic literature.
But even those remaining skeptics who, against all evidence, continue to view comics as kid stuff will find "Building Stories" an eye-popping astonishment if they are willing to risk the necessary time and money. Admittedly, the latter is a significant impediment for the Ware-wary — the list price of the work is a daunting $50 — but given the return, both in physical objects and in emotional and intellectual rewards, the investment pays serious dividends.
At the most basic level — as simple paper product — "Building Stories" delights. Encountered on a store shelf, the work will look more like a box than a book. Within its approximately 12-by-16-inch rectangular container — which itself rewards careful attention — are 14 books, broadsheets, pamphlets and uncategorizable printed matter.
After the shrink wrap is removed, a trove of cartoon treasure awaits, including a faux Golden Book, a small landscape-format booklet of wordless comics, a three-fold piece of stiff cardboard that resembles a game board, and two outsize pieces whose sprawling dimensions recall the comics supplements of early 20th-century Sunday newspapers.
In other hands, this McSweeney's-style packaging might prove little more than an entertaining stunt, but Ware — a rigorous formalist — cannily uses the diverse approaches for a real purpose: to approximate the fragmentary, non-linear nature of memory, with its kaleidoscopic shifts in viewpoint and time frame. Ware gives no instruction on where we should begin reading — nothing (and everything) comes first.
"Building Stories" primarily focuses on a decade or so in the life of a lonely, directionless young woman in Chicago who moves into an aging three-story apartment building that she shares with a spinster landlady and a glum, perpetually squabbling couple. The backstories and bleak present circumstances of her fellow residents receive attention in stand-alone pamphlets, but the majority of the narrative is devoted to this significantly unnamed everywoman.
Although her stay in the building is central — a transition point between youth and adulthood, the only time the woman is fully alone — "Building Stories" doesn't remain rooted to that temporal and physical spot. Ware moves fluidly back and forth in time, both within and between the work's various sections, revealing past traumas (an abortion and a subsequent abandonment by a callous boyfriend) and future developments (a husband, a suburban home and a child).
Throughout "Building Stories," even in apparently good times, the woman experiences an existential void, a lack of meaning — like the bottom half of her left leg, amputated after a childhood boating accident, a vital part appears missing. This melancholia will be familiar to Ware regulars: The clear, precise line and cartoony cheerfulness of his drawing inevitably conceal a deep, aching sadness. Even the two pieces devoted here to Branford the Bee — a character in stories the woman tells her child — detail a life of struggle and a tragicomic end.
Ware, however, offers the woman — and his readers — some solace in a complex one-page piece entitled "Browsing," a flash-forward to middle age in which she discovers, in a dream, her own book on the shelves of a store. Recalling the experience, she describes to her grown daughter the work we're reading: "It wasn't a book, either. It was in pieces, like books falling apart out of a carton, maybe. But it was beautiful. It made sense."
A would-be artist and writer, the woman is thwarted in those ambitions but in this moment realizes that her life is her work and that it contains both meaning and beauty. "I never thought I actually had it in me," she concludes.
Ware, who raises self-deprecation to an art, consistently belittles the value of his work in interviews and promotional materials. But in this candid moment, through his female avatar, even he guardedly acknowledges the achievement of "Building Stories": "And you know, it wasn't so bad. In fact, it was kind of good … interesting."
Of course, those of us less hyper-critical than Ware would choose a somewhat different descriptor for "Building Stories": awe-inspiring.
Cliff Froehlich is executive director of Cinema St. Louis, which presents the 21st Annual Whitaker St. Louis International Film Festival from Nov. 8 to 18.
---
A graphic novel by Chris Ware
Published by Pantheon, 14 booklets in a box, 260 pages, $50