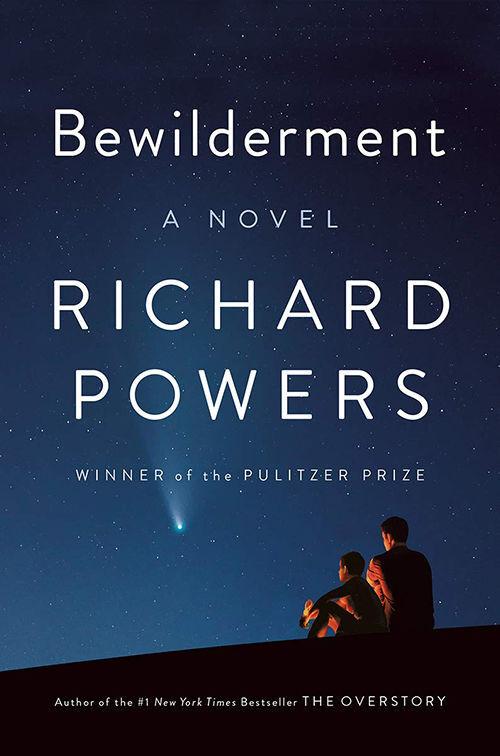 After winning the Pulitzer Prize for "The Overstory," about how nature communicates deep into the Earth, Richard Powers' newest novel focuses on two very different scientific frontiers: outer space and the human psyche.
As the title implies, neither world gives up its secrets easily.
The novel is told from the point of view of Theo Byrne, an astrobiologist at the University of Wisconsin in Madison. His son, Robin, who is 9 years old when most of the action of "Bewilderment" takes place, has traits that have been variously diagnosed as Asperger's, OCD and ADHD. His pediatrician has suggested he is "on the spectrum," to which Theo says:
"I wanted to tell the man that everyone alive on this fluke little planet was on the spectrum. That's what a spectrum is. I wanted to tell the man that life itself is a spectrum disorder, where each of us vibrated at some unique frequency in the continuous rainbow. Then I wanted to punch him. I suppose there's a name for that, too."
Alyssa, Robin's mother, who worked for an NGO that championed animal rights, died in a car crash when he was 7. Her lasting lesson for Robin is his nightly prayer: May all sentient beings be free from needless suffering.
Theo approaches single parenthood in a scientific yet loving way, but though Robin is generally engaging, his quirks make that job unpredictably difficult. Robin is a perceptive, animal-loving, budding sketch artist, and Powers puts every sentence of dialogue from his mouth in italics, giving it an intensity and urgency that the reader feels keenly.
"He could quote whole scenes from movies, even after a single viewing," Theo says. "He rehearsed memories endlessly, and every repetition of the details made him happier. When he finished a book he liked, he'd start it again immediately, from page one. He melted down and exploded over nothing. But he could just as easily be overcome by joy."
When life on Earth gets too tough for father and son to handle, Theo conjurs up faraway planets — names like Falasha and Pelagos and Geminus — so the two of them can consider whether the spheres could sustain life on their own.
At the start of the book, the two drive to the Smoky Mountains of Tennessee, and on the road trip, Robin is entranced by the audiobook of "Flowers for Algernon." It's loaded with memories for Theo and with future implications for Robin.
The plot in "Bewilderment" hinges on an effort by a high-profile neuroscientist at the university who wants to enlist Robin in a test of what is called Decoded Neurofeedback, using real-time analysis and artificial intelligence — research into inner space, not outer space.
The treatment is a way to help Robin reconnect with his mother from beyond the grave, and he takes to it immediately. The dramatic improvement in his life leads to his appearing in a video on a science channel that goes viral. Despite Theo's misgivings, his son becomes a national sensation.
At the same time, Theo joins colleagues from around the country to travel to Washington in the ritual efforts to improve and increase funding for science. He appears before a congressional panel "filled with politicians who looked like yesterday's America" — one of the not-so-subtle digs from Powers at the current state of government in Washington.
A dispute over election results — sound familiar? — shows the deep split in the American electorate, leaving Theo to ponder: "I wonder how I might explain the crisis to an anthropologist from Proxima Centauri. In this place, with such a species, trapped in such technologies, even a simple head count grew impossible. Only pure bewilderment kept us from civil war."
His congressional appearance ends badly, for both Theo and for the science he was championing, and cuts in the budget for neurofeedback research and experimentation have predictable results.
As in "The Overstory," Powers seamlessly yet indelibly melds science and humanity, hope and despair. The narrative in "Bewilderment" leads to a conclusion that is as heartbreaking as it is inevitable. Despite an extensive knowledge of the untold number of planets in outer space, Theo comes to realize a basic truth:
"I'd missed something obvious, in over thirty years of reading and two thousand science fictions books: there was no place stranger than here."