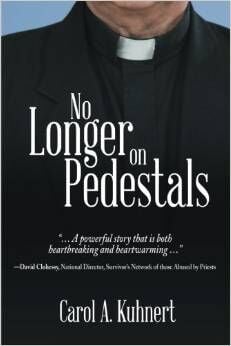 Carol A. Kuhnert of Union grew up in south St. Louis alongside an older brother and sister. In 1961, the brother was ordained as a priest — the Rev. Norman Christian.
In 1987 she learned an awful secret. Her brother was a pedophile. He died in 2004. Now, in "No Longer on Pedestals," Kuhnert vents her anger — at her brother, of course, but also at her beloved Roman Catholic Church. As she puts it early in her book:
"The Archdiocese of St. Louis had knowledge of my brother's pedophile behavior long before I became aware of it, yet neither my sister nor I was ever warned he could be a danger to our children. The hierarchy chose to send my brother for treatment, return him to active ministry, and move him from parish to parish, where he could continue to endear himself to unsuspecting families, all of whom were more than happy to entrust their innocent children to him."
Late in the book, she reflects, "I'm not sure what hurts more: learning my brother was a pedophile priest or knowing the church does not truly care about its flock. It cares only about protecting its reputation, its assets, and covering up what my brother and other predator clergy have. This is definitely not the church I knew and loved from my childhood.
"On second thought, sadly, I guess it is. I just hadn't had my eyes opened to its methods of operation."
Kuhnert quotes freely from Post-Dispatch articles on the problem — and from the barrage of letters she sent to prelates, most of which went unanswered.
This book will hit home with those who have been victims of pedophile priests, and with those victims' friends and families. But the general public may find her book to be repetitious, overly detailed with unrelated matters — and maybe the work of a single-minded person who's fixated with a problem that's of less interest to the rest of us.
Still, even the rest of us will raise our eyebrows at some passages, such as Kuhnert's account of her brother's funeral (which she boycotted):
"It's disgraceful that after being removed from the active ministry for having sexually abused children throughout his priesthood, Norman was given a glorious funeral as a priest in good standing, with Archbishop Raymond Burke as the celebrant."
Harry Levins of Manchester retired in 2007 as senior writer of the Post-Dispatch.
Published by iUniverse, 385 pages, $25.95 (paperback)