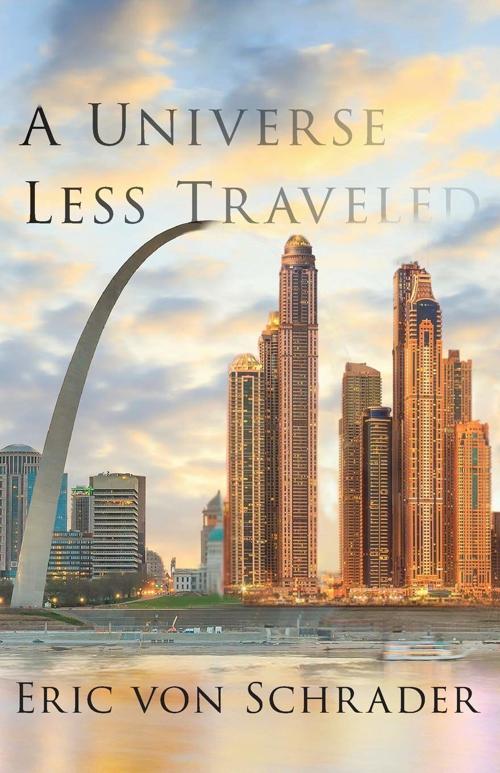 For St. Louis sci-fi buffs, "A Universe Less Traveled" amounts to Must Reading — and then some.
Eric von Schrader's St. Louis is actually two cities — the one that we all know and then the other. It's an idyllic place, with splendid architecture, a booming economy and a rapidly growing population of people content with their lot.
The two cities somehow exist at the same time, each unbeknown to the other.
Except for a few people, and they form the basis of von Schrader's saga. Principal among them is Billy Boustany, who owns of string of poorly performing appliance stores in our city and its suburbs. One day, by accident, he manages to cross into the Other St. Louis, where he marvels at its wonders. His back-and-forthing between the two versions of St. Louis makes up much of this tale's complicated plot. Here's a taste:
"He looked east on Gravois. In his world, it was a six-lane street with auto parts stores, fast food joints, and nail salons scattered between parking lots. But now he saw an elegant boulevard flanked by wide tree-shaded sidewalks. A streetcar line, with more smooth blue cars, ran down the middle. Three- and four-story buildings lined both sides of the street. Some were older brick structures; others were newer, with glass walls and ribbons of balconies."
Baseball fans in that St. Louis cheer for the Browns, because the hopeless Cardinals left town long ago. Also gone from that St. Louis is the Gateway Arch, although a towering fountain in Forest Park helps to make up for the loss.
On the other side of the story, residents of the Other St. Louis are fascinated by zippers and what its leaders call "duck tape."
Still, some parts of St. Louis can never change, not even in science fiction. In both versions of the city, locals refer to Grand Boulevard as "Grand Avenue." And although we can't hear the dialogue, one can presume that they pronounce it "Gran DAV-uh-noo."
Harry Levins of Manchester retired in 2007 as senior writer of the Post-Dispatch.