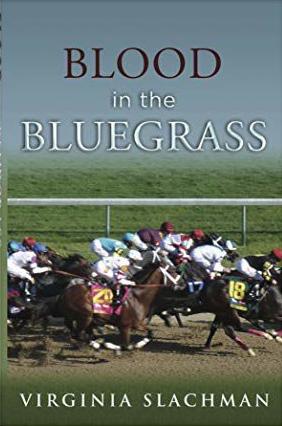 Virginia Slachman teaches writing at Washington University and spends her spare time working to rescue and rehabilitate retired racehorses. So it's hardly surprising that her latest novel, "Blood in the Bluegrass," unrolls on a horse farm in Kentucky, site of a string of violent events.
Slachman gives the leading role to a woman named Harper. Harper had left the family's stud farm for a career as an artist in New York. She left managing the farm to her younger sister, Paris.
But Paris turns up dead — the victim, it seems, of a fall from a spirited horse. When Harper rushes back to the family farm, she quickly suspects that her sister's death was far from accidental. Indeed, another farmhand turns up dead — apparently a suicide victim but another source of suspicion for Harper. Next, some horses disappear mysteriously, and a pile of human bones turns up. What's happening here?
Harper thinks long and hard. As Slachman puts it: "The landscape fell away from the road in gentle rolls. Deceptively gentle, she thought, glancing out the window now and then. Beautiful, sometime deadly, country.
"Because of the money. It was always because of the money. Horses killed surreptitiously for the insurance payout. Horse drugged, clients swindled … there was no end to it. Bluegrass country was flashy and high-dollar, but there were always those, as in any business, who'd rather do it the easy way.
"Not so easy for the horses, thought Harper, heading to the other end of the racing world — the 'discards,' a world of untreated fractures and horses too slow and headed for slaughter."
Some readers may find this book's plot a hard ride. But horse lovers will savor Slachman's keen insights on these animals. One example: "Sheriff licked his lips and began the chewing motion Harper knew meant he was listening, calming and maybe beginning to trust her a little." Another: "Harper knew that good racehorses have a heart to win. They want to run, that's what they're born to do. And if they're on performance-enhancing drugs, get slightly injured and dosed with pain killers, that's exactly what they'll do — go all out, even if it kills them."
A note at book's end says that Slachman plans a sequel starring a newlywed Harper, to be titled "Vanished in the Bluegrass." Maybe the author will cash in on this daily double.
Harry Levins of Manchester retired in 2007 as senior writer of the Post-Dispatch.