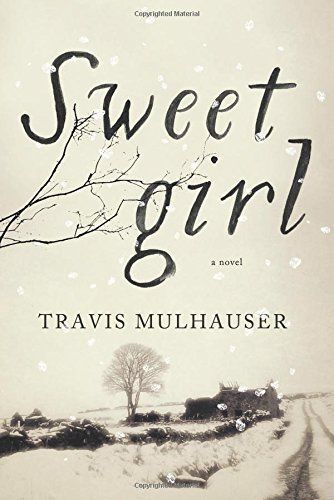 When the opening pages of a novel introduce you to a 16-year-old girl headed out into a January night in northern Michigan to find her drug-addled mother, you're either sucked in or turned off.
But under the smart, taut and believable writing of Travis Mulhauser in "Sweetgirl," it's a good bet that readers will join Percy James in her nightmarish search for Carletta, now nine days gone.
Percy seeks her mom out of reluctant duty mixed with love. She's worried about her, of course, but she's also bone-tired from a day of working at the furniture shop; she had to drop out of high school. And she knows she can only drive her tired truck so far into the remote woods where her mom is almost certainly holed up in a cabin.
"It would be cold and dark and purely miserable, but I'd keep walking until I got there because I didn't have a choice. Carletta had to be got.
"... Mama had seen fit to steal my winter coat and gloves the night she disappeared, which meant I would be making the trek in my hoodie and blue jeans. An injustice that might have angered me if I thought it would do any good."
Mulhauser's debut novel is drawing some comparisons to "Winter's Bone," and with good reason. Both novels feature young women in dire circumstances trying to get on with their lives.
Percy wants to bring her mother home and have her dry out and get clean. She's done it for a few weeks at a time in the past, and Percy deserves a shot at normal. She's been denied a childhood by a mother who won't grow up.
Instead, she heads straight into the hell of a farmhouse owned by Shelton Potter, a meth-maker, troublemaker and the most recent connection to Carletta.
Percy finds Shelton and his current girlfriend unconscious in drug stupors, a dead and decaying dog in an upstairs bedroom — and a screaming baby girl in a bassinet by an open window as snow blows in on her and her long-unattended diaper rash threatens her health.
No Carletta. And no chance Percy can leave the baby, whose bassinet is decorated with the name Jenna. But Percy is far in the woods, her truck is snowed in and she has almost nowhere to go.
So she heads to the cabin owned by Portis Dale, "the closest thing I had to a father."
Mulhauser takes us through a night of hell, as Percy teams up with a reluctant Portis to try to get the baby to safety while avoiding Shelton — who will be even more ill-tempered when he realizes someone has stolen the baby girl.
The bulk of the novel covers just one night and day of Percy's life. It's enough for Mulhauser to show the strength of human spirit as Percy, Portis and Jenna flee through the woods, just ahead of Shelton and his henchmen in the drug trade.
As bleak as their trek through the woods is, Mulhauser leavens it with humor and makes us grow attached to both Percy and Portis.
How could you not like them as they bicker, leading Portis to note: "You used to be a sweet little girl, with ribbons in your hair. You used to be uncorrupted by feminist aggressions."
No wonder readers are rooting for them to make it out of the snowstorm and to safety; the author gives us plenty of opportunity to see the good in both of them.
---
A novel by Travis Mulhauser
Published by HarperCollins, 256 pages, $26.99